One of the things you often hear about custom bikes, generally by people who don't ride them it has to be said, is that they're all show and no go – they're only good for short journeys, not capable of racking up the miles on long journeys…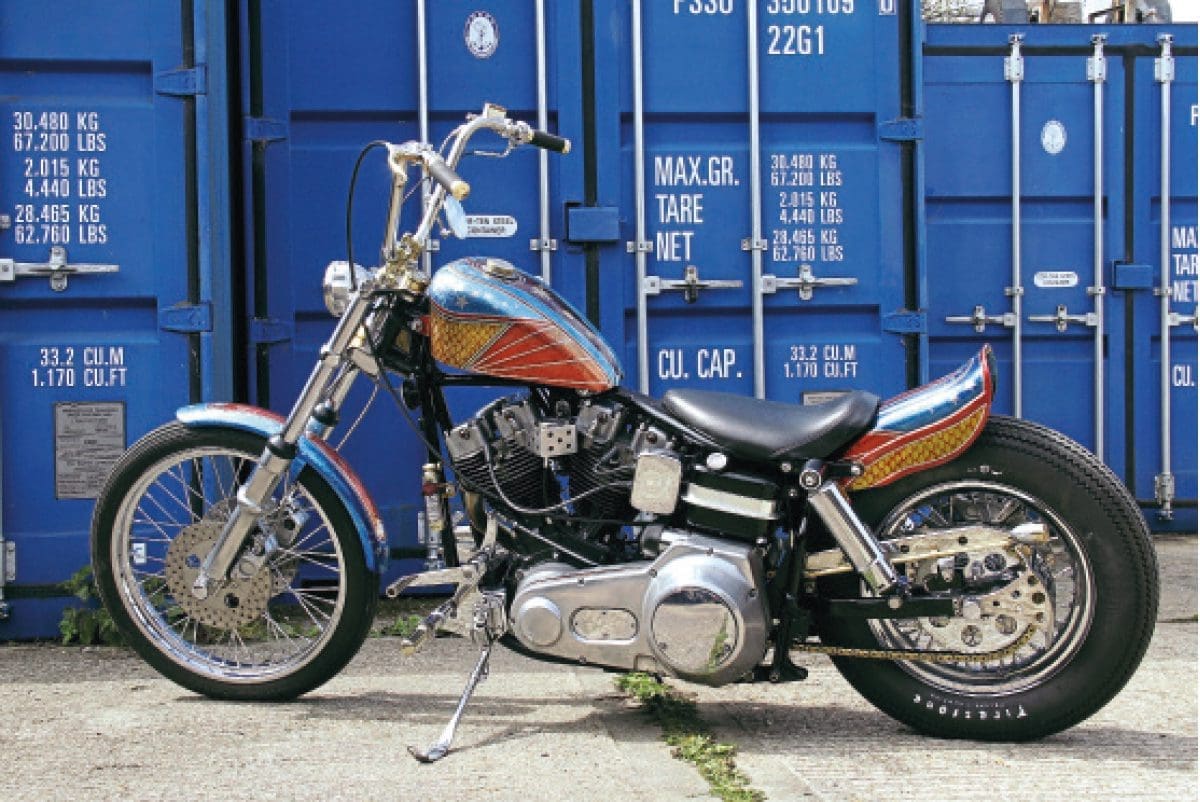 And to a certain extent that's true – generally those who build and ride choppers n' that don't build them to do distance on. Generally, yes, but not always – as the old saying goes, there're always exceptions to every rule. I know of, and I'm sure you do too, folk who've traversed fairly monumental mileages on custom bikes: Charlie and Logie from No Nonsense Choppers, for instance, whose trips around Iberia aboard monster chops are the stuff of legend; similarly, Yammy (he of the uber-long XS1100 from Cumbria) and his mate Twilt (aboard an equally stretched GS1000) who rode them to Norrtalje Chopper Show in Sweden, and then, because they could, down to Faro; or Pablo from RatBikeSpain who, aboard his radical, long fork CBR1000, toured England, Scotland, Wales and Ireland in barely a week, and then, when he arrived in France, decided to go back to his native Spain via Italy. No, custom bikes're more than capable of doing miles – it's just that the people who studiously opine such bollox haven't got the cojones to do them on them.
G from Thunder Heart Cycles on the Isle of Wight is another who's not above hopping onto a bike, a custom bike, and making his way across Europe on it. Okay, so the bike he uses to do so these days, the one you see here in front of you, isn't perhaps as radical as those mentioned above, but then again all those trips were undertaken a good few years ago, aboard either machines with ultra-reliable Japanese engines, or late model H-D motors, whereas G gets his miles beneath his wheels on an AMF Shovelhead – a bike from a time when Harley-Davidson's reputation for reliability was on a par with that of Catholic clergy's restraint when it comes to choirboys.
He bought the bike that was to become this a few years ago – a very original '79 FXWG (that's Dyna, as in twin shock, Wide Glide to non-Harley folk) that was pretty much stock bar a satin black rattle-can paintjob. It was a nice, clean example, if a little rough around the edges, and he originally intended to just ride it as it was – to have an old bike he wasn't going to be too precious about, one that'd just get wiped down with an oily rag a few times a year, rather than cossetted. That plan, though, lasted maybe two weeks…
Thunder Heart Cycles, you see, is probably the leading independent Harley place on the Isle of Wight, and he soon had the WG stripped down to the bare bones in the workshop, and was sat there squinting at it, wondering which direction to go. He wanted to make it custom, but as practical as possible, and with a bit of comfort. In the end, though, the only thing he didn't touch, apart from revising the tank mounting, was the frame.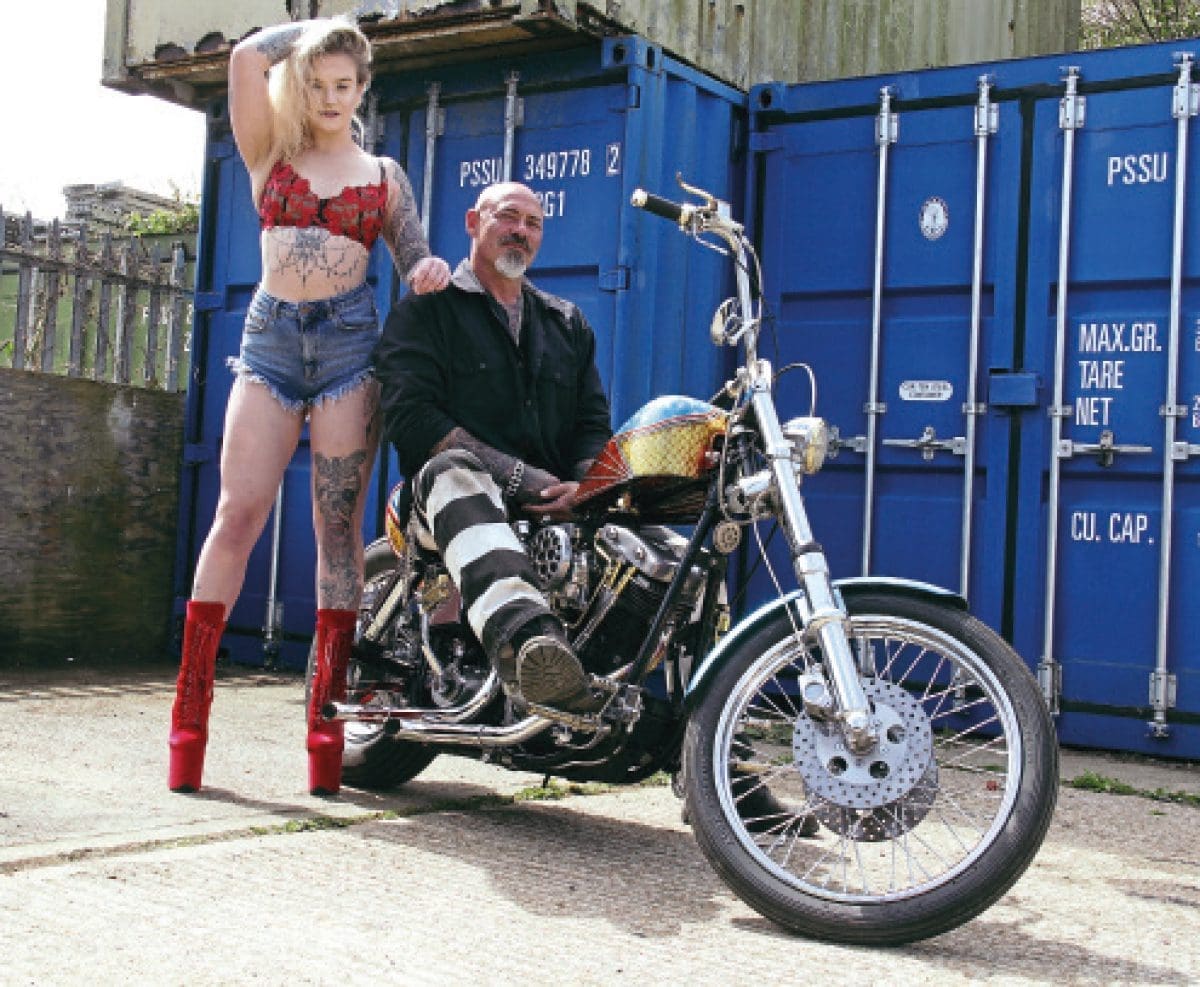 He's a big fan of the Japanese bobber scene, and loves that kicked-up, bobbed rear 'guard look, and usefully, after he'd found the ideal tank for doing miles (a three-gallon King Sporty) and got it sat just right, he was given just such a tatty 'guard that, after many hours of cutting, welding and derusting, looked just perfect. With that done, he set about uprating/reworking just about everything else, too – electrics, ignition, carb, air-cleaner, brakes, wheels, 'bars, hand/foot controls, rear shocks, etc. Pretty much everything he made/modified was done in either brass and stainless steel (or both) that he had, or found, lying around – the yoke top nut cover, for example, was made from an old artillery shell; p-clips from an old, engraved brass plate; and a one-off gas cap got a silver dollar sunk into it. He even found an old World War II fire extinguisher, and mounted it to the frame.
Enginewise, the old (well, it's 43 years old, isn't it?) 1340 Shovel seemed solid, and didn't leak, so it was left alone bar the fitting of a set of straight-through turn-out 'pipes, a Super E carb, a Dynatek 2000 ignition, and a Baby Moon air-cleaner, having its cases polished, and its barrels reblacked.
The paint? Ah, now therein lies a tale. G designed a scheme that he felt suited the theme he had in mind, and it was done for him by Dave from Dirti Air Airbrush Art. It took a good few months to get it done as it has so many layers of metal-flake, and then seven litres of lacquer to get it as flat as a mirror. The same detailing, patterns, stars, sunbeams, etc., are mirrored on the underside of the tins and, if you look under the lip of the rear 'guard, you can see it says 'Free to Wander', hence the bike's name – Wanda.
Since then, Wanda's certainly racked up the miles, starting with an eventful trip to Germany, and they made it up to the Trip Out back in September, too (a 400-mile-plus round trip). Okay, so Covid's put the kibosh on most of G's planned trips, but 2022's going to be better, isn't it? Fingers crossed!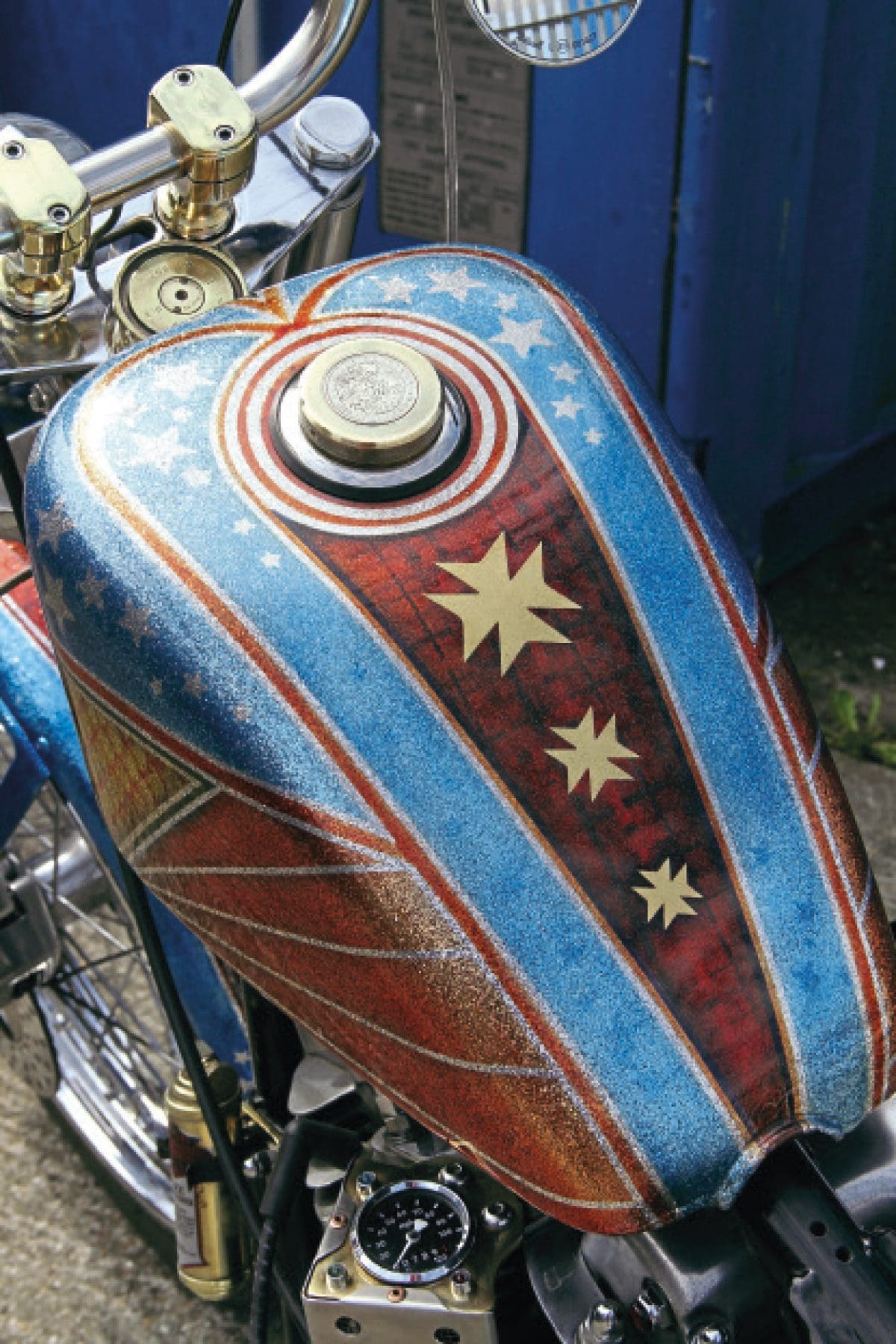 Spec: 1979 H-D FXWG Shovelhead engine (S&S Super E carb, modified Baby Moon air-cleaner, Dynatek 2000 ignition, straight-through turn-out exhausts)/frame (modified)/forward controls (modified)/wheels/calipers/forks/yokes/swingarm/front mudguard/oil tank/battery box, H-D WW2 original fire extinguisher, Avon Safety Master front tyre, Progressive fork springs, artillery shell top nut, one-off stainless 14" rise 'bars with internal wiring, Kustom Tech master-cylinder/switchgear, aftermarket speedo, one-off surround, brass grips, King Sporty tank with one-off brass cap with skull silver dollar & brass Pingel tap, Le Pera Barebones gel seat (modified), 40-year-old bobbed rear mudguard (modified), one-off stainless/brass side-mount/chainguard, 10.5" Progressive shocks, Harrison Billet caliper, Firestone tyre, Motogadget Mo.Unit electrics, Juicer headlight (modified), unknown brass/alloy tail light
Finish: Very heavy metal-flake red/silver/blue/gold paint with gold-leaf & seven litres of lacquer by Dirti Air Airbrush Art, polishing by owner
Engineering: Owner
Thanks To: "All at Thunder Heart Cycles (07928 962545 or www.thunderheartcycles.co.uk) who lent a hand; Dave Dovey from Dirti Air Airbrush Art (07808 272803 or www.dirtiair.co.uk) for donating the amazing paintwork (& putting up with my OCD); & Lionel for the 'pipes…"