With the current fashion for doing up older Japanese bikes, particularly Kawasaki Zeds, Suzuki GSs and GSXs, and Yamaha RDs and YPVSs, in a 'restomod' (restored and modernised) style, it's good to see that some out there don't slavishly follow the herd…
Nik
Ian Bishop, the owner of this custom Zed, had recently, with the help of Paul at Demeanour Customs, finished a very nice Z750 twin custom in a similar, but not quite so radical, style, and was thinking of another project when he spotted a distinctly unloved and comparatively rare CSR 1000 – the US version of the LTD custom-styled model we got over here with spoked wheels instead of mags – for sale as an import from the States. It'd been painted matt black at some point in its life (okay, it may not've been matt at first but, by the time he saw it, it definitely was), and'd very definitely seen better days cosmetically, but it was all there and, reckoning correctly as it turned out, that even forty-year-old Japanese bikes can usually be rescued from inactivity without too much effort, bought it with a view to doing something similar, but more radical, to the 750.   
The poor old beastie'd been sat a while, and so the carbs were pretty much seized solid, but a lot of freeing off (and a fresh battery, o' course) saw it starting up, and not sounding too bad at all. They're tough old birds, them Z-series Kwaks! Mind you, it did blow a complete mouse's nest, and a whole load (I was going to say 'shitload') of mouse droppings out of the exhaust when it fired (Ian didn't say if there were any very surprised-looking mice fired across the room, too).
Now that he knew it was a runner, he decided it'd be perfect for a project, and so stripped it right down in the little summer house in the back of his garden that doubles as his garage, keeping only the frame, the engine, the swingarm, the wheel hubs, and the tank, and then went over to see Paul at Demeanour Customs again. This time, though, as the project was much more involved, Paul'd do the lion's share of the work.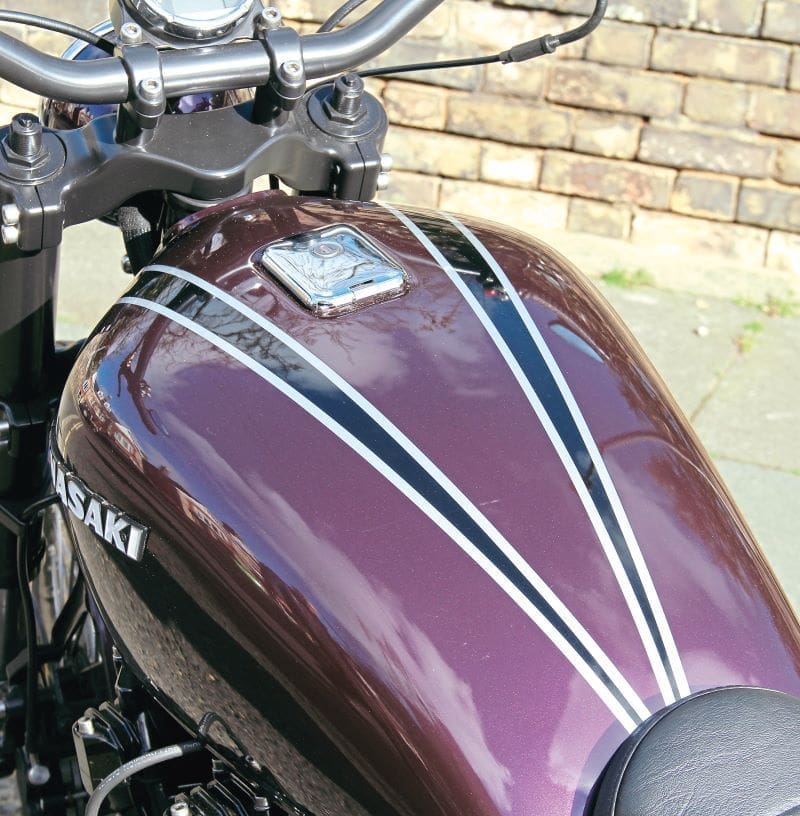 The plan was to take a bike from an earlier age and update it, sorting out the problems they had as standard, and the chassis was the first thing to get a good looking-at. The wheels, both the front and the back, were rebuilt on to stainless rims (stock size, 19-inch front, and one inch taller on the back – 17-inch up from the stock 16-inch), with stainless spokes, and they were slotted in betwixt the legs of a pair of 1990s' ZX-9R USD forks, held in Demeanour Customs' slab yokes, and fitted with larger discs mix-n'-matched from a Honda Blackbird, and a pair of four-pot callipers from a Triumph Sprint that fit straight on to the Kwak forks' mounting brackets in a much neater manner than having to have new hangers made.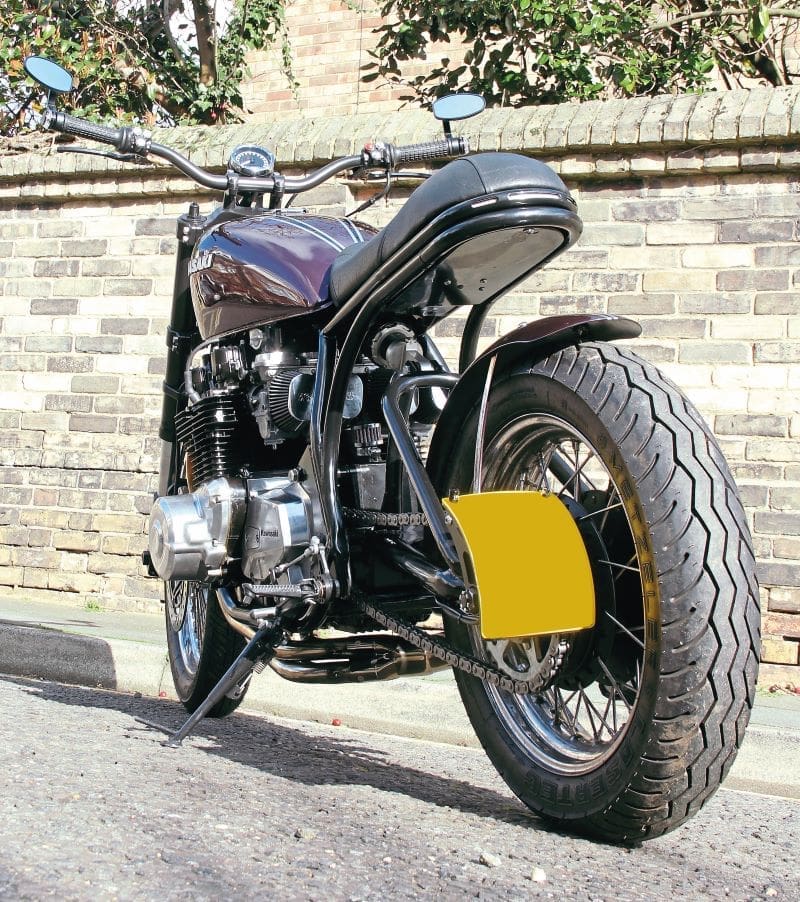 The work at the rear end was no less elaborate. Using the stock swingarm (hence only upping the rear wheel size, rather than widening it), they had planned to run a new single shock underneath the motor and, indeed, all the framework to do so'd been made when Ian kind o' got cold feet. He was worried that the shock'd get too hot from the heat of the motor (being air-cooled, these older motors do get externally warmer than modern oil or water-cooled engines), and'd be more difficult to adjust out on the road if he needed to because of this, and it'd also get covered in road crud thrown up by the wheels, too (and be awkward to clean). A new arrangement was constructed to situate the YSS shocker in a more conventional under-seat place, and this, in turn, required the CSR's electrics to be relocated, too – a tiny, but high amp, lithium battery now lives in a hollow in the seat, along with a fiendishly clever Motogadget control unit that does everything electrical short of boiling a kettle for tea… sadly.
The fuel tank was filled and lined, and sent, along with a (modified) aftermarket front mudguard, to Phil (Bloomfield) at Studio 45 Specialist Paintwork (who, incidentally, painted all the Harris bodywork under blankets in my bedroom) to be done in the dark aubergine and black scheme you see here, and the bits that needed 'coating were sent to Morley Brothers in Cambridge, and High Calibre Coatings, for powder and ceramic coating respectively.
With everything back at Paul's Hopton (near Diss) workshop, the CSR could be put back together, and Ian could be rung to tell him to come and collect his bike. He's had a couple of electrical gremlins to deal with since, but on the whole it's been fine. It's a lovely-handling, good-looking bike that now goes, and stops, as it should, and Ian says it's definitely a keeper. Paul also made him a clever clip-on rack to allow him to take luggage and, as soon as the weather gets above 'feck that, it's freezing!', he's planning a trip to France, and maybe beyond, aboard the refurbished old Kwak. Have a good trip, Ian!
Spec:
1980 Kawasaki CSR 1000 engine (K&N air-filters, re-jetted carbs, Delkevic stainless 4-1 exhaust, Dyna coils)/frame (modified)/wheel hubs/rear disc/fuel tank/swingarm (modified), Suzuki GSX-R 750 foot-rests/rear calliper, Metzeler Lasertec tyres (110/90/19 front, 130/80/17 rear), stainless wheel rims (19-inch front, 17-inch rear), stainless spokes, Honda CBR1100 Blackbird front discs, Triumph Sprint 955i callipers, Kawasaki ZX-9R USD forks, Earl's brake lines, Renthal 'bars, KustomTech remote master-cylinder, Koso speedometer, one-off control linkages/foot-rest hangers/yokes/levers/switchgear/speedo surround/front mudguard/seat/rear mudguard/side-mount/under-seat loom, YSS rear shock, Brembo rear master-cylinder, Alchemy Parts LED headlight, one-off rear lights, Motogadget 'bar-end indicators/Bluetooth digital control unit, Dyna coils, Shido lithium battery
Finish:
Dark aubergine/black paint by Phil Bloomfield/Studio 45 Specialist Paintwork (07342 325045 or Facebook), powder-coating by Morley Brothers Ltd (01223 423048 or morleybrothersltd.co.uk), ceramic-coating by High Calibre Coatings (07941 668265 or www.highcalibrecoatings.co.uk)
Engineering:
Bike built & all engineering by Paul Sadler at Demeanour Customs (01953 681308 or demeanourcustoms.com)
Thanks To:
"Paul for his work, unfailing support, & enthusiasm…"