When Cheyenne Keogh was fifteen, thanks to her mum being a riding instructor, she decided she wanted a bike. When she was seventeen, she got an AJS Bobber and, as her dad, Mark, had built a few bikes over the years, asked him if he could modify it to be more 'her'.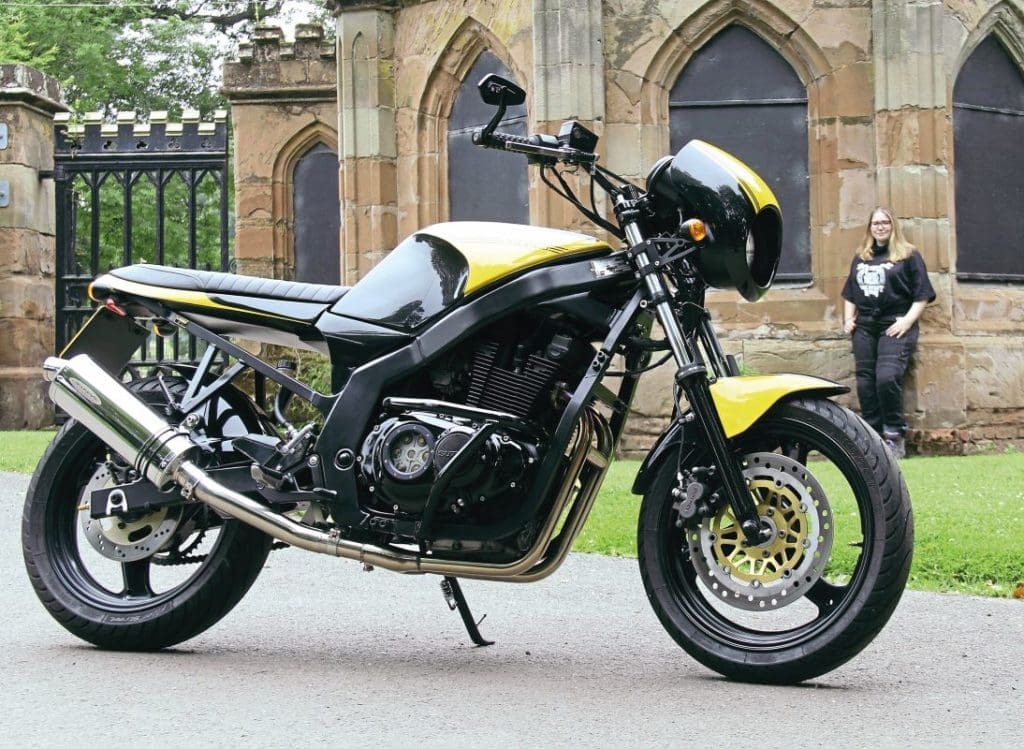 He, and she, ended up building a little green 125 Rebel Honda which gained a second at Kickback in 2019, was featured in 100% Biker, and appeared on Henry Cole's Motorbike Show. A family friend then gave her a Suzuki GS500E, in bits, and she decided she wanted to build it for her nineteenth birthday, and for when she passed her test. The main criteria was that it had to be a custom, it had to have some kind of nose cone, and it definitely wasn't a cafe racer! The plan was that she'd design the bike, and Dad'd do the fabrication and lend a hand where needed.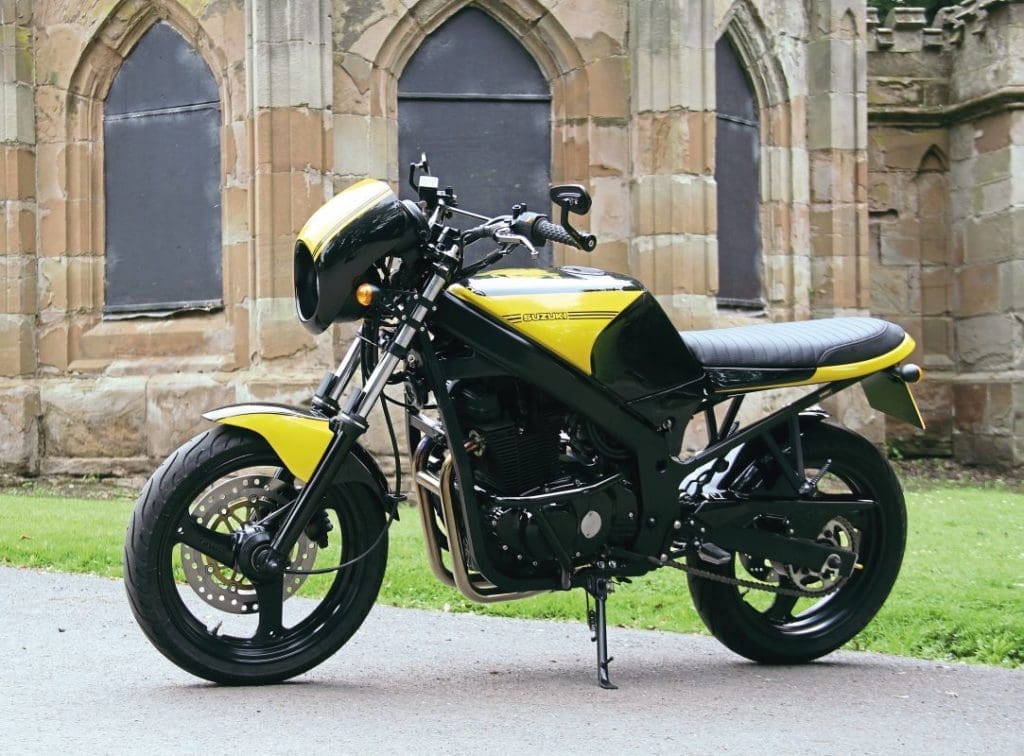 Her first purchase was a copy of a Harley 750 Street nose cone that'd give her the look she wanted, and the next was a whole list of parts (seats, lights, handlebars etc.) from Mike at Classic Bike Shop in Redditch (who Mark's been dealing with for years) to be offered up the frame and tank to see how they suited. Each was, in turn, taped on and then, on her dad's advice, she'd sit and stare, visualising the end result. Finally, a seat, the 'bars, and suitable lights were decided on, and the plan called for the electrics, including the lithium-ion battery, to fit inside the tiny slip of seat. A new subframe to take it was made, and a rear light housing fabricated, a BMW custom seat that suited sourced, and the nose cone (and a suitable headlight) trial-fitted and, after a lot of tweaking here and there, everything was ready to go off to be powder-coated.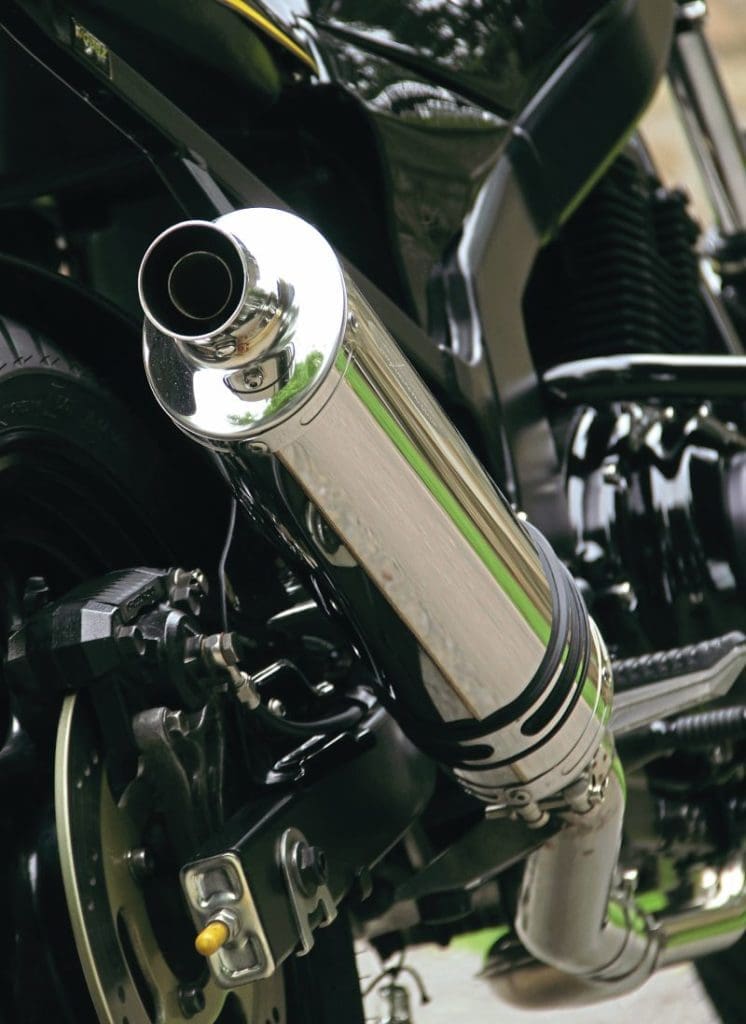 Next was the engine. Mark'd taught her how to check compression, and how to inspect an engine, strip it, clean it, file the dings out of the clutch tabs for smoother operation, inspect the bores with an endoscope, and so on. All these were good but, sadly, the rest of it was absolutely knackered. The outer cases weren't great either – the bike'd been down the road a few times, and the Suzuki casing badges both sides had all but worn away. They got one from a guy on a Facebook GS group, and bought a much sexier Siberdyne aftermarket clear clutch cover to replace that.
A new/old stock fuel tank popped up for £200, and after finding the front caliper, and rear shock linkage, were both completely unusable, they got a2009 R6 Yam shock (mint condition, £58), a GSX650F linkage (£12), and a mint SV650 caliper (£25). The problem was the new/old tank was yellow, and Cheyenne'd gone with a white and black scheme. Back to Photoshop they went, and the white was flipped to yellow, and then they discussed the new scheme with Wobbz, the painter. The engine got four coats of Plastikote BBQ paint, and Cheyenne was shown how to bench test carbs/clean float bowls etc.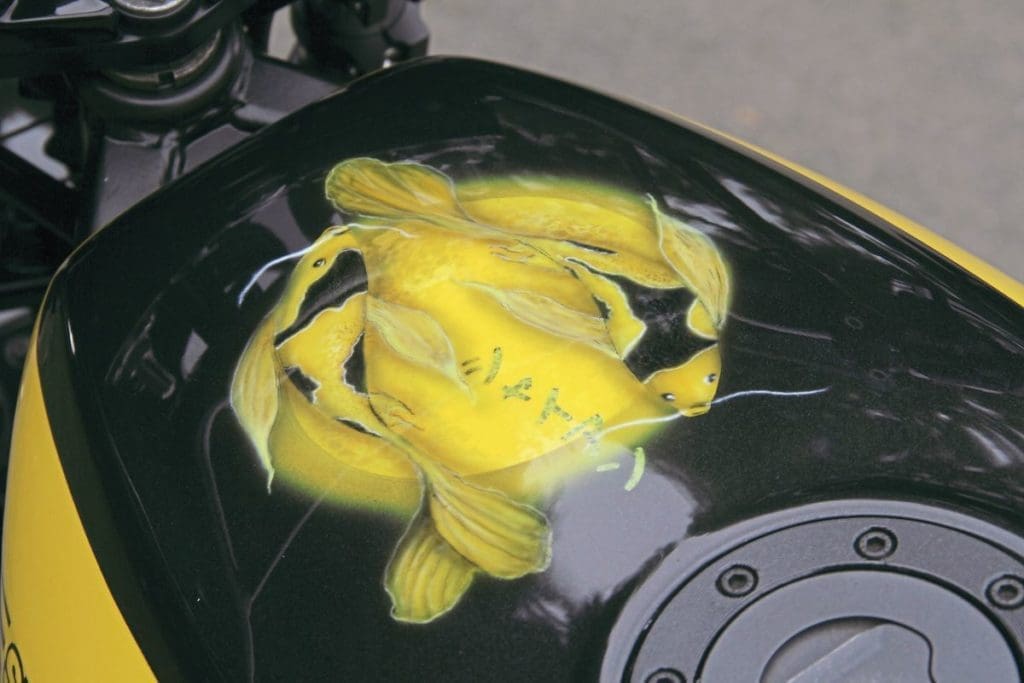 With all the parts back from powder-coating, and the fabrication all done (forks rebuilt under Dad's supervision), it was time for her to build her creation. It all went together well due to pre-fitting all the custom parts prior to powder and paint, and the wiring loom was reworked. The painted engine was fitted using a step-ladder over the back end, a plank, some rope, a paddock stand, a Harley lift, a little wooden trolley on castors, and a lot of faffing, but it went in without scratching so that was okay. Delkevic supplied a fantastic exhaust system (which Cheyenne herself'd found and sourced very early on), and a new dash was made from an old ABS (acrylonitrile butadiene styrene, plastic, not anti-lock braking system) box, and the word 'beauty' added in Japanese script to the nose-cowl (to match the 'Cheyenne' between the koi carp on the tank) to break up the big stripe a little. Finally, the tatty crash-bars were redone gloss black to get the bike off the black stuff in case the worst happened.
The brakes were bled ('a nightmare!'), and oil put in the engine, and the motor fired up in about 40 seconds ('Although it'd've been quicker if we'd remembered to apply the choke…'), sounding as though it'd only just been turned off an hour ago – not something that hadn't been run in nearly four years!
All she had to do now was pass her test – not easy during lockdown. Simon at RMT got her a cancellation, and she passed mid-May last year. The bike's first show was Kickback last year and she was stunned when it got the Junior class for builders under the age of 30 (one of her competitors was Carter Harris from Attitude Cycles!). Since then she's done over a thousand faultless miles, and enjoyed every moment on it, although her and Mark are now on with a BMW project (that very definitely is a cafe racer…) for, hopefully, Kickback this year. This, despite the fact that, as I write this, she's still only 19!
Spec:
1999 Suzuki GS500E engine (painted with Plastikote BBQ paint, casings powder-coated gloss black, Siberdyne clear clutch cover, Delkevic stainless 2-1 exhaust)/frame (modified)/foot-rest hangers (Honda 'pegs)/rear brake lever/gear lever/wheels/forks (Hagon progressive springs)/yokes/master-cylinder/switchgear/clocks/swingarm/rear caliper/rear master-cylinder/front mudguard/fuel tank/loom (modified), Michelin Pilot Street tyres, Tourmax discs, Suzuki SV650 front caliper, homemade braided brake lines, aftermarket MX handlebars/adjustable levers/diamond pattern grips, H-D Street 750 nose fairing (modified), BMW custom seat (modified), one-off undertray, one-off ABS side-panels, Red Fox hugger rear mudguard, Yamaha rear shock, Suzuki GSF650 shock-link, shortened dog-bones, aftermarket headlight/tail light/indicators
Finish:
Pearl Black/Honda Pearl Yellow/koi carp custom design by Cheyenne/Mark/Wobbz, painted by Wobbz Custom Paint (07512 773076 or www.wobbzart.co.uk), powder-coating by Redditch Shotblasting Company Ltd (01527 529659 or www.redditchshotblasting.co.uk)
Engineering:
Bike built by owner & Mark Keogh (dad), clear clutch cover by Siberdyne Motorcycle Parts (07528117805 or www.siberdynemotorcycleparts.co.uk)
Thanks To: 
"My Dad; my Mum; Uncle Dan; Mike & Archie at Classic Bike Shop (01527 454158 or www.classicbikeshop.co.uk); RMT Motorcycle Training (01527 500333 or rmtnet.co.uk); & Henry Cole for getting me recognised at bike meets!"