When Glenn Townsend was living in Thailand, he saw a chopper for sale over there (the Thai chopper scene is amazing!) – a hardtailed Honda Bros 400 with a handmade teardrop tank, headlight cowling, mudguards, and side panels.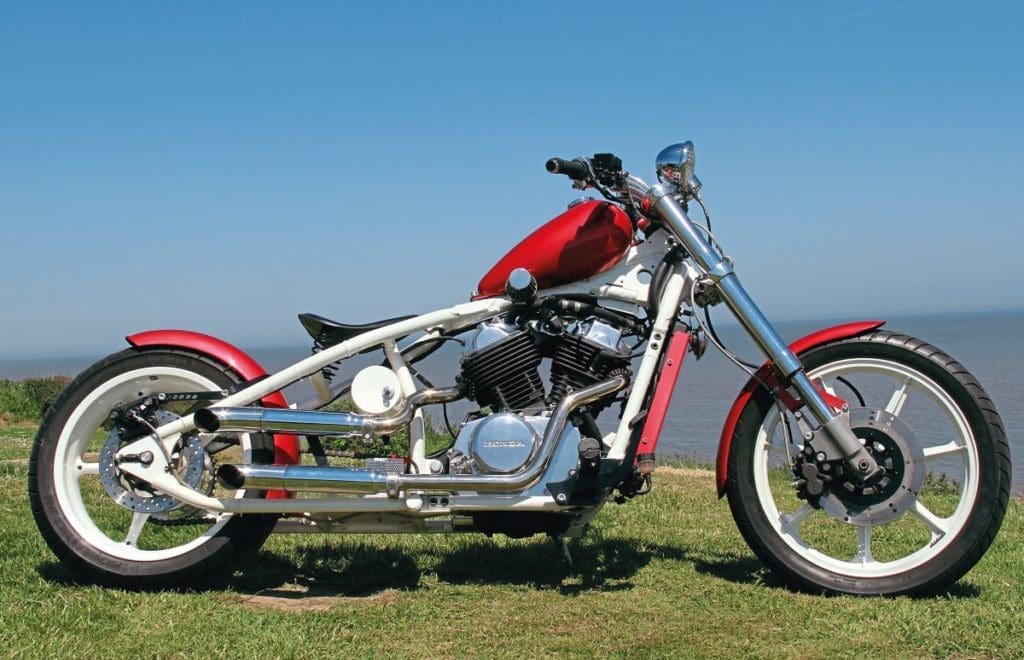 He'd always been the type of guy who likes a project, bikes/cars/boats/anything with an engine (he had his first bike at age seven!), so he bought it; stripped it; redid a few bits; polished and painted it; and smoked it around for a few years before selling it to his brother and moving back to the UK. Once back in Blighty, he really wanted another custom, but couldn't find what he wanted so decided to build one himself.
He decided not to buy a bike and modify it as he wanted a one-off, not something modified from stock as that wouldn't give him the look he was after. His purchase was a VN800 Kawasaki frame that came from Latvia and so had no UK documents – something that was to make his life difficult later on, but we'll come to that in a moment. Next was an engine, and it had to be a v-twin, like the Bros, but one at a realistic price (so not a Harley then…). He bought a Honda Transalp XL600 motor from Italy, and then made a frame jig to hold the VN trellis while he modified it. It was, as you can see, hardtailed, with new tubes from the headstock to the axle, and stretched slightly to get the proportions right. Once that was done he could decide on the rest.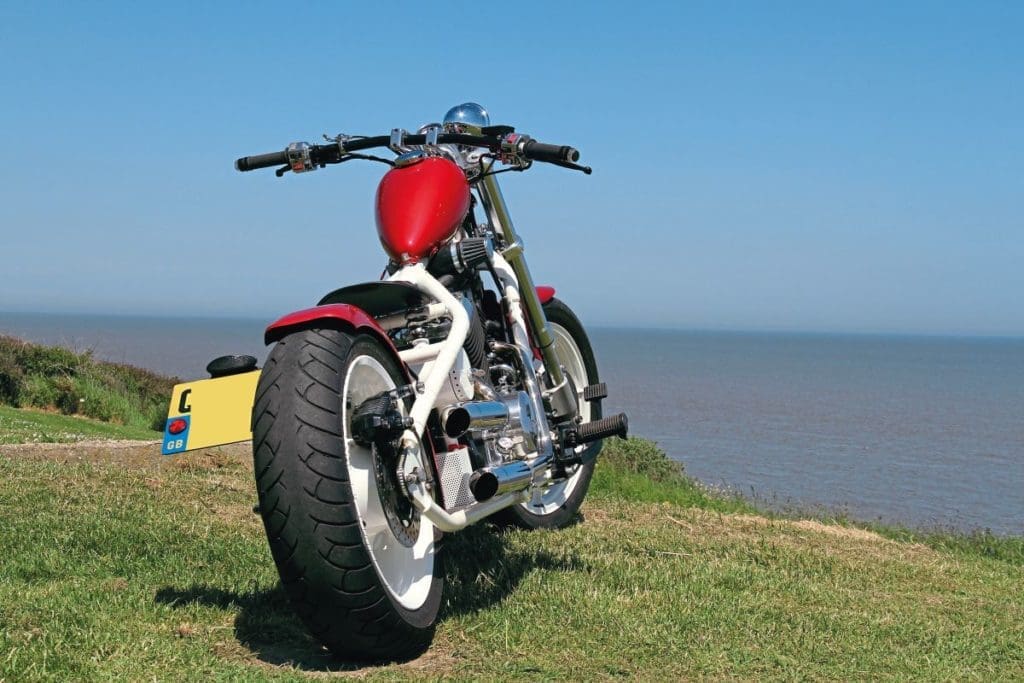 He had no plan, you see – it really was a case of make-it-up-as-he-went-along. He'd ordered a set of Suzuki Marauder (the US version of the Intruder) 800 upside-down forks, and yokes, from the States (the Yank spec' bikes got USDs, while British 'uns got Right-Way-Uppies), and found an MT03 Yam rear wheel that'd allow the chain run to be sorted easily, and then began to look through eBay and various websites to find the other parts that he'd need. Everything for the bike, he says, came via post to the door, some parts from around the world (so far we've had Latvia, Italy and the USA, haven't we?), and that trend continued as he looked for the things he'd need. A neat little teardrop tank was ordered, and modified to fit his frame; a sprung seat; steel front and rear mudguards; various callipers and master-cylinders; and all manner of other components, too. Bet his postie loved him, eh?
Anything he couldn't buy, he handmade (like the 'bars, the battery box, the side-mount, etc.), or modified, and it was, he says, a bit of a process. Having two young daughters to bring up, he couldn't just disappear to the garage when he wanted to, and'd often get up at 3am to get a long morning's work in before the household woke, and there were definitely times when he thought he'd made a bad decision in starting the project, and times when he'd had enough, but he'd gone too far to stop, and needed to see it through to the end.
Four years later (he says he often stepped away from the build to give himself time to think), with the paint (a flawless Renault red expertly applied by Miracoat in nearby Great Yarmouth), powder-coating and polishing all done, he started the long (although he didn't know that at the time…) process of getting it registered, and found that he'd have to go through a DVLA MSVA test (and a load of other hassles, too) to get it UK legal. It ended up on a Q-plate as he never could prove the date of manufacture to get an age-related 'plate – they required, you see, both the original frame number (which he had) and the engine number (which he didn't) to issue an age-related 'plate. He did actually, using just Google, manage to contact the Latvian equivalent of the DVLA, and get the correct engine number, but decided he liked the fact that the Q's date of registration was 2017 – it gave the bike a more 'real' birth date than whatever the year of the VN frame was, y'know?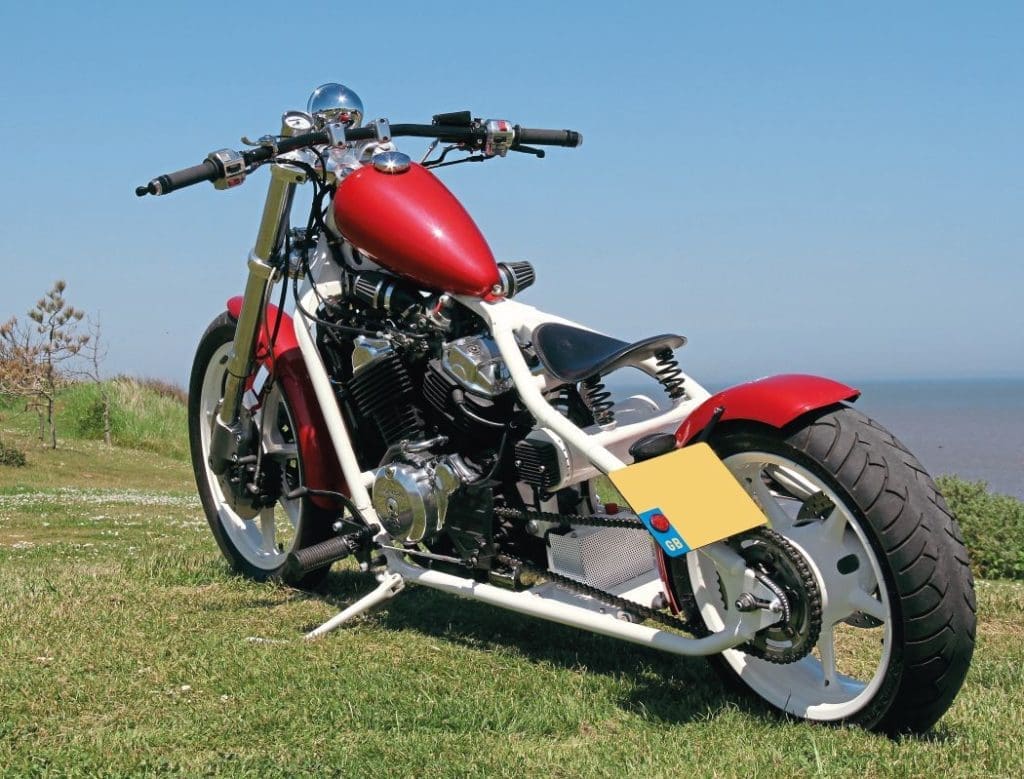 On its first every ride, he says, it felt a bit strange at first to think that this idea in his head was now actually a working, running bike, and it took a while to gain confidence on it (it was the first he'd ever built from scratch, remember), but soon he was giving it, how shall I put this, full destructive testing on Norfolk's long, open roads. Only one gremlin came to the surface after riding it for some time – the rectifier (originally inside the electrics box) overheated. A new one was housed on the outside (and he drilled ventilation holes in the front of the box to add cooling to the other components inside, too), and it's been fine since. He's chuffed with the end result – the ride's pretty good, it steers straight, and it holds the road well. Yes, it does get a bit bumpy at times depending on the road surface, but it's a hardtail – what do you expect? The seating position's comfortable, but he does need to plan his journeys as the little tank only holds about 50 miles of fuel, but that's no big thing – these kind o' bikes aren't designed for long-distance touring, are they?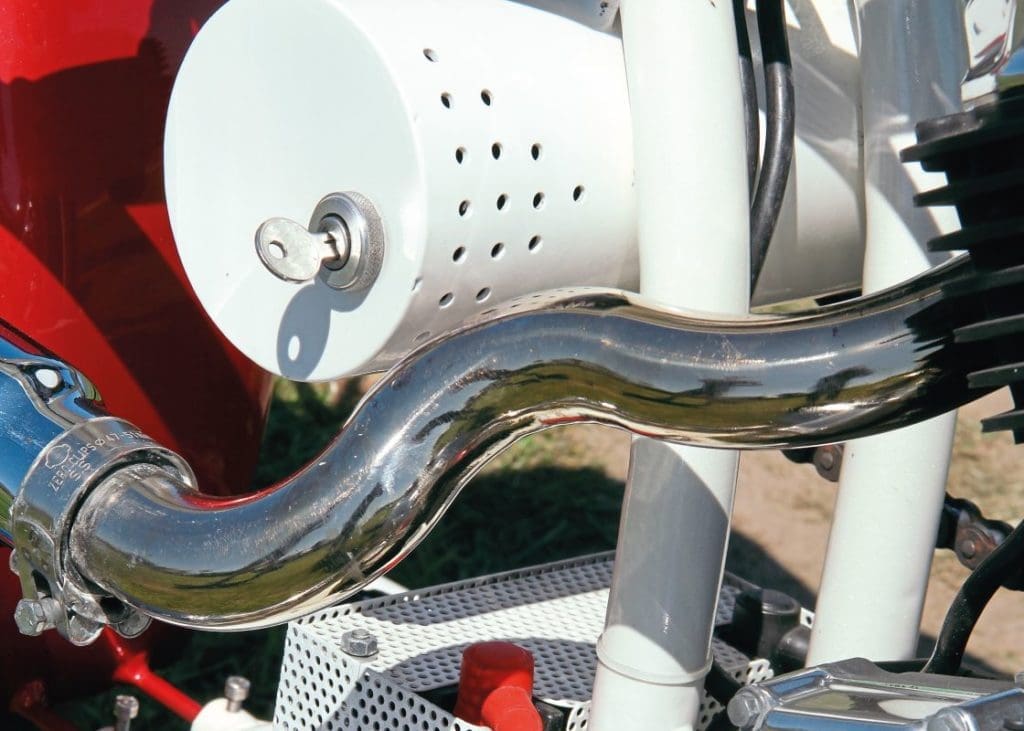 The bike now, though, is up for sale – he's kept the frame jig, and quite fancies doing another build, perhaps a cafe racer, so if you'd like to give it a home ring him on 07814 120493.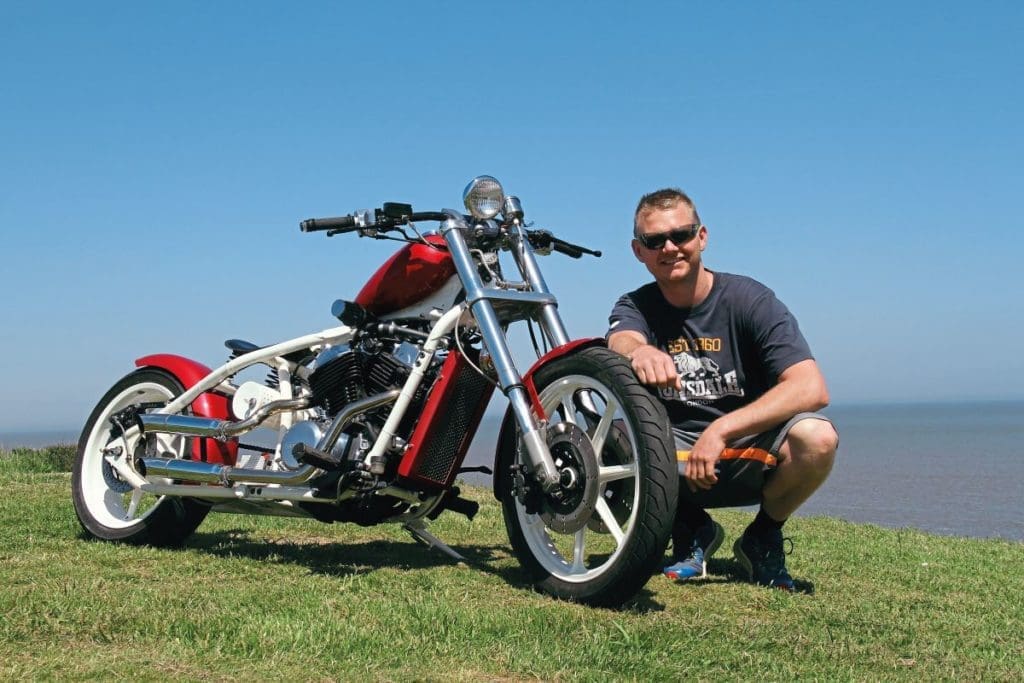 Spec:
Honda Transalp 600 engine (aftermarket air-filter, stainless down-pipes, one-off end cans), Kawasaki VN800 frame (hardtailed)/foot-rests/hangers/controls/rear master-cylinder, Kawasaki Z650 front wheel/discs, Suzuki Bandit 600 callipers, Suzuki VZ800 Marauder USD forks/yokes, Goodridge brake lines, one-off 'bars, Kawasaki GPZ900 front brake master-cylinder, Yamaha FZR600 switches (polished), aftermarket speedo/grips, aftermarket front mudguard (modified)/fuel tank (modified)/sprung seat/rear mudguard (modified), one-off battery box/electrics box/side-mount, Yamaha MT03 rear wheel/disc, Suzuki GSX-R rear calliper, Yamaha TDM850 rear sprocket, hybrid Kawasaki/Honda loom, aftermarket headlight/tail-light, LED 'bar end front indicators, LED rear indicators 
Finish:
Renault red paint by Miracoat (01493 853957 or mirracoat.com), powder-coating by SKA Fabrications (07513 701907), polishing by Wyatt Polishing (01842 766770 or Facebook)
Engineering:
Bike built by owner
NIK