There's much been said about the downsides of the Covid lockdowns that most of us were affected by, but perhaps not quite as much about the positive effects it had on our lives…
The mainstream media may waffle on about the huge uptake in gardening, or how 'community spirit' made a comeback, but what we're interested in is just how many people spent their additional spare time building motorcycles? One person who built a bike, the one you see here funnily enough, is Jason Hallam. He was furloughed and, once he'd got the inevitable household chores out of the way, realised he'd have time to build himself another custom bike (he'd already built two magazine-featured Suzukis, under the name 'H Customs'). Some years previously, he'd bought a GSX750ET engine, as well as a very cheap VFR800 single-sided swinging-arm, and although his plans were for a hardtail, that swingarm gave him an idea. He'd seen very few single-sided rigid frames, but he could use the jig he'd kept from his previous builds to create a one-off that'd use the hub and braking components from the Honda rear end. You'll notice I didn't mention the VFR wheel there? That's because he wanted a 240 section rear tyre (the VFR rim's a 5.5" one, and only wide enough for a 180), and so chose a car rim that had the same 100×4 PCD fitment as the Honda hoop (although, due to its different offset, a spacer was required). Fortunately, and despite lockdown, the local steel stockholders were still open, and he was able to get hold of the tubing he wanted, in 4mm wall 42.4mm and 33.7mm outside diameter.
Construction didn't actually start until he'd found the fuel tank he wanted to use, as that dictated the length and angle of the top tube. He doesn't have the tooling to make his own tanks (not yet, anyway!) so he couldn't make one, but he found one he liked, and started on the frame, setting the headstock at 45 degrees, five inches higher than stock (whatever stock may be!), and with five inches longer stretch, too. He likes the look created by a single top tube, and single down tube, so that was easy enough to fabricate, but a little more thought had to go into the rigid rear end given the single-sided arrangement. Two paired tubes, formed to curve around the tyre, run from the seat tube to the hub, with a third forming a brace from the top of the seat tube, while a removable one runs from the frame's bottom rail to the top of the hub (so the chain can be fitted/removed without the need to split it). There's also an additional tube to hold the side-mount 'plate and rear light that adds some visual complexity, but has no structural requirement.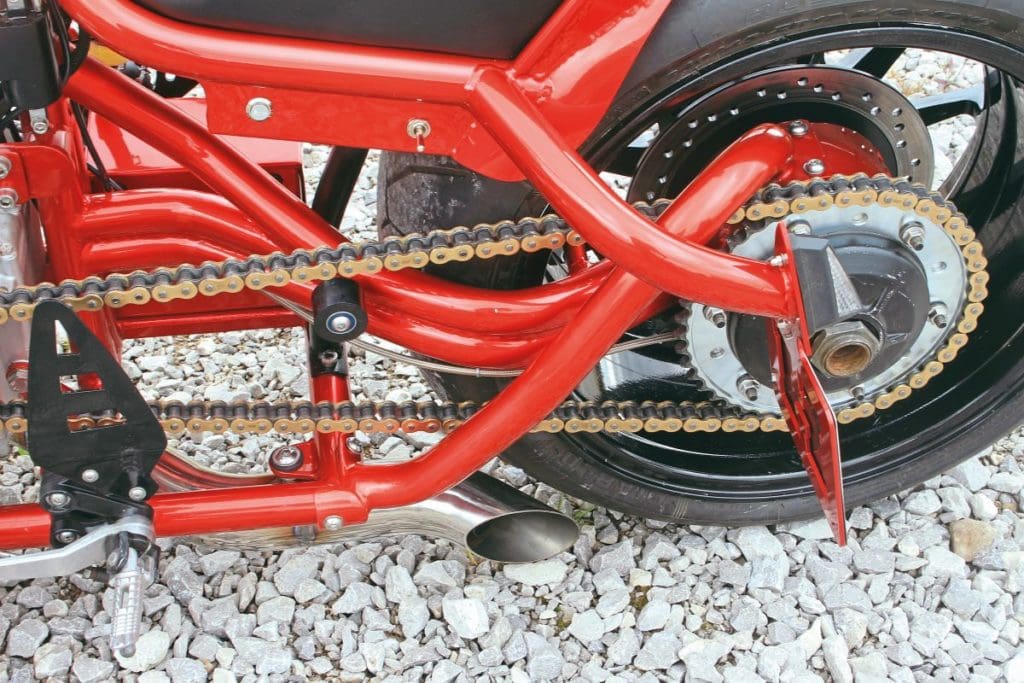 The frame also features a dropped seat design, as he wanted a low seat, and the lack of clutter that a non-sprung seat gives (although his back may have a different opinion…), and the dropped style allows for a more comfortable perch than a conventional vee. The electrics box's tucked neatly beneath it, and there's an additional battery box fitted rearwards of the clutch casing. From the start he had intended building his own forks, primarily because this meant the frame's size and stance wouldn't be dictated by the size of a set of aftermarket (or production) forks. The tubular girders that're fitted are the second set he built (the first set were scrapped after they proved to have negative trail), and're sprung by GT550 rear shocks. One of the most expensive parts of the build was finding a front wheel of the correct dimensions that visually matched the rear, and a 19" Harley hoop was chosen, slowed by a six-pot Kawasaki calliper, and matching disc, modified to suit. With a rolling chassis now together, he could try the tank on, and get the fittings sorted. With it laid in place, he stood back to take a look and, with perfect timing, it slipped off and fell to the floor with a clang. Now it'd need more than just paint for the finished bike…
With the tank mounted solidly as a priority (he learns quickly!), the pullback 'bars were made with an aim of best ergonomics, which led to the design and creation of the sissy-bar (which hadn't been in the original plan), giving the perfect riding position once the GSX-R rear-sets'd been fitted in the 'mid' position. The initial plan'd been for a black paint scheme, but it's often only when a bike's fully together, in one piece, that you can really decide on a colour. He knew he wanted a silver engine, with stainless exhaust headers and system, and it was his son, Josh, who suggested the red n' black, with a number 48 added to the tank in remembrance of Jason's late younger brother, who used the number for oval racing. As parts returned from paint and powder-coating, the final build started. For the electrics, he ran as many wires as possible through the frame to keep it clean, but left the coils on view with the HT leads tucked neatly beneath the carbs (rather than running from beneath the tank like most).
Once complete, it fired up within a couple of tries, with no smoke or rattles (something of a relief as it was the first time he'd heard the engine run in owning it five years!). The first run was for the MoT, and involved a tight 90-degree corner, and then 2.5 miles along a single-track moorland lane, before he got to the main road. This gave him a sleepless night beforehand, not knowing how well it'd ride, but not only did it track straight and true, but also went round that first tight corner with no problems at all… and it passed the MoT first time, too – bonus! The weekend after it was photographed for this feature he took it to the Rock & Blues, and won not only Best Chopper there, but Best Engineering in round 5 of the BSH Championship, too. If that's not a positive side to Covid lockdowns, I don't know what is!
Spec:
Suzuki GSX 750ET engine (GSX750F carbs, K&N twin filters, Dynatek ignition, Delkevic stainless headers, one-off collector/underslung slash-cut exhaust), one-off frame, Suzuki GSX-R 1000 foot-pegs (modified), Suzuki GSX750F side-stand (modified)/front brake master-cylinder/brake lever/clutch lever, 19" H-D front wheel (modified), Kawasaki ZX-9R calliper/disc (modified), one-off forks with aftermarket GT550 shocks, braided brake lines, one-off 'bars, aftermarket GPS speedo, one-off instrument surround, Domino grips, aftermarket custom tank (modified), one-off seat, Jesse James rear mudguard (modified), one-off battery box/electrics box, one-off sissy-bar, one-off side-mount 'plate, Japan Racing 17 x 8.5 car wheel, Honda VFR800 hub/calliper/disc/master-cylinder/torque arm (modified), one-off offset drive sprocket/external supporting bearing, 240/45×17" tyre, aftermarket 5.5" headlight, aftermarket LED Blaze tail-light, one-off loom
FINISH:
Candy Apple Red by Fred Fairburn, decals by High Peak Signs (01298 74014 or www.highpeaksigns.net), powder-coating by High Peak Powder Coating (01663 744824 or www.highpeak powdercoating.co.uk) & Garie Bevan
ENGINEERING:
Bike built & most all engineering by owner at H Customs ([email protected]), Chesterton Engineering, & Guy Allott Motorcycles (01298 25813 or www.guyallott motorcycles.co.uk)
THANKS TO:
"Dean & Josh Hallam for help & paint scheme choice; Mark Chesterton for machining; Fred Fairburn for fantastic paint (again!); High Peak Signs; Guy Allot Motorcycles; Ride & Restore Motorcycles (01625 315065 or www.rideandrestore.com) for aqua-blasting engine/carb rebuild; Steve at Sturgess Saddlery (07737 597108 or sturgesssaddlery.co.uk) for seat; & Mrs Hallam for allowing me the time to carry on building…"
Dave Manning

Enjoy more Back Street Heroes reading in the monthly magazine.
Click here
to subscribe.