Imitation, they say, is the sincerest form of flattery – trying do what someone else does, own what someone else owns, or think like someone else thinks is taken as a compliment to that person.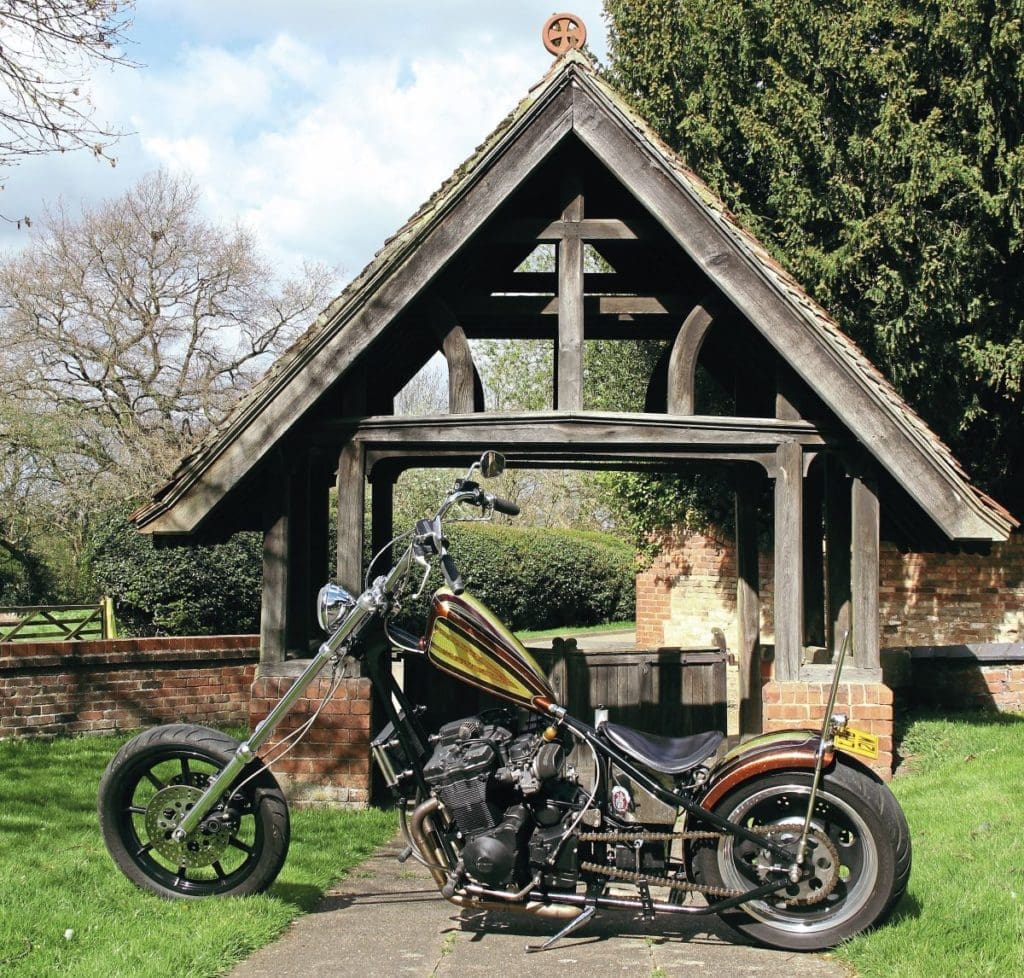 Shammy from NCC Lincs'd often see, on National Chopper Club runs, Dan from NCC Northants pull up on his (largely) oil-burner Suzuki-engined chops and, every time he did, he kept thinking more and more that he wanted one. The more he looked round them, especially the one Dan'd built that was featured in BSH 420 back in 2019, the more he liked what he saw. He's always been a fan, you see, of the long-forked 70s-style chopper but, being an NCC member, was aware of their shortfalls – Dan's bikes, though, were long fork, high headstockers that both looked the part, and were more than capable of doing the miles that NCC bikes do. Trad' Seventies chops, as we all know, look the nuts, especially the long 'uns, but they were designed for an era – an era that had less traffic (a lot less!), and better road surfaces than we have these days. You can still do distances on them, of course you can, but it's a very different experience to do so now to what it was then, y'know?
Anyway, Shammy and Dan (who you may also know as Dan from Dan Death Custom Cycles) got talking over a beer or several, and Shammy ended up asking him to build him something similar. They thrashed out a few ideas, plumping for using, as the heart of the beast, a 1200 Bandit motor and ancillaries ('cos they work well, and Dan's a bit good with Bandit motors), and a plan for a very Seventies 'flake paint scheme, but not a crazy one – Shammy wanted it to look Seventies, yes, but not to the extent he was worried about taking it out in case he scratched it. Dan promised to talk to his good friend Flakey Dave (who you may've heard of), and that was that – the build was on!
Using the experience he's gained over the last hahumph-many years, the first job was to score a suitable GSF12 engine, and get it set up in the DDCC jig. A fat (200-section) 17-inch wheel was procured and slotted int' rear, and a set of eight-inch over ('the shortest I do!') aftermarket Harley forks with a matching 19-inch wheel propped up at the front, and then he ran some tube between them. It's one of his trademark high headstock rigids, and it's crowned by a very slender Lowbrow Customs Frisco-mounted tank that, at first glance, looks far too small, capacity-wise, to give Shammy any kind of a fighting chance on a long run, but actually holds enough to do 100 miles between fill-ups. That may not sound a lot to you perhaps but, given the crowded state of the roads, that's two-plus hours or so's riding, and most people're more than happy to get off every couple of hours to stretch their legs, especially on a hardtail.
With the proportions set correctly, Dan could set to making all the other parts that any well-built custom needs. He's a big fan of the no-fuss properties of stainless steel, and so a fair amount of the goodies on this were made from it, meaning Shammy doesn't need to spend an eternity polishing the shiny bits after, or prior to, a run, including the useful (and de rigueur on a 70s-style chop) sissy-bar that Shammy can tie his gear to of a Bank Holiday, and not have to worry about anything dragging on the tyre or leaping off the back into following traffic. The rear 'guard's an equally solid bit o' kit, reprofiled to fit the tyre just so, and the subtle sprung seat was (a) made by the renowned Jozef Leathersmith, and (b) doesn't look like part of a rotted-out '40s armchair as so many do these days. It's plain black and simple and, very importantly, not carved so it doesn't leave an imprint in yer 'arris after a long day on the road (unlike a mate o' mine's which left a very definite Motorhead Warpig on his arse cheeks at the end of each hot day on the way to Faro one year).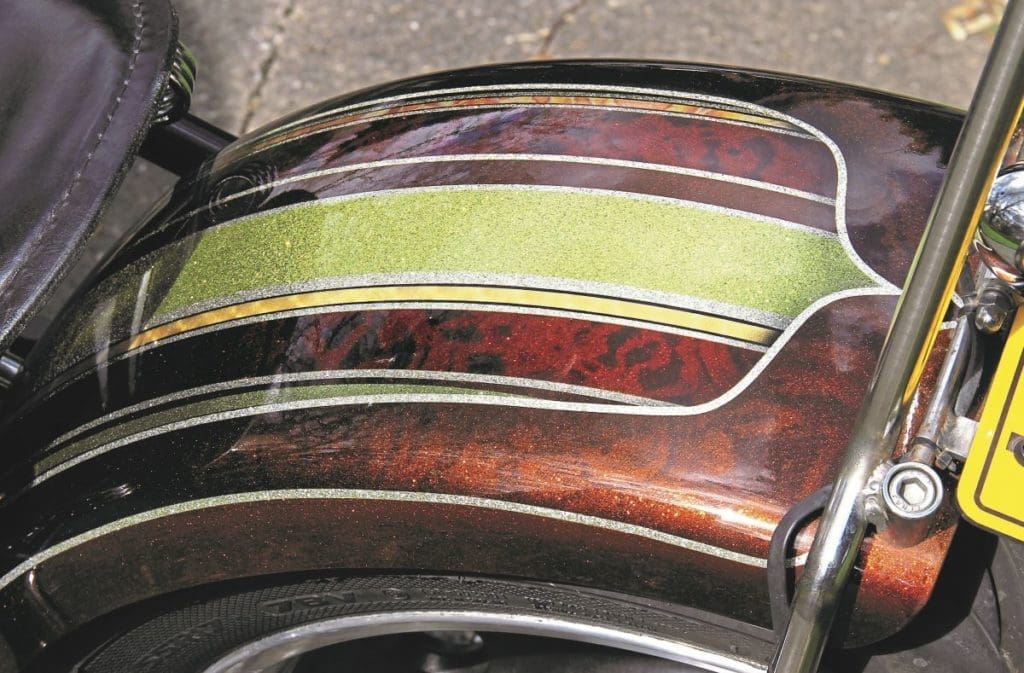 He also used stainless, albeit not highly polished, to create the one-off 4-2-1 exhaust that exits just in front o' the rear muddie – that configuration, rather than just 4-4, or 4-2, drag 'pipes, ensures the motor, with its Pipercross air-filters and rejetted carbs, breathes as it should, allowing as many of the 100 horses a B12 motor puts out (at the rear hoop, not the crank) to escape as they should. They definitely do too, as you'll know if you've seen the video of Shammy's bike on the BSH YouTube channel… whaddya mean you haven't? Get on there now!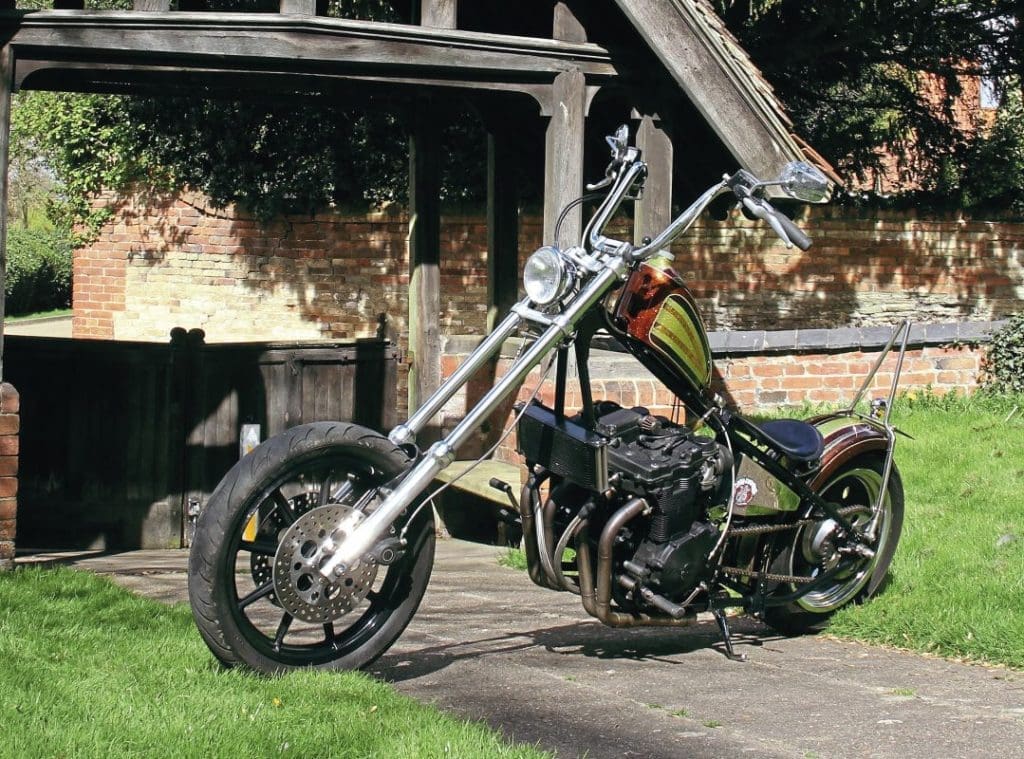 That really just left the paint and, as I said earlier, that was going to be something left in the capable hands of 'Flakey' Dave Addis at Flakey's Custom Paint Studio. Shammy had a rough idea of the colours he wanted, but he, wisely, left the rest up to Dave, and he wasn't disappointed at the result. In fact, he says that he had a tear in his eye the day he came to collect the bike – he was just so blown away by what Dan and Dave'd done. The paint (and the bike!) is, without a shadow of a doubt, good – not in-yer-face, but subtle, and incredibly intricate, and it suits the overall look of the build perfectly. It twinkles in the sunlight, the gold and the 'flake picking up the celestial rays, and Shammy's very happy with it. As he says, thanks Dave, and thank you Dan!
NIK
SPEC:
Suzuki Bandit 1200 engine (Pipercross air-filters, one-off 4-2-1 exhaust, aftermarket oil-cooler/braided lines), one-off hardtail frame (39 degree rake, six-inch stretch)/forwards, 110/90/19 front tyre, H-D 19-inch wheel/brake/narrow-glide yokes/master-cylinder, 8-inch over 39mm Showa forks, braided brake lines, Burley Brand mini apes, Biltwell grips, Lowbrow Customs Frisco-style fuel tank, one-off seat by Jozef Leathersmith (07947 131103 or Facebook), one-off electrics box/battery box, 6-inch reprofiled aftermarket rear mudguard, one-off sissy-bar, H-D 200×17 rear wheel/disc, Brembo calliper, one-off  torque arm, custom rear sprocket, one-off loom by Russ Payne, 5.75" Bates-style headlight, mini Bates-style rear light
Finish:
Gold leaf over root beer & brandy candy by Flakey's Custom Paint Studio (07756 534290 or Facebook), polishing by Dan Death Custom Cycles
Engineering:
Dan Death Custom Cycles (07828 845609 or Instagram/Facebook)
Thanks to:
"Dan at Dan Death Custom Cycles; Flakey Dave; & Jozef Leathersmith…"