As's been mentioned a few times over the last few months, some bikes've taken a while to get photographed for the magazine because of delays imposed by Covid and lockdowns. Some, though, take a while to get photographed 'cos the owner(s)'re forever pulling the feckin' things apart and redoing them…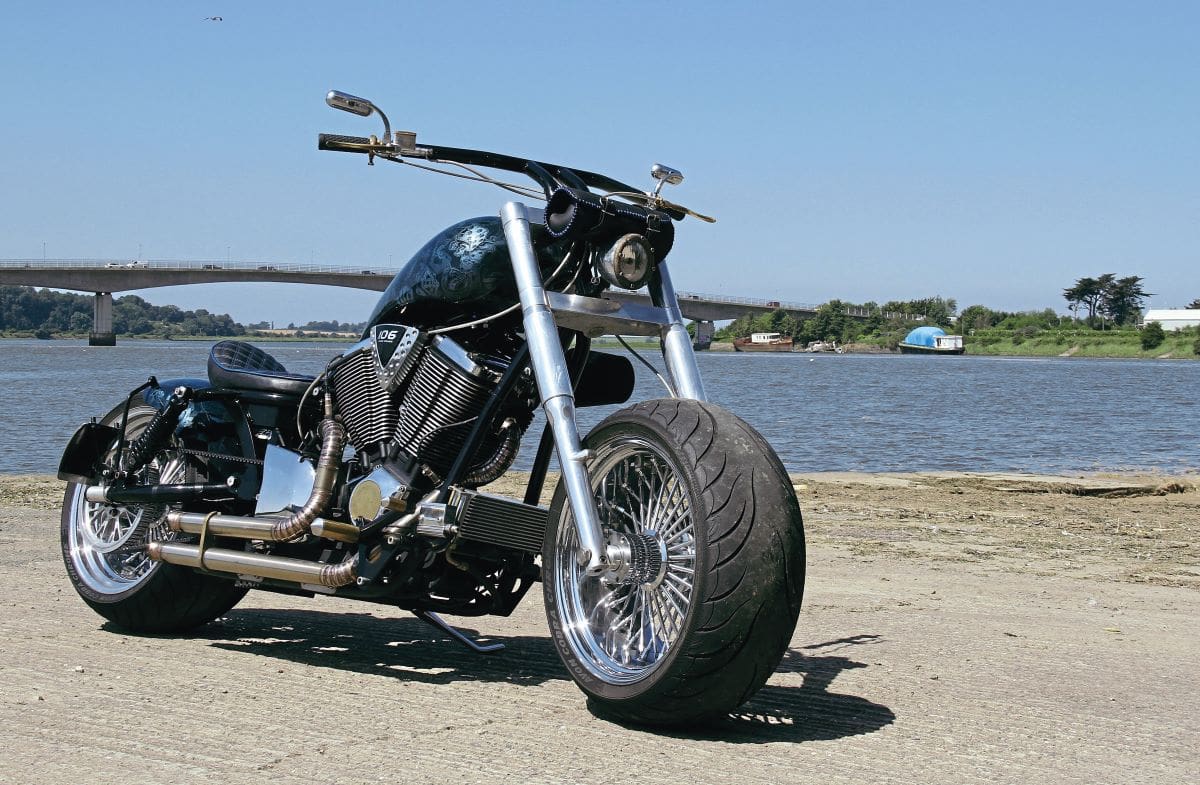 Nik
This one 'ere, Tony Cooper's monster-wheel Victory, is a case in point. I'd been trying to get down to his native Devon to shoot it for I don't know how long before I finally managed, but almost every time I thought I had a chance time/work-wise, I'd contact him and he'd say he'd just pulled it apart again. Okay, so, yeah, the Covid crisis did get in the way too, granted, but when I first saw the bike it was a hardtail, then it changed to the twin-shocker you see here, and at one point he was talking about taking the back end off completely, and making it into a trike. In fact, since these pics were taken in July last year, he's had it completely apart again, and had the frame redone in an amazing blue/violet flip powder-coat (as you'll've seen if you went to the Custom Heroes stand at Motorcycle Live! at the NEC back in December). I don't know if he still has plans to do owt else to it as it's now up for sale (info' on that in a mo'), but it wouldn't surprise me to learn that, if it doesn't sell, he does trike it.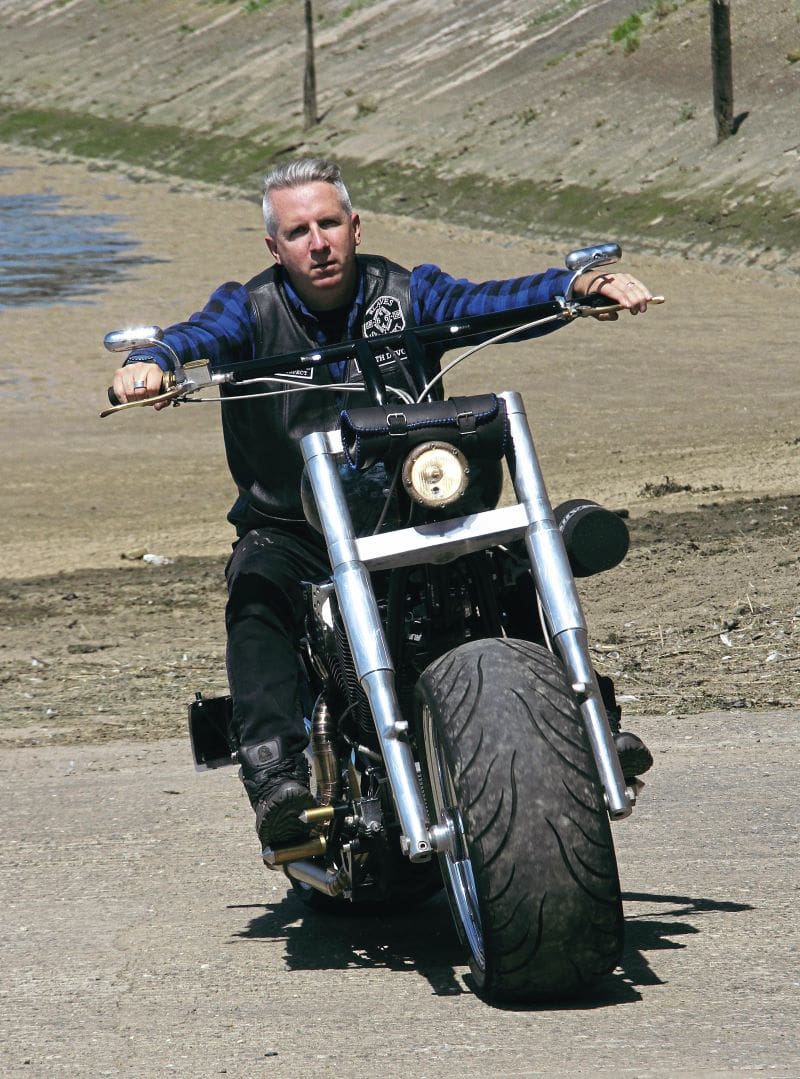 Anyway, as you'll probably guess, this isn't the first custom he's done, oh no. As far back as there've been custom bikes on internet social media sites I've seen his name associated with some really good bikes, and he was building them way before then, too. This bike came about as a result of a conversation with Tony Groom (whose rat rod XL500 won the Best New Skool class of the 2019 BSH Custom Champs) about the 106 cubic inch (1731cc) engine he had. He'd planned to do something with it, but'd decided he had too much on so offered it for sale. Both Tonys couldn't remember seeing any proper custom Vics, as owners're wont to call 'em, so Tony C decided to take it on to build something that no one else'd done.
He traipsed up from the West Country towards the end of May 2018, and loaded the motor, and its ancillaries, into the boot of his car… and that's where it sat for a month as it was too heavy for one person to lift out on their own – they're a big lump, those Victory motors! Finally, though, a couple of mates came round, and they managed to get it out and into his workshop, and he could start doing things with it. He'd been collecting parts for his next project for a while, as he'd been wanting to build a bike with monster tyres for a while, and'd got hold of a pair of fat, fat Avons (a 260 to use as a front, and a 300 as a rear), and was able to get the engine, the wheels (both eighteen-inch 48-spoke Ultimas intended for a Harley), and a set of VN1500 forks, set up in his jig, and then do the tube thang to connect them. That relatively simple bit done, he was able to start on doing all the smaller, but oh-so-important things that need to be done to turn a basic rolling chassis into a bike.
And there was a lot to do, too. No one really makes parts for Victorys in the same way as they do for Harleys, say, and everything had to be made or modified to suit (although this is the way he prefers it anyway). The tank came from the States, and was reworked to suit the frame; a dummy oil tank containing the fuel pump was made to go under the seat; a new one-off pulley was made to get the belt to line up with the one on the H-D spec rear wheel (Victory Hammer's run a 250 rear as standard so a 300 isn't that much bigger); one leg of the forks was shaved as he only wanted a single front disc/calliper (both discs're actually Harley rears with a VN calliper up front, and a Hammer under-slung 'un at the rear); and he made a set of alloy shrouds to go round 'em to bulk 'em up a bit. Mark Nadin, the excellent engineer Mark Nadin, made up a monster set of billet yokes; Tony himself made the one-off 'bars to incorporate a Motogadget Mini speedo unit' and modified the aftermarket rear 'guard to sit just so; and also did the rather wonderful pie-cut exhausts. In fact, apart from buying the master-cylinder (from Kustom Tech in Germany), the three-in-one rear light (fitted with a Motogadget brake light module so that it strobes for extra visibility), the headlight (again, a K Tech one, but secondhand off eBay) with its distressed brass rim (usually, having a distressed rim isn't a good thing, but in this case…), and various other components that can't really be made at home, he did just about everything else (the seat was upholstered and covered by Pippa at Devon Custom Trimming, for example), including sorting out the absolute nightmare of a wiring loom with all its US-spec safety lock-outs and things. As he was going to remove the fuel-injection system's throttle body, as it now didn't look right at the top of the motor where they are on the stock bike, to sit at the side, and have a sexier forward-facing intake, the stock ignition was replaced with an infinitely adjustable Dynojet Power Commander 5, which allows you to plug in a laptop computer and completely f**k up the fuelling… sorry, sorry, adjust the fuel/air/sparks to perfection.
The dry build was finished and tested in November 2019, and then the big Vic' (wasn't he a character in 'Viz'?) was ripped down, powder-coated (by 1st Choice Finishes in Exeter, who also did the later blue/violet flip), and the tank n' rear 'guard hydro-dipped and airbrushed by the cleverly-named Akwashak Hydrographics in Walsall in a very intricate 'Vegas'. It was all back together, and on the road in February 2020 – just in time for lockdown… joy. In March 2021 he cut it in half (his words), and redid it as a twin-shock, and the rest, as they say, is history.
Since then, when he's been allowed to, he's been out and about on it, and reports that it rides just fine, goes like hell, and corners… umm, well, it corners, yes, but there's a bit of a dark art to it, shall we say? He's done a good few miles on it now, and loves it, but he's got the itch to build something else, so it's up for sale. Ring or message him on 07474 884538 or on Facebook… please, before he cuts it up again!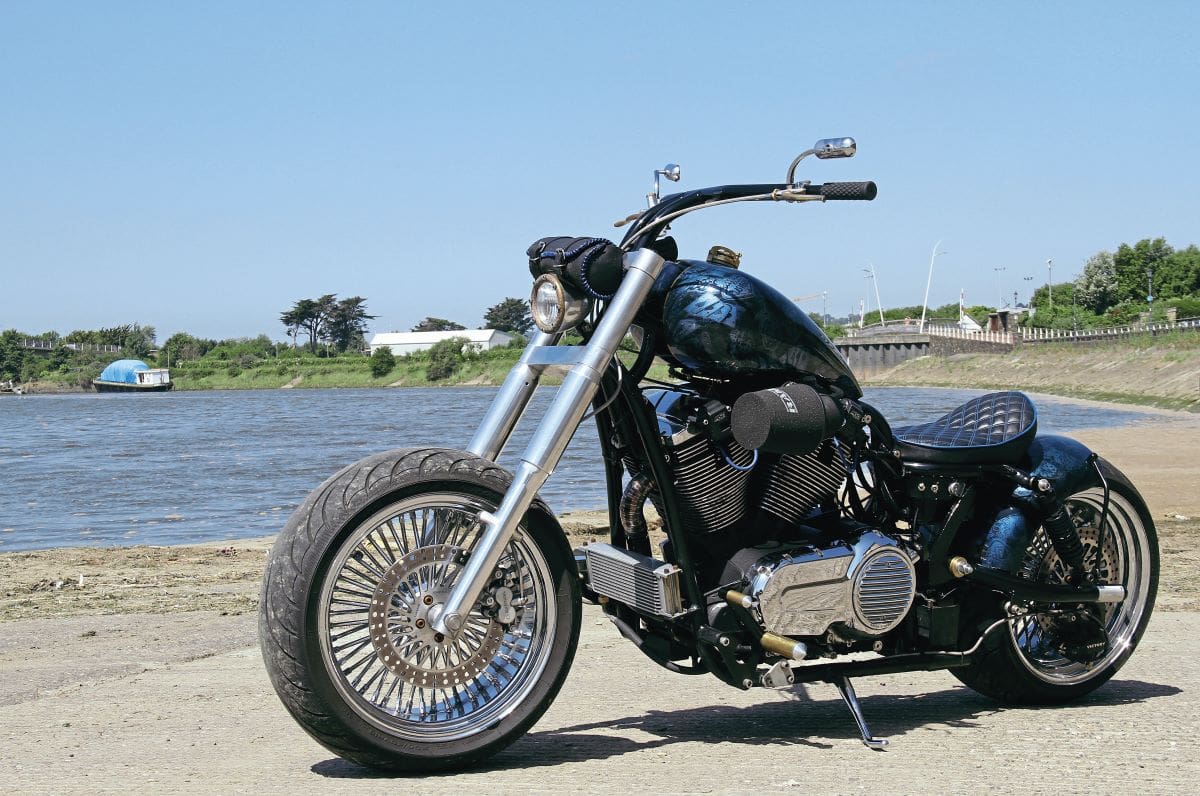 SPEC:
Victory Hammer 1731cc (106 cubic inches) engine (modified stock throttle body, one-off air-intake/filter, Power Commander 5 adjustable electronic ignition, one-off two-inch bore stainless pie-cut exhausts, Austin Mini oil cooler, stainless lines, one-off front pulley), one-off frame (35 degree rake, slight stretch), one-off billet/brass sealed bearing forwards, Avon Cobra Chrome 260/35/18 front tyre, Ultima 18-inch king spoke H-D wheels (8.5 front/10.5 rear), H-D aftermarket rear discs (front & rear), Kawasaki VN1500 calliper/forks (modified), one-off billet fork shrouds, one-off monster slabs by Mark Nadin, stainless braided clear-covered hoses, one-off 'bars, K Tech master-cylinders, aftermarket waffle grips (modified), aftermarket US fuel tank (modified), one-off seat base (cover by Pippa at Devon Custom Trimming 07813 476493 or Facebook), aftermarket rear mudguard (modified), dummy oil tank with fuel-injection pump, one-off battery/electrics box, one-off mudguard struts, aftermart H-D swingarm (modified), YSS fully adjustable shocks with progressive springs, Victory Hammer underslung rear calliper, one-off torque arm, S&S carbon rear drive belt, H-D rear pulley, Avon Cobra Chrome 300/35/18 tyre, one-off loom by owner, K Tech headlight with distressed rim, aftermarket 3-1 tail light/indicators, Motogadget brake light module/flasher unit/Mini Motoscope instrument console (flush inside handlebars)
Finish:
Blue/black hydro-dipping & airbrushing by Ian at Akwashak Hydrographics (07449 345698 or Facebook), powder-coating by 1st Choice Finishes (01392 468086 or www.1stchoicefinishes.co.uk), polishing by owner
Engineering:
Bike built & most work by owner
Thanks To: 
"My amazing wife Donna for pushing me to build it; Mark Nadin for the yokes; Rob Bowyer for the chats I needed to spur me on; & Nik at BSH for not slapping me every time I cut it up & rebuilt it…"