I built this bike originally around eight years ago for a mate who was recovering from an operation and wanted me to let him pay weekly, and help build the bike as something to help him get stronger. It's not something I'd do normally, but it felt like the right thing to do, so…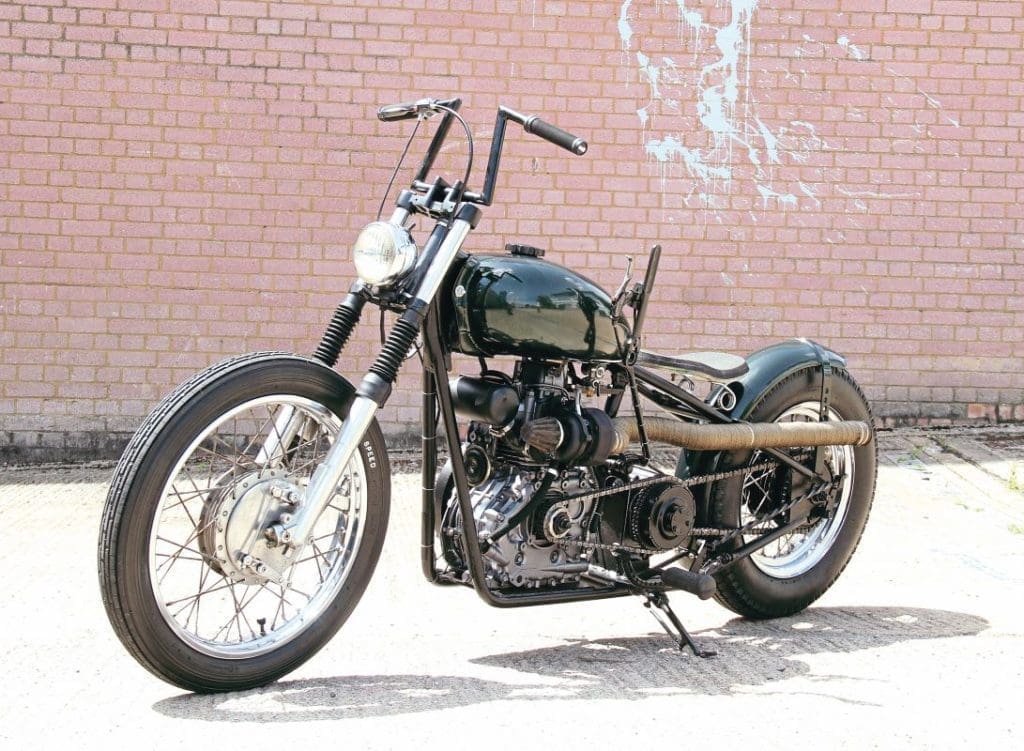 Andy Murray (MurrayBuilt Custom Bikes)
Pics by Simon Everett
I got hold of a '91 Bullet 500 Enfield, and cut the frame up, keeping the headstock, and knocking up the new one from thick-wall mild steel tube on my adjustable frame jig. I wanted a straight line from headstock to axle so that decided the stretch and rake, and I wanted four inches of ground clearance so that you could actually ride the thing. I used the Bullet's front end complete, and had a mate lace a 16-inch Harley rim on to the Bullet rear hub. That got the bike looking right to my eye, so it was put back together as a fairly standard Bullet chop, and it was okay. Then, my 'mate' tells me he doesn't think he'll be able to kick-start it… deep breath time. I decided to keep the bike for myself, and build him a Hard-Up Choppers Wormburner with a Suzuki Bandit 600 engine. I finished that for him, but he only rode it a few times and then sold the thing on. That's mates for ya…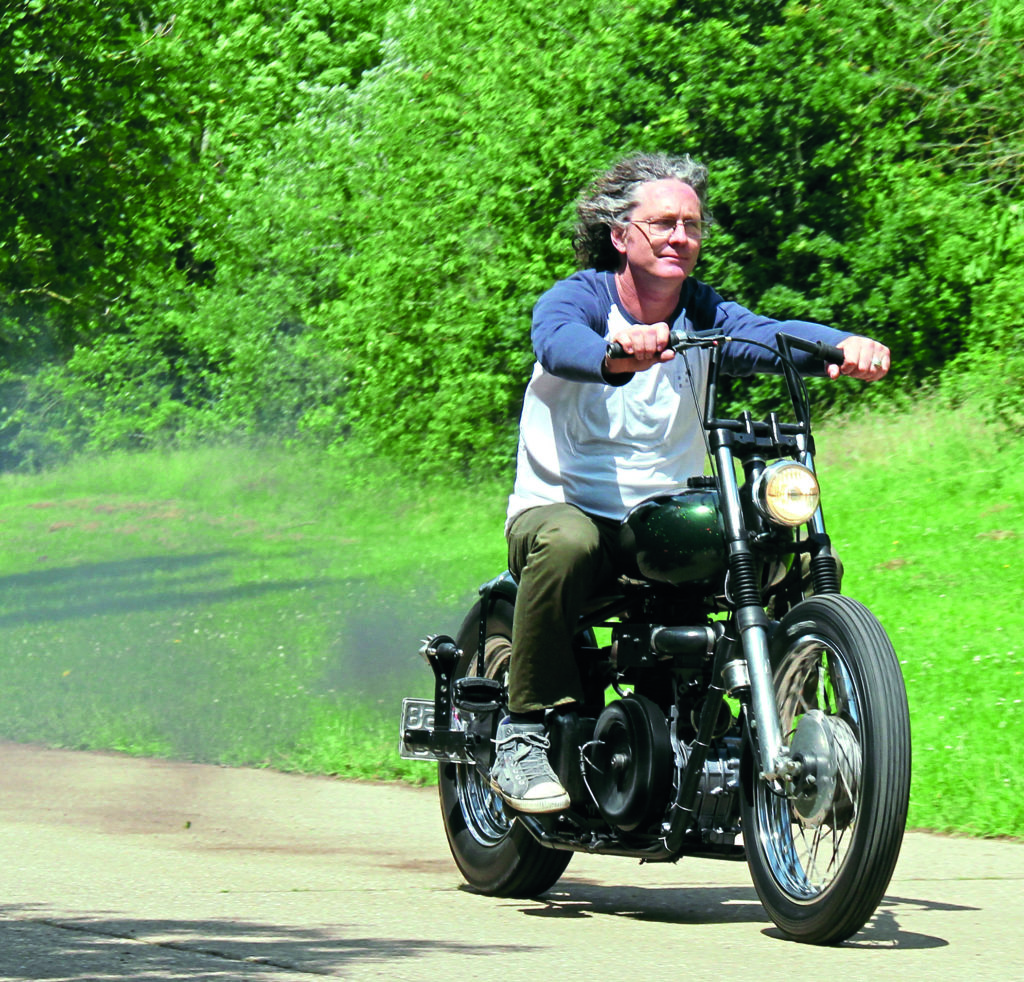 Anyway, the Enfield chop got torn down, as I wanted to build it up with a hopped-up engine and make it mine, and so got moved around in various boxes for a few years. Fast-forward to 2019 when we moved again, and I got a decent workshop on the side of the house. Me and my lad were roped into helping a mate (who'd just bought a farm in Wales) lay down a large concrete pad for her horses and, whilst mooching round, we discovered a large pile of farm junk. We rummaged through and found, among other things, the remains of a Polaris D-Batt quad. This had a Yanmar L100 406cc diesel engine in it. I looked at it, and a cunning plan was hatched to fit it into my chop.
The engine was duly fitted in place of the Enfield single, with the aid of a 6mm base plate welded across the lower frame tubes, and I used the Bullet's four-speed gearbox spaced back from the engine so that it looked right, and also allowed easy access to the oil filter and the diesel pump control linkages. It's in a cradle that slides to allow the duplex primary chain to be tensioned, too. The sprocket centres are all in a line so the chain runs look correct (not up-and-down between the engine, the gearbox, and the rear wheel), and the gear lever's a hand-shift, with the clutch lever and the horn button mounted on it, made from a Britool ratchet body and a Britool ring spanner – it passes through the frame from right to left, and's on a linkage made from spanners with holes drilled to allow adjustment.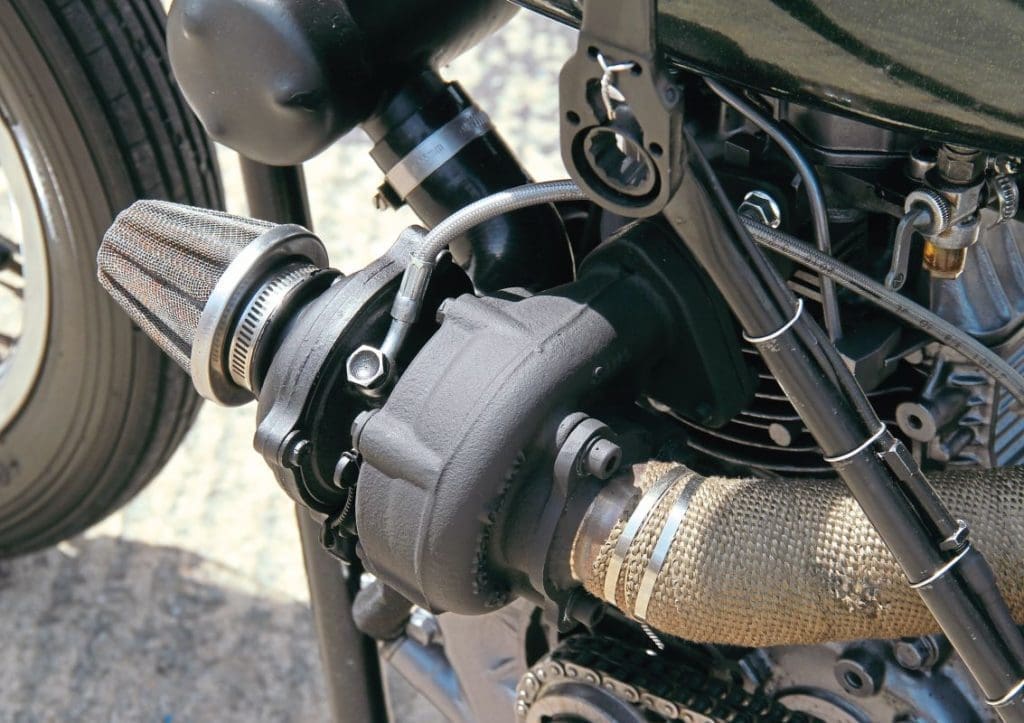 Oh, and there's the turbo; I've always wanted a turbo bike, ever since a mate at school's dad had a GPz750, and this seemed like the perfect opportunity to realise the dream. After lots of research I decided to use a Borgwarner VNT turbo from a Vauxhall Corsa 1.3CDTI, as I could then set the blades to where they made boost, but didn't restrict the exhaust too much. Being a single-cylinder, it's important to have a boost storage area as the exhaust pulse doesn't match easily to the inlet and, not wanting an ugly intercooler, I fabricated a plenum chamber from an old fire extinguisher, and an inlet manifold from 3mm mild steel – the inlet incorporates a reed valve to help engine pick-up off boost. There's no boost gauge fitted, just a mini speedo on one of the fork legs, but I'd guess it's making around 3–5psi, which is enough to hear the turbo spool up under load. The diesel fuel pump's max' fuel screw was wound up a bit, hence a bit of smoke off-boost (and the occasional perfect smoke, how cool is that?). Power? Probably not that much more than standard, honestly, but that's not the point, is it?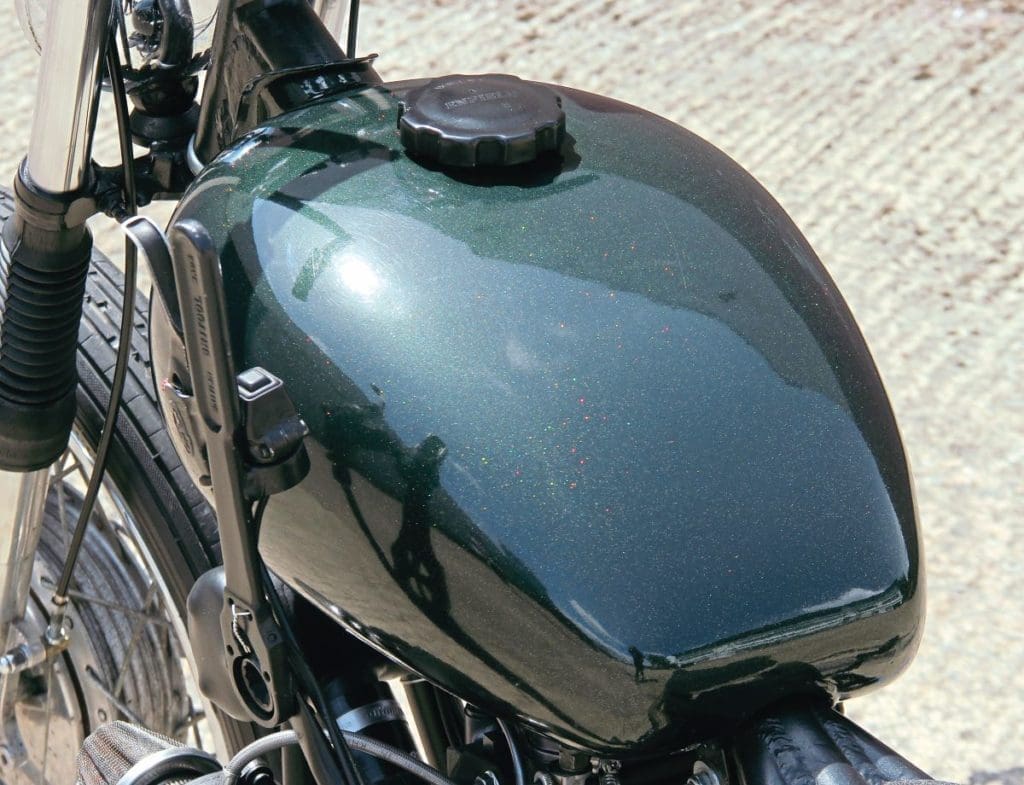 The tank's the standard Bullet one, modified for diesel usage (there's a return line fitted), and the seat's made from a skateboard deck, covered in 20mm foam, with a couple of small springs. The rear 'guard's a steel one with a wrap-over strut drilled with hot rod-inspired holes, and various others parts're drilled too, as a nod to hot rods. The rear brake rod was made from twisted square bar, and I made the Z-'bars, and the one-off rear light – it's an old CB750 exhaust collar with a Schwinn Cruiser (one of those cool American push-bikes) lens in a Lucas rubber body. Finishing details were ODI grips and Avid levers from BMX bikes, as an homage to my BMX days.
It gets lots of looks and questions as it doesn't sound like a motorbike should (and, as I said, it smokes as well). It's also good fun to ride, and makes you concentrate hard, which's good after 30 years of riding bikes. It's kick-start only – a knack that needs to be learnt, but it normally fires first or second go. It's kick-start 'cos there's no battery – being a diesel, it works by compression ignition (the air in the cylinder, as you kick it, compresses and warms and ignites the fuel – there's no spark as such), and there's just a cable on the fuel pump to shut it off and kill the engine. The lighting's direct, like on the BSA Bantam and similar, meaning there's barely any loom at all as such.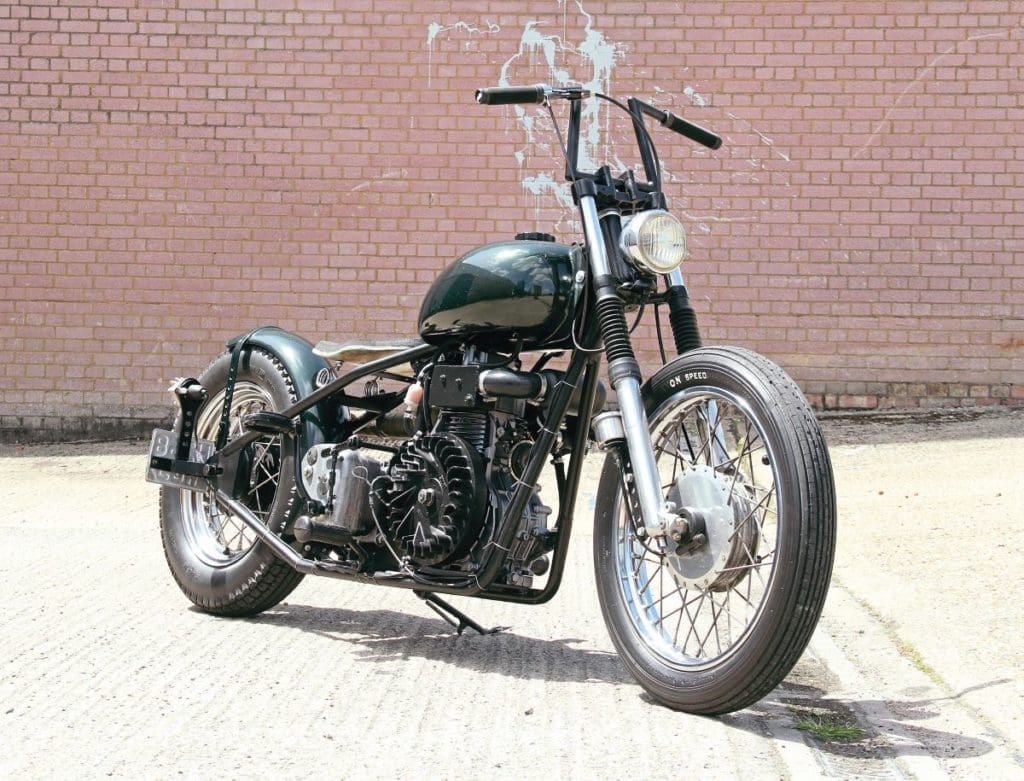 I've been asked a few times if the bike has a name? Well, not really – I'm not really into that sort of thing but, if I did name it, it'd be 'Kathin', which means 'difficult' in Hindi (the language of the original bike's homeland), as that kind of suits it, you know?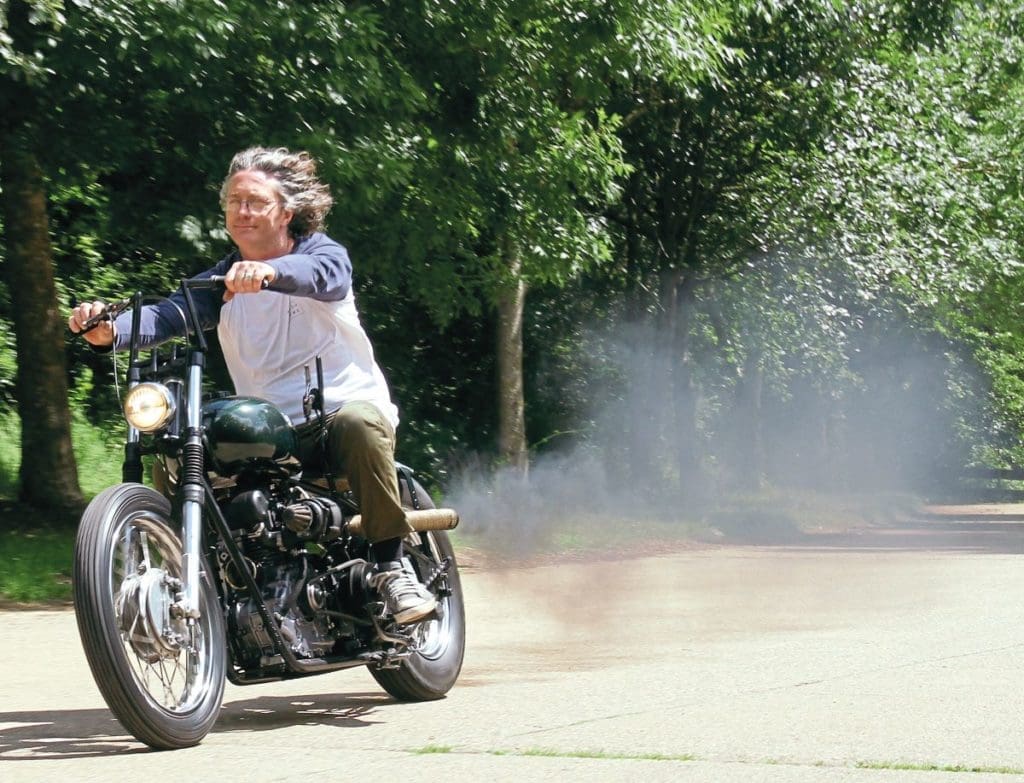 Spec:
Yanmar Diesel L100 406cc AE-DE engine (one-off turbo conversion, Borgwarner VNT turbo, Royal Enfield Bullet 500 clutch/gearbox, duplex chain primary drive, one-off hand-change, one-off 2.25" stainless wrapped exhaust), 1991 Royal Enfield Bullet 500 frame (modified/hardtailed/stretched)/foot-rest 'bar/foot-pegs/19" twin-leading-shoe front wheel/brake/forks/rear hub/brake/fuel tank (modified), Avon Speedmaster tyres (3.25×19 front, 5.00×16 rear), Royal Enfield Thunderbird yokes, one-off Z-'bars, BMX controls/grips, mini speedo, one-off sprung seat, unknown steel rear mudguard (modified), one-off mudguard strut, minimal loom, 1950s Lucas King of the Road headlight with main beam switch, one-off rear light
Finish:
Vauxhall Crypton Green with added metal-flake by owner 
Engineering:
Owner
Thanks To: 
"My wife & kids; Alex (the Grinch) for sending it to Nik; & Paul, the guy I built the frame for, for not buying it!"