This Bonnie belonged to one of my best mates, Dave Robbo, for years, and it sat in the corner of his workshop in a part-disassembled condition. He'd bought it in 1984 when it was just two years old, and'd used it to go all over the country to rallies, as well as being a daily ride. He took it off the road to repair an oil leak, but then bought a GS750, and the Bonnie was confined to the corner.
Dave Cole
Pics by Nik
I'd looked at it thousands of times over the years, but he refused to sell it, saying: "Maybe one day." Eventually that day came, many years later – he hadn't been so well, and decided he wasn't going to put it back on the road, so let me have it in the same state as it came off the road all those years ago.
I've not had the greatest experience in building bikes and, until recently, wasn't even that great at maintaining motorcycles, but I took it home, and set about stripping it down to build a flat-tracker out of it. I'd put my lad's 125 on the road during lockdown (which'd turned into a full rebuild) so I thought this'd be the same, but bigger… naively. During the build I quickly realised that Brit bikes and logic don't mix very often – wheel hubs that're handed; master-cylinders from 1980s Morris Marinas; thread forms that put the Ark together. Just rebuilding the Morris wheels, with their offset bearing carriers, left- and right-hand thread locknuts, and bizarre set up made me realise this was going to be a steep learning curve in backward thinking.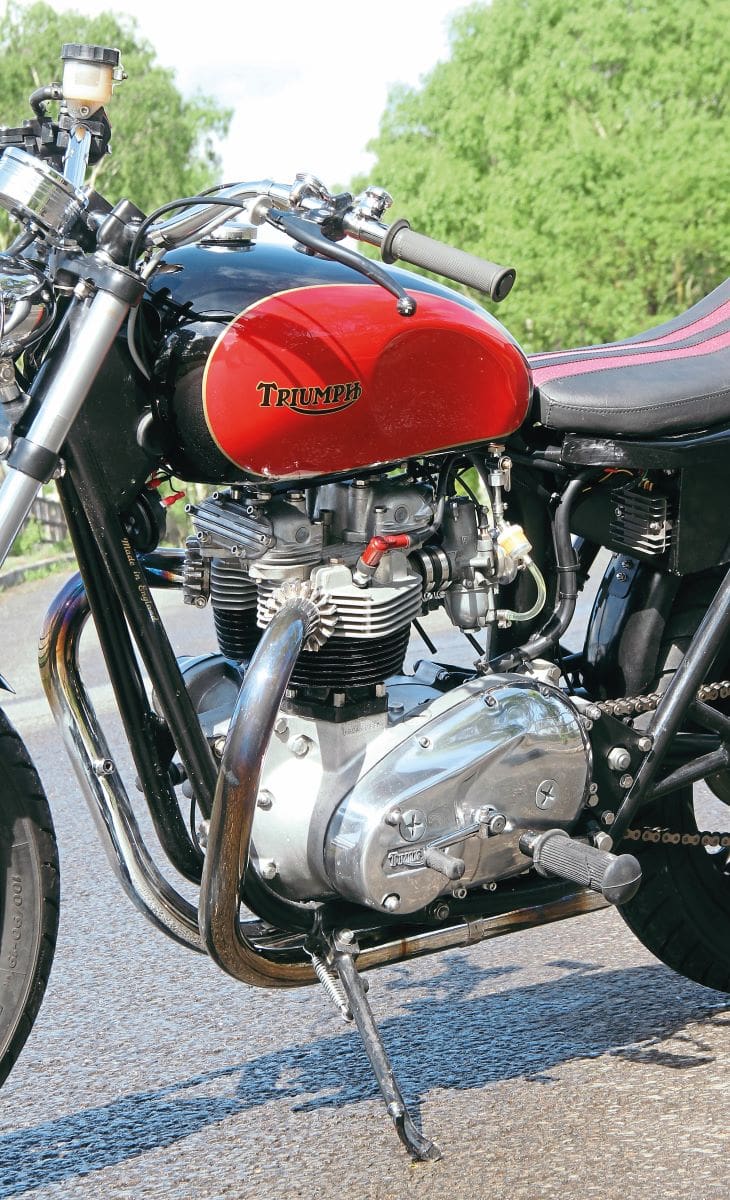 I've always loved the flat-tracker style, and this was always the vision – a single-minded, single seat, loud, and uncomplicated machine. Redmax Speedshop in Devon have some great seat units, and they supplied the unit itself, the seat, the 'bars, and the headlamp at very reasonable prices, and Steve and Rachel were always really helpful. A friend asked if I was doing a sympathetic restoration? I laughed and said: "No way, this is going to be wholly unsympathetic… especially on the ears," and then set the angle-grinder running.
The engine went to Bill Thompson (who built the Metisse engines in the '70s), and the frame was modified by a top race car fabricator in Northwich. Whilst they had the tailpiece in for measuring up, it was accidentally damaged, and they took it to a certain Al Fishwick who does classic race-car fibreglass repairs (ironically, he's done cars featured in Custom Car magazine when Steve Myatt was there…. funny how it all works, isn't it?). I popped in to collect it, and noticed some paintwork he was doing which was first class. We got on really well, a plan was hatched, a deal was struck, and that was the paintwork sorted – solid gold, then red lacquer applied in layers to give it the red finish with the translucent shimmer, before a black with blue metallic final layer.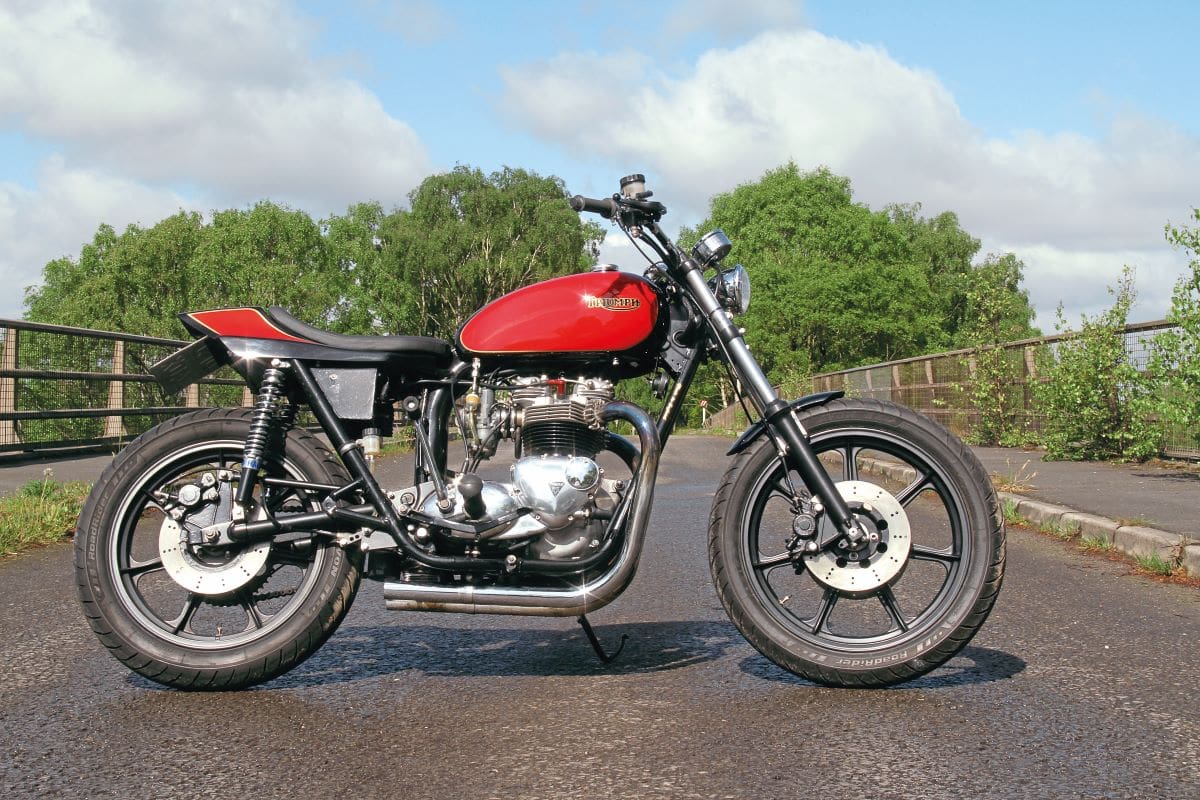 I junked the original master-cylinders as they were huge and had fossilised brake fluid in them (I did recondition the rear, but then decided it was just too big and ugly), so a late Z1000 one was bought, and I made brackets for it. This was the first of many parts made at M-Lap Engineering Services with the help of my dear friend Mario who specialises in one-off engineering. He let me have free rein of his mill and lathe as I come from a machining background, and I made all the various adaptors, brackets, fluid holders, spacers, etc., there, but the CNC work was done by him on his five-axis mill. I'd previously bought a ZZR1400 radial front master-cylinder to go on another bike, so that was used for the front, with a Kawasaki cable clutch lever to match.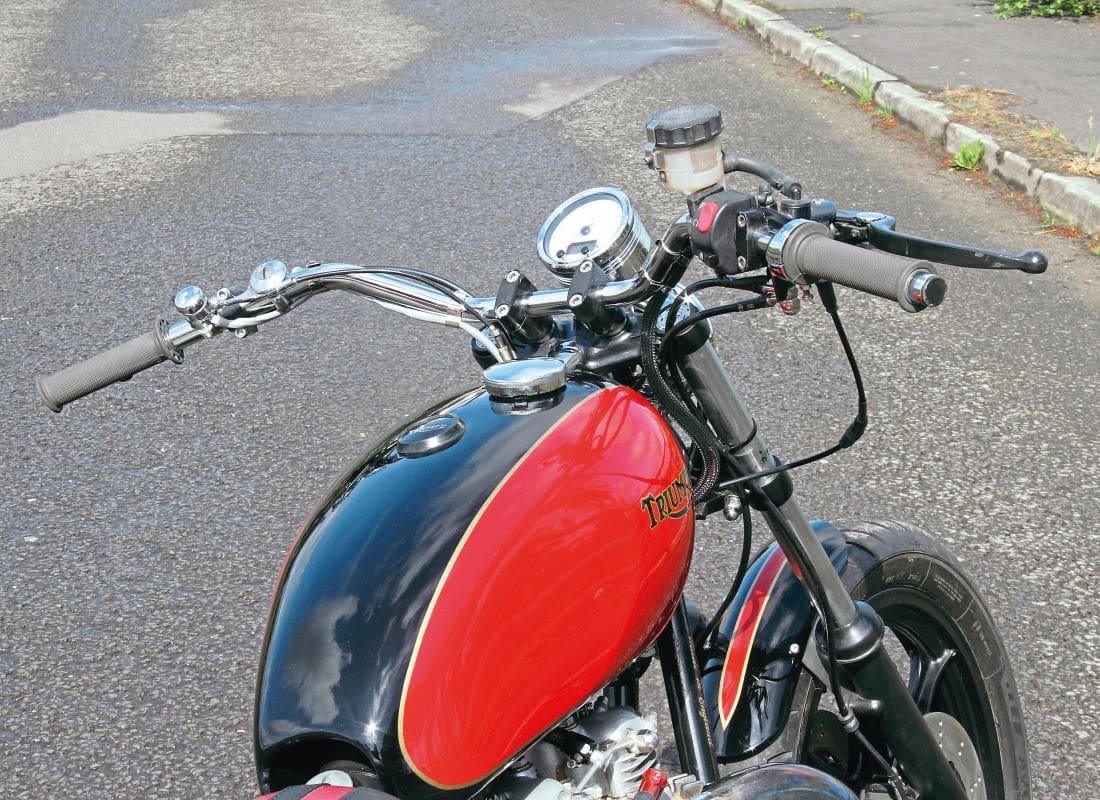 The computerised clock's an Acewell digital speedo linked to the ancient Veglia drive on the rear wheel, and I guess there's a lot of old merged with new on the bike – an old- fashioned five-inch Bates headlight, and small LED tail light, for instance.
I did start out keeping track of cost and hours as I went on, but soon realised that was going to be a scary (and futile) exercise, and adapted a more 'it is what it is' approach – I wanted it right and proper, no cut corners, and to that end I think I got it close. There're things I look at and might change/tweak, and there're still a couple of things to iron out, but it's pretty well there. Sympathetic it isn't, though. It's a hoot to ride, torquey, and loud enough… did I mention it's loud?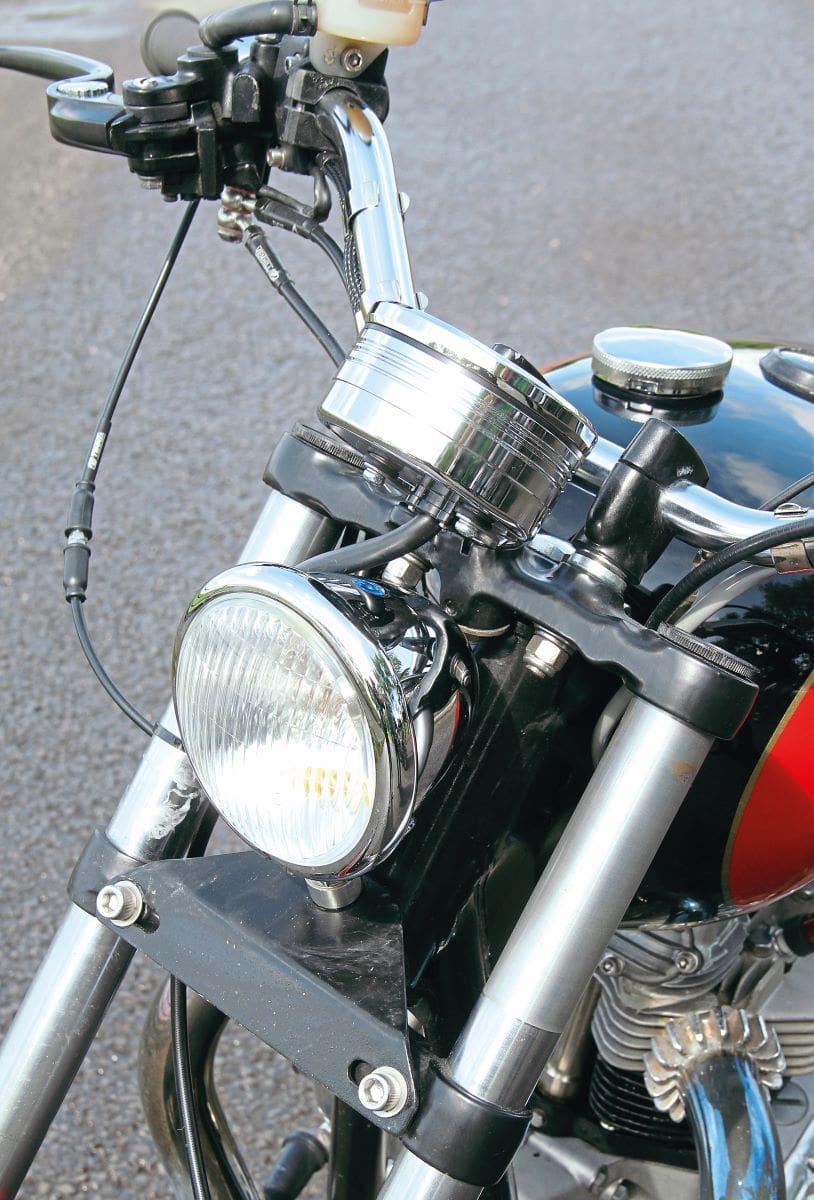 Just as I bought the Bonnie, and started on it, I lost a dear friend to the effects of cancer, and before he passed he said he couldn't wait to see it. Sadly, it was not to be, so I put this together with him in mind, and if I was to dedicate then it would be to my mate Beeeejay Baz who, I'm sure, would've laughed his head off at the many cock-ups, head-scratching, knuckle-scraping, tool-breaking moments during the build – I probably went the extra mile on it at times just in case he saw me trying to cut a corner somewhere. He always liked a loud bike…
did I tell you it's loud?
Spec:
1982 Triumph Bonneville T140 ES engine (rebuilt, 650 exhaust cam, bell-mouth filters, Boyer ignition, TT-style 'pipes, bespoke spin-on oil filter)/oil-in-frame frame (modified)/foot-rests/hangers/controls/discs (drilled)/forks/yokes/swingarm/torque arm, Avon Roadrider tyres, Morris wheels, Lockheed brakes (refurb'd), Venhill brake lines, Redmax Speed Shop tracker 'bars/seat unit, Triumph 865 SE kill-switch, Kawasaki ZZR levers/front brake master-cylinder, Lucas dip/main switch, Acewell speedo unit/billet surround, Renthal trials grips, aftermarket front mudguard, T140 Export tank, one-off alloy battery/electrics box, Hagon shocks, Kawasaki Z1000 (2018) rear master-cylinder, one-off loom, 5" Bates headlight, Led rear light
Finish:
Black/red by Al Fishwick, powder-coating by Retro Coatings (01270 764643), polishing by owner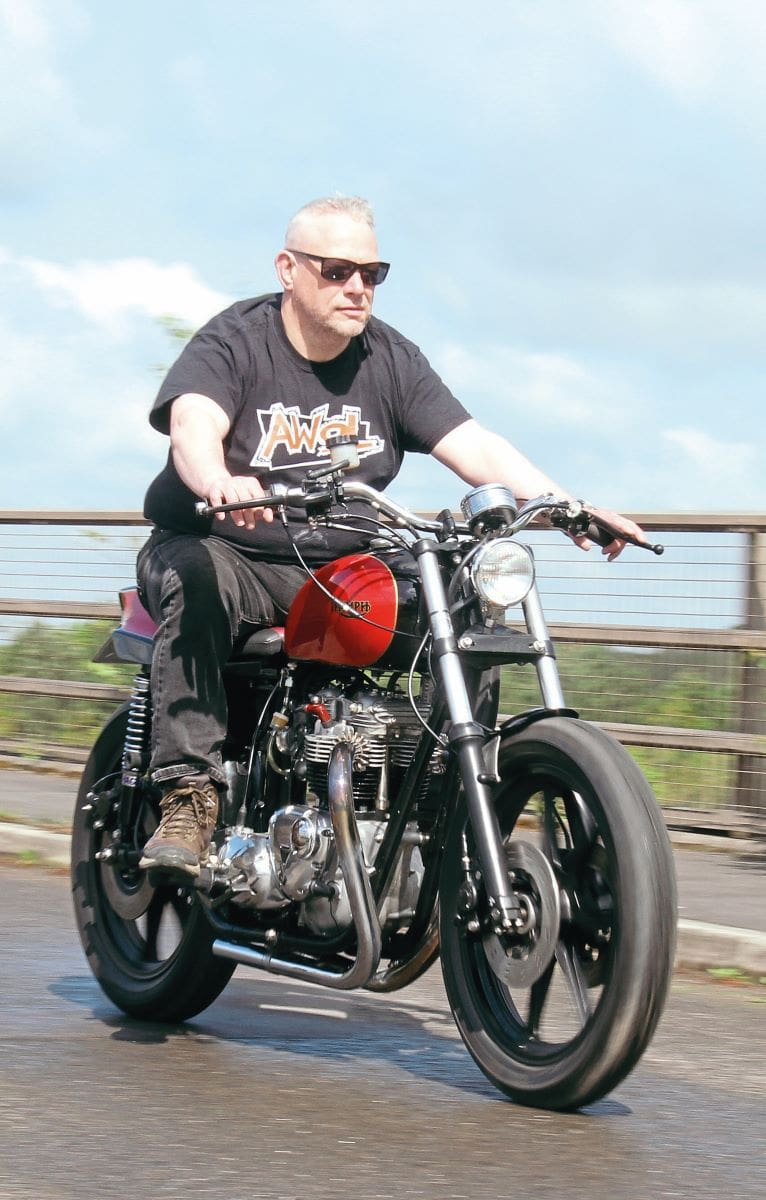 Engineering:
Oil filter housing/twin outlet coil mounting bracket/spacers/brackets/clamps/disc drilling by Mario at M-Lap Engineering Services (07976 667878 or mlapengineeringservices.co.uk), all other work by owner
Thanks To:
"Bill Thompson; Al Fishwick; Mario at M-Lap; Simon at Windy Ridge Garage (01477 532285) for setting up motor/carbs; Redmac Speed Shop (07907 52985 or www.redmaxspeedshop.com); Dave Robbo for letting me buy it (eventually!); Gill for coffee/not minding when I was losing it/receiving loads of deliveries of parts!"