Although he calls it 'Spine Crippler', the legend on the tank of Jason Williamson's XS650 reads 'Deathwish' – something that a lot of folk may agree with when they realise his bike's seriously lacking in the front brake department…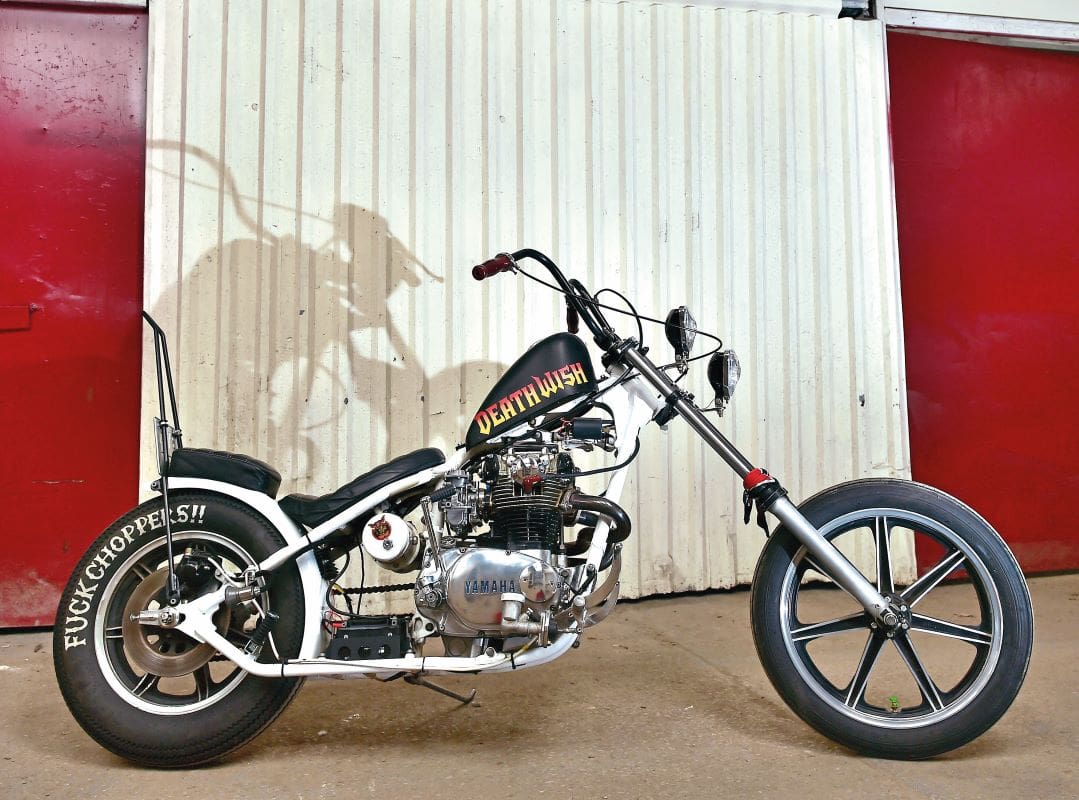 Word by Nik
Pics by Simon Everett
We've run features on bikes without front stoppers in BSH before (and I suspect we probably will again) but, in the main, they've been twin rear calliper affairs that, while technically not having an anterior anchor, do actually have two independent means of retarding one's forward motion via said callipers on the rear disc. They've also, pretty much, been on much more modern-in-design bikes. Jase's, though, is on an old school retro chopper – a very different style of mo'cycle to the aforementioned tektros.
Not having a front brake on a retro chopper is, it appears, de rigeuer for the purists these days and I, personally, have mixed feelings about 'em. I do like the look of a spool hub, as they're known, in combination with a set of springers on the front of an old 'Arley, Triumph or, yes, XS Yam, but I can't help feeling that you're just making life difficult for yourself running one in this day and age. Y'see, the golden age of spool hub choppers was, really, the '60s and into the early '70s, and back then there simply wasn't the traffic we have today, there really wasn't. (I'd also hesitate to say that there probably weren't as many shagwits on the road back then as there are today, too, but not for very long…) These days, running a spool hub on the congested streets of our sceptred isle, and having to bob and weave to avoid said shagwits as often as we seem to have to do, you're taking your life in your own hands. Don't get me wrong, I'm not slagging off the folk who do run 'em, 'cos they do look the part, it's just that, like incest, Morris Dancing, and gooseberry yoghurts, they're not for me.*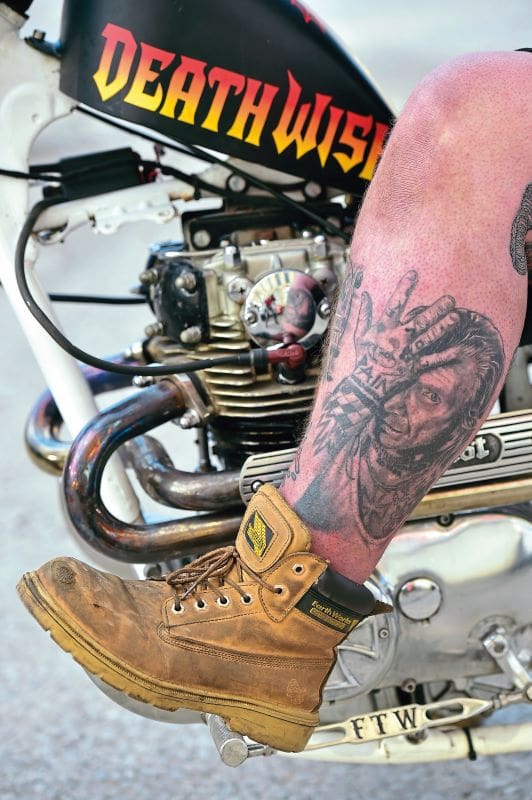 Anyway, Jase'd been looking for a chopper, an old school chopper, that floated his boat for years as, although he'd never ridden one, he'd always loved the look, and one day the XS appeared on his radar. It was four-odd hours away from his native Manchester, somewhere down in Essex, and was advertised complete, but non-running. He spoke to the bloke, and was told the only real thing stopping it going was that the carbs needed cleaning out, so decided to take a chance on it. Personally, that always sets off alarm bells in my head – if you've gone to all the trouble of building a chop, why wouldn't you just clean the carbs and get it running? (I know lots of people've had some real bargains over the years buying bikes so advertised, but I also know I'm not that lucky – what'd be just pooey carbs for them would, no doubt, be a full feckin' engine rebuild for me…). Jase was a bit in the middle – yes, his engine was in good order, but it took him three weeks, three long weeks, of skinning his knuckles (and losing his voice screaming at the b*st*rd to start) to work out that the timing was massively out. Once he had, it started straight away, and's run beautifully ever since.
It's a very simple chop. The frame's been hardtailed using a TC Bros (www.tcbroschoppers.com) weld-on hardtail (I suspect the front's been raked slightly, to, to kick the front end out further); one of their rear 'guards, and one of their oil tank-style electrics boxes (or one of their oil tanks converted to an electrics box, I'm not certain), and the wheels're both stock XS items (albeit with the front brakes removed), as are the forks (although they're fitted with longer stanchions) and yokes.
The 'bars're 10-inch apes with Lowbrow cola bottle grips; the tank's a Sportster; and the seat was on it when he got it, as was the sissy-bar. Proper '70s-style triangular spotlamps've been wired up to act as headlights, and there's a neat little period-reet tail-light, too. Engine-wise, the carbs run sans filters, after being suitably jetted, of course; there's a Boyer electronic ignition to give big fat sparks; and the high-level shotgun 'pipes, with their *expletive-deleted* Hot shield is just funky. The satin black tank, with its graphics, was like that when it made the long haul up from the land of white stilettos and blokes called Barry; and the white 'coated frame n' rear muddie are as was, too.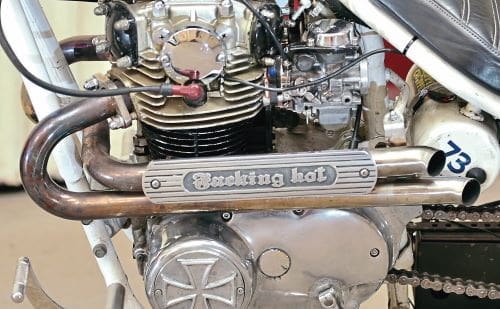 With the chop up and running (and, he says, sounding the mutt's nuts), he jumped on and rode off 'feeling like Peter Fonda, looking like Catfish Cooley'. This lasted for a while, but then the inevitable happened – he ran out of fuel. "Gotta love the peanut tank," he says, "that was a long walk to the petrol station." Now that the weather's getting better, and more and more places're opening as we get back to normal, he'll be out on her a bit more often so if you're from around Manchester you'll probably see him pushing it to the petrol station because, he says, he always forgets to check!
*This is because I've had far too many near-misses that, without a front brake, wouldn't've been misses at all. Mind you, this, in turn, is probably 'cos I ride like a twat… 
Spec:
1979 Yamaha XS650 engine (open carbs, later clutch, Boyer Micro Power ignition, one-off shotgun 'pipes, Hughes Hand-Built oil cooler/lines)/frame (TC Bros hardtail)/wheels/rear brake/forks (longer stanchions)/yokes, TC Bros forwards/rear 'guard/electrics tank/battery tray, Firestone tyres, aftermarket 10-inch apes, Lowbrow Customs cherry red cola bottle grips, Sportster tank, unknown seat, one-off sissy-bar, one-off loom, twin 1970s triangle headlights, aftermarket '70s tail-light
Finish:
Satin black tank paint/graphics by unknown painter, white powder-coat frame/rear 'guard by unknown 'coater, polishing by Busted Knuckle Custom & Performance Motorcycles (07826 614451 or Facebook)
Engineering:
Original owner/builder