THE THING', AS THIS BIKE'S CALLED, WAS BORN OUT OF AN IDEA TO BUILD AN OLD SCHOOL '70S CHOPPER. Simon Boden reports…
I had the urge to build one, but had to find a donor bike to start the project. After much searching, I came across an '84 Ironhead Sportster on eBay – it was a little bit of a basket- case, and in dire need of a bit of love and attention, but it had potential, and I could already see the finished bike in my head. Money haggled, deal done, money handed over, I loaded the bike into the van and headed back to my workshop. When my mom (She Who Must Be Obeyed) turned up for work the next day, the first thing she said was: "What's that thing?" After that, whenever the bike was on the bench being worked on, comments like, "What's that thing doing on the bench when there are customer bikes that should be worked on?" were constantly being made (although I should add that it was only worked on in my spare time), and as a result, it became affectionately known as The Thing.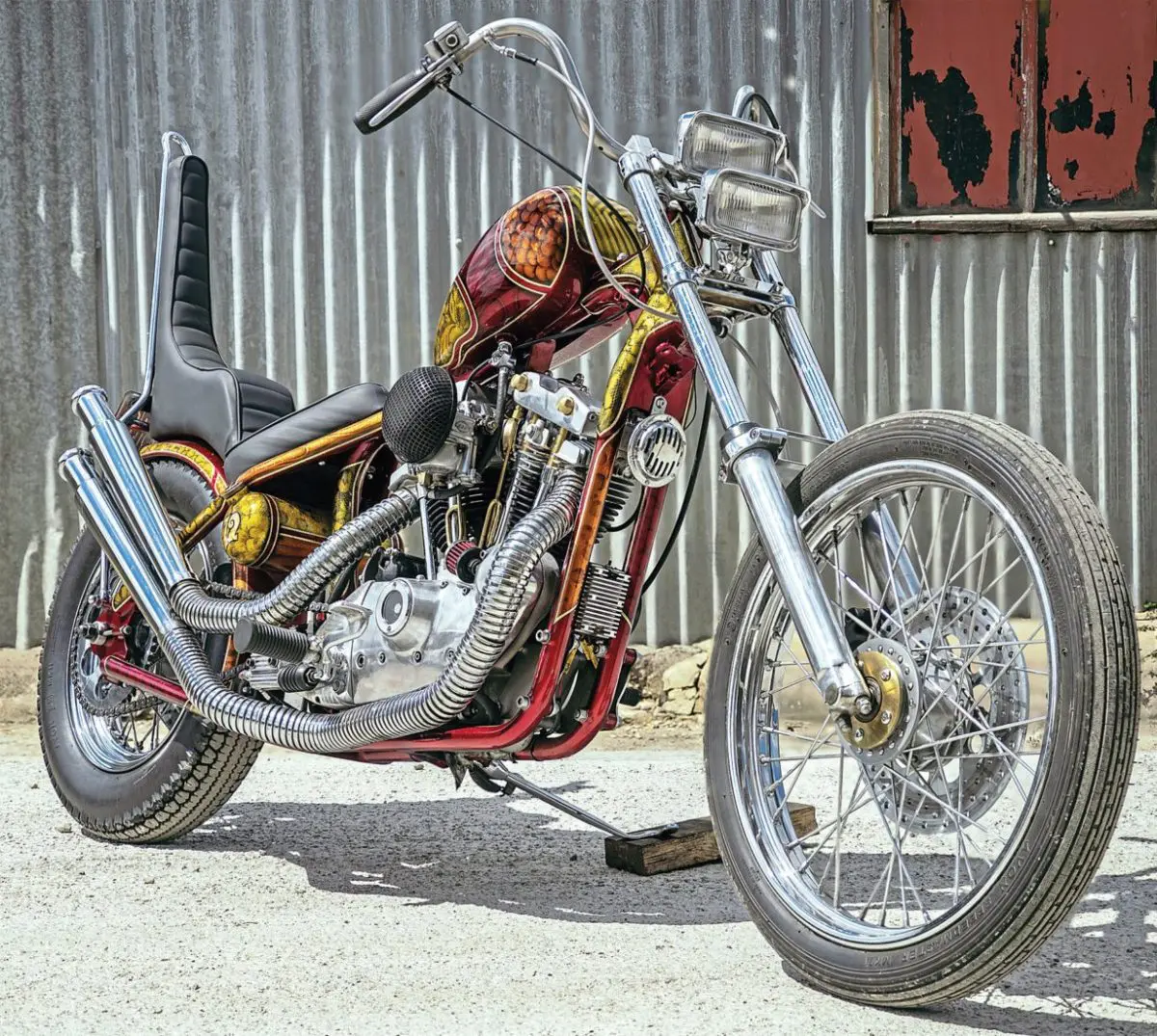 I set about the dry build; one of the first tasks was to chop the back end off and replace it with a TC Bros weld-on hardtail. Three degrees of rake was added to the headstock and, as it'd come with four-inch over forks, these were retained as they worked perfectly with the build. The 'bars that were on the donor bike were good too, and only needed a good going over with Scotch-brite to give them a satin look. I was going to use the original tank and narrow it down to give a slimmer look, but as it turned out it was too far gone to be used so, instead, I sourced a new Real Egg fuel tank, along with a new rear 'guard. I fabricated a sissy-bar big enough to incorporate the tail-light, and the number-plate, and made a new battery box, welded to a plate on the rear of the frame, which also incorporates a jockey-wheel attachment to hold a skateboard wheel chain-tensioner to move the chain away from the frame.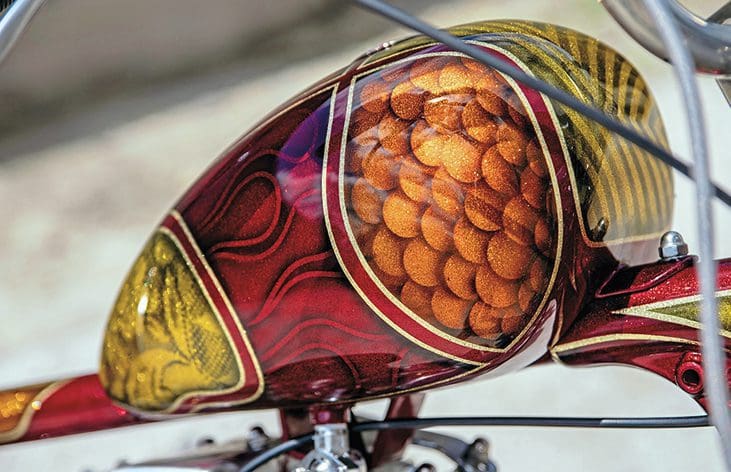 Two old school Bates rectangular headlights, and two Motone LED tail-lights were used for the lighting, and the oil tank's a Pillstyle purchase from Facebook. The wheels were stripped, and the hubs powder-coated, and they were reassembled with stainless spokes (the front replaced with a 21"). Avon Ditchfinders… sorry, I mean Avon Speedmasters were fitted front and rear to give it a more period look, and a new seat pan was made from 2mm thick steel plate, and was sent off to Annie at Skin Up & Hide to be made into a King & Queen. Finally, custom header pipes were made from 1.75" stainless pipe, and cocktail-shaker mufflers were added. With the dry build complete, and everything now fitting as it should, it was time for disassembly, and chroming/powder-coating/paint.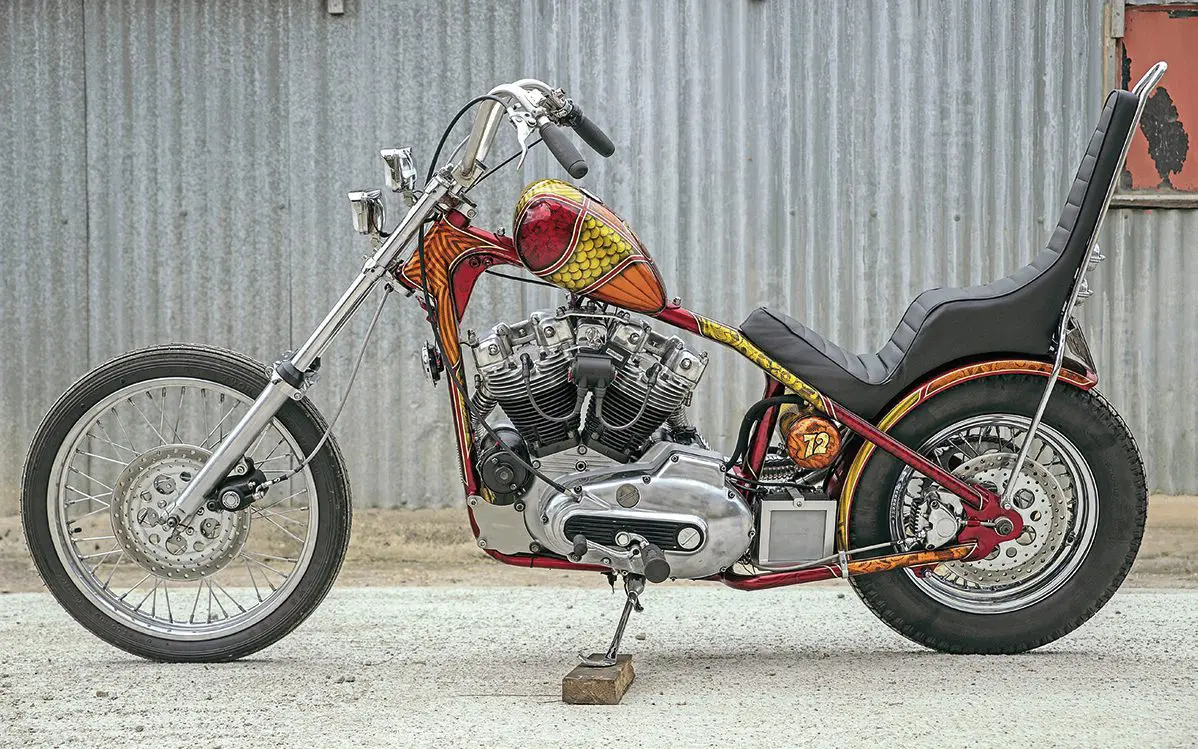 The frame, oil tank and fuel tank were sent to Flakey's Custom Paint Shop (and the bits that needed powdercoating to Mike at MB Finishings, the stuff to be chromed to Chromefix, and anything that needed polishing to Steve Jordan). The initial design I had in mind was just going to be '70s chopper styling with a black and gold paint job but, after speaking to Dave at Flakeys, it all went a bit crazy and the spirit of the '70s took over. I wanted something that would stand out, and the end result speaks for itself. Well done that man!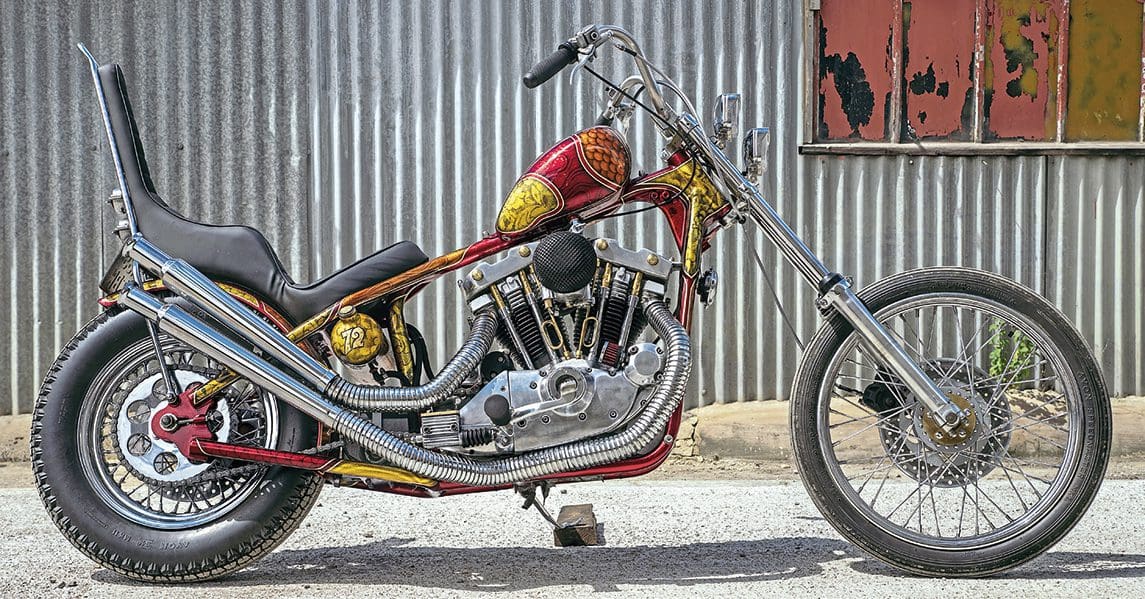 This was also the perfect time to sort the engine out. It was completely stripped from top to bottom. The pistons and bores were severely scored, and this was sorted with 0.040" oversize pistons and a re-bore to match, and the crank-cases were blasted to bring them back to their original condition. The chrome was removed from the rocker covers, primary case and points cover case, and they were polished, and the engine components were thoroughly checked, and parts replaced as required. Then the engine was rebuilt with new and clean parts, while the cylinder barrel housings were ceramic-coated black and silver with a few accents of brass, including the trumpet-styled oil pipes, pushrod keepers and rocker nuts.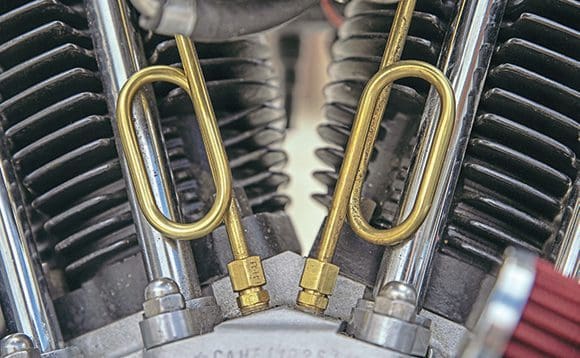 Once all the coatings were complete and back at the workshop, it was time to rebuild The Thing. I got to the workshop one Sunday morning, along with my wife and son (I'd told them we were going on a fun day out), and we started the rebuild. First task was to lift the frame over the engine and attach the two together, followed by the fork assembly, wheels, 'bars, etcetera – getting the basic rolling chassis together. Then, with the remaining hours of the day, we headed off to complete our fun day out elsewhere. It took a further two weeks of evenings and weekends to get the bike to a running condition. There were a few problems along the way. It appears that the TDC mark on the crank was in the incorrect position so the cam timing was out (instead of suck/squeeze/bang/blow, it was more blow/squeeze/bang/blow), but after a few days of head scratching, we worked out where the TDC mark should be, and reset everything to get the timing cam where it should be. Once this was done, the bike fired up with each and every turn of the key.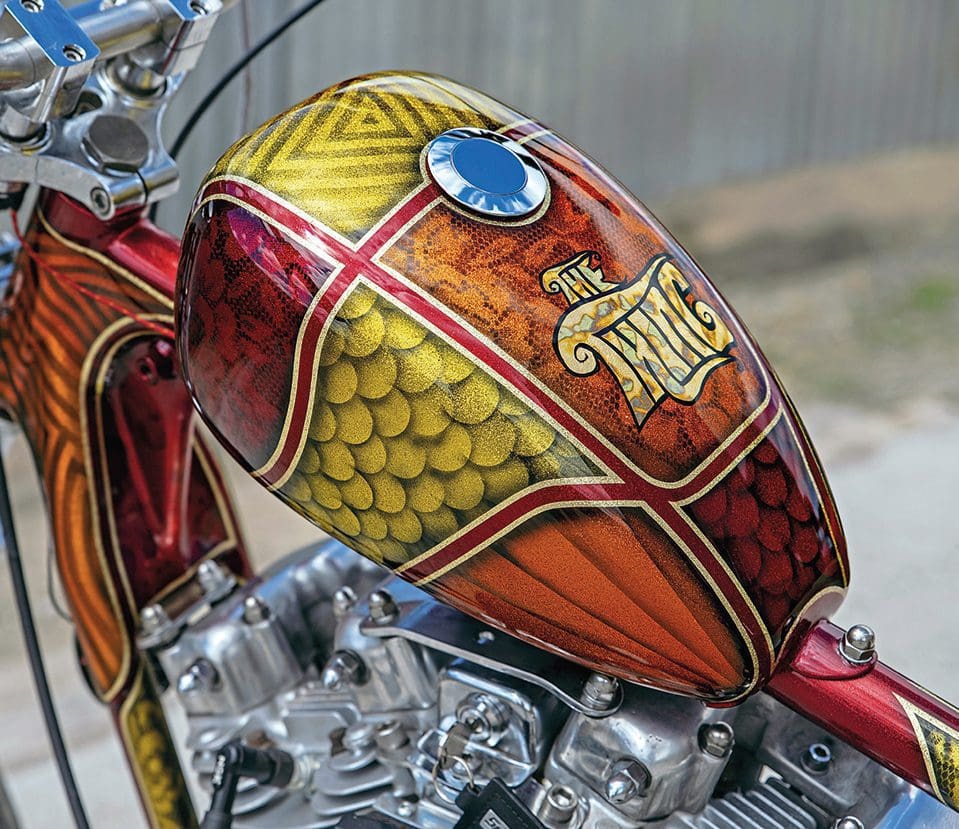 The Thing turns heads wherever it goes, and attracts a crowd whenever it's parked up. I've put the shakedown miles on now, plus a few more, and I'm very pleased to report that all's well, and I'm very happy with the end result.
ENGINE:
1984 H-D Ironhead Sportster, ceramic coated heads, 0.040" oversize barrels, S&S carb, Bug Eye air-filter, 1.75" stainless 'pipes with cocktail shaker mufflers, brass bespoke oil fittings
FRAME:
TC Bros weld-on hardtail, Wannabe Choppers forwards
STUFF:
21" front wheel with stainless spokes/ powder-coated hub, stock disc/ caliper/yokes/master-cylinder/ switchgear/clocks, 4" over forks, braided brake lines, satin finish small ape-hangers, Wannabe Choppers controls, Biltwell vintage grips, Real Egg petrol tank, King & Queen seat by Skin Up & Hide (07849 615587 or Facebook), bespoke rear mudguard/ battery & electrics box/'plate holder, Pill Style oil tank, stock wheel with stainless spokes, stock brake/ master-cylinder/torque arm, bespoke jockey wheel, modified stock loom, twin rectangular over/under Bates, Motone LED tail-lights
FINISH:
Psychedelic by Flakey's Custom Paint (01527 558829 or www.flakeyscustompaint.blogspot.com), powder-coating by MB Finishings (01242 620518), plating by Chromefix (0121 440 3173 or www.chromefix. co.uk) polishing by Steve Jordan
ENGINEERING:
Bod
INSURANCE:
Super easy-to-sort and a very agreeable price from the good folks at RH Specialist Insurance
THANKS TO:
"My wife & son for putting up with all by absence; my mom; Dave at Flakey's; Steve Jordan; Mike at MB Finishers; Chromefix; Annie at Skin Up & Hide; my work colleagues; all my mates for the inspiration; & Del Hickey for the pictures…"
#backstreetheroes #chopper #1970s #thething#morebikesyoulike #motorcycles #readersrides #motorcycle #ukbikers #bikelife #bikers #motorcyclists #morebikes #morenews #motorcyclenews #motorcyclegear #rhinsurance