Chris's steampunk Suzuki really turned heads at Motorcycle Live! last year, including Nik's. He takes a closer look.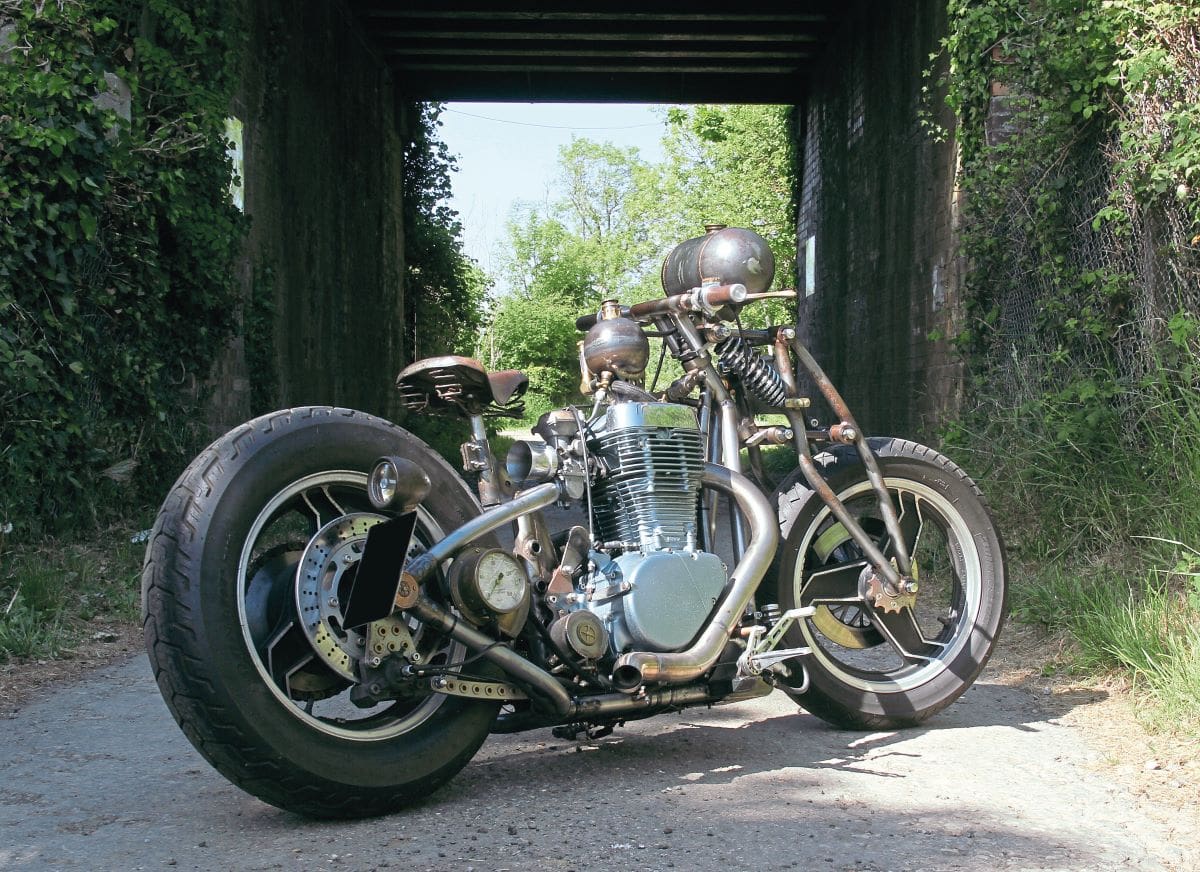 Words by Nik
One of my favourite things, and I know many others', too, to do at a bike event is people-watch – to position yourself somewhere and just watch the ebb and flow of folk around you, what they look like, how they're dressed, and which bikes they look at.
At Motorcycle Live! last year, at the NEC in Birmingham, we had, as usual, the most exclusive custom display/show in the land; Custom Heroes – a very small, invite-only thing with only the best bikes, we think, of the year. There're just fifteen of them, but they get seen by in excess of 100,000 people, according to the figures.
Last year, amongst the assembled lovelies, there were three that, as you stood and watched, really drew punters to them: Lee Perry's wonderfully '70s C-cab trike; Tony Cooper's uber-bling big-wheel Victory (proving that, no matter what 'fashion' says, big-wheel bikes still have that indefinable 'it'); and this – Chris from NCC Kent's quite, quite brilliant steampunk Suzuki.
Chris has form – his turbocharged Sportster was featured back in 2015 (and he still has it), and he has a very nice Hinckley Bonnie chop, too, and he's always liked the steampunk ethos (defined as 'a subgenre of science fiction incorporating retro-futuristic technology and aesthetics inspired by 19th century industrial steam-powered machinery, often set in an alternative history of the Victorian era or the American Wild West where steam power remains in mainstream use, or in a fantasy world that similarly employs it'), and had a hankering to build another bike using it as inspiration. During the lockdown, he had more time to browse the 'Net, etc., than was, he says, good for him, and one day he stumbled across a steampunk-inspired illustration of a motorcycle, and it got him wondering, how close to it could you build a viable, road-going bike?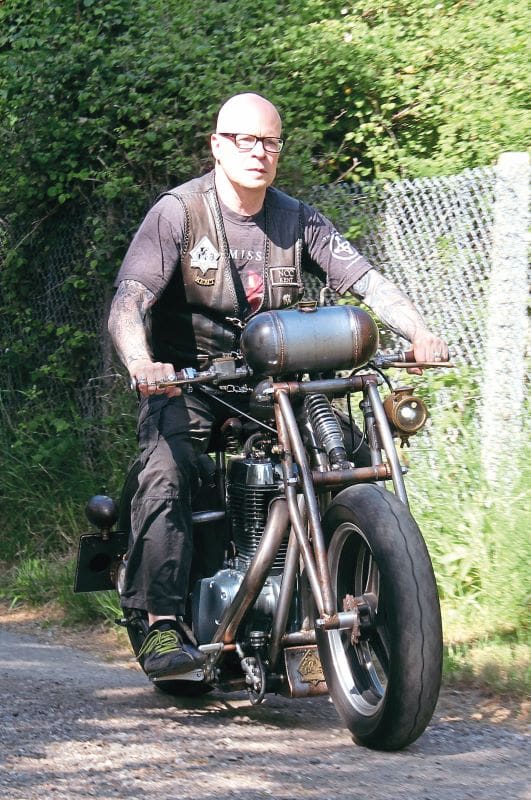 The design called for a big single-cylinder engine, and during a drunken evening at the Kent clubhouse he shared his ideas with a brother, Neil, who, it turned out, knew where there was an old (1988) Suzuki LS650 Savage lying about. The idea of using it as a donor appealed to him, and he handed over a few readies, and set about stripping it down. He also began sourcing any old brass gauges, levers, battered vintage cogs, and springs from various places to give him a range of materials to play with.
While stripping down the Suzook, he shared his vision with String from Raw Steel Choppers, as he's had him do bits n' pieces on his other bikes, and because he thought, 'There's a man that'll understand the steampunk look I'm after', and he came up with several different frame concepts, of which the one you see here is the one they finalised on – a total one-off, designed deliberately to not have a backbone, with the brace between the engine and frame made from welded chain from a fork-lift. All the welding was done with bronze rods for contrast, and clear-coated, and it's one of those bikes that the more you look at it, the more you'll see. String also made the very suitable girder front end for it (springers or teles just wouldn't've look right – girders are the correct bygone technology), and the primary fuel tank that's mounted atop on the girders (the small spherical tank mounted over the engine is a reserve tank, with a brass fuel gauge, vintage artillery shells, and a petrol cap from an old lawn mower). I love the fact that, 'cos of the bronze welding, you can see the welds on the tank so clearly – it just looks so right. He had originally intended to use a vintage fire extinguisher, but they turned out to be more expensive than having one fabricated to fit. The motor was converted from belt-drive to chain (using a DR650 front sprocket as they bolt straight on) so that he could use the pair of GSX 1100 Powerscreen wheels he'd plumped for (the front relieved of one disc/calliper, and with a little brass sprocket on the RHS of the axle), and the (now) sprocket cover modified to look a little more in-keeping, and a one-off brass bell-mouth made, along with an aftermarket turn-out on the exhaust.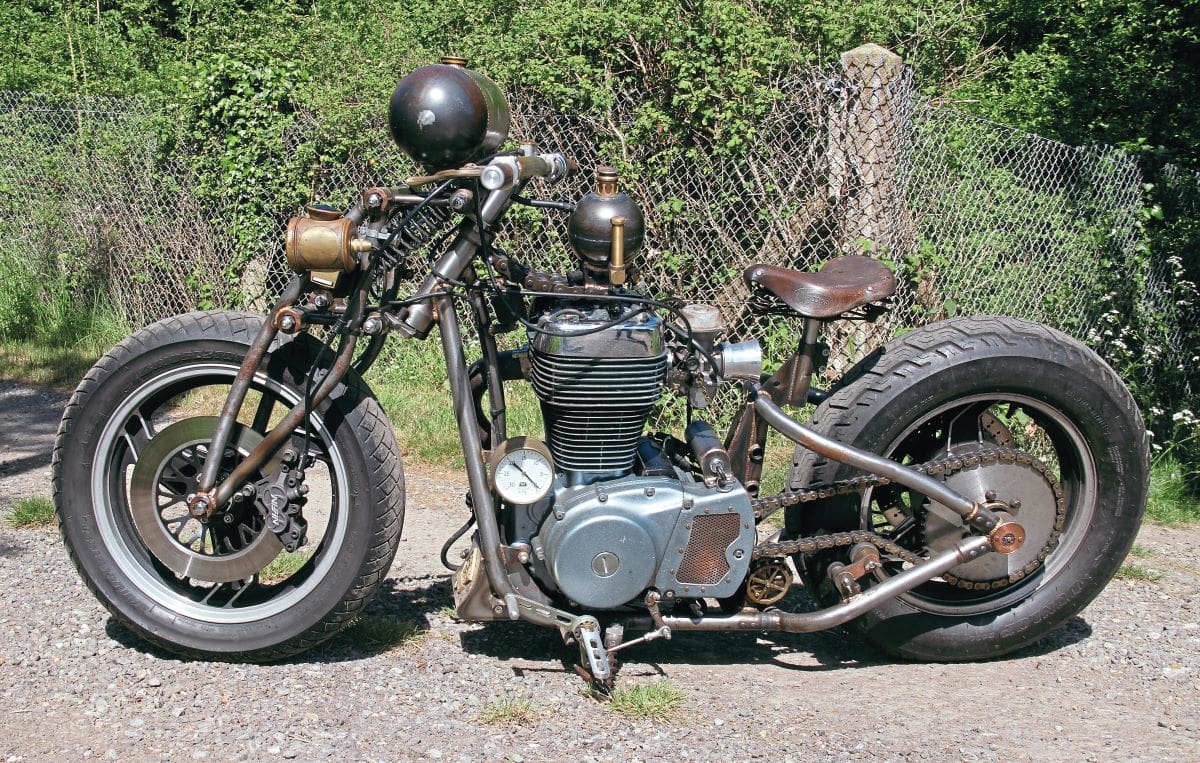 Before too long it started to take shape, and soon the frame turned into a rolling chassis. Now it was brought back to Chris', and he set about figuring out what could go where, and which bits he'd scavenged could be used for it. The original seat idea was for an old tractor pan, and he offered one up, but it was huge and uncomfortable. String suggested an old leather bicycle seat, which proved to be a stroke of genius, and has the added bonus of springs.
After several months of creativity he'd found places for all the essentials, hiding them away behind various housings. The battery's hidden in the little scoop at the front of the motor, with a brass NCC decal moulded to fit, and vintage brass factory gauges house different electrical components, dotted around the bike (the solenoid, for example, is mounted in an old spanner head). The side-stand's a repurposed drill bit, and the grips are made from copper washers, and the lights, both vintage car items converted to LED, are wonderfully arse-about-face – the front's a rear, and the rear's a front. Why? Why not?
Once the dry-build was done, a new loom was in order, and for that he called on Rupe of Rupe's Rewires – a very skilled gent. All that was left then was to plumb in some brake lines and fire it up. It started and ran okay, but he wasn't too keen on the fuel line between his knackers bulging in the heat, so took it Dave at Dave Wood Racing to get it on his dyno. This netted a whopping 10bhp boost in power to 33bhp but, more importantly, he got it running as sweet as a nut and now, whilst it's never going to be a high-speed motorway cruiser, it'll happily whip around the A-roads at a good pace.
Since then, it's racked up a fair few miles to various Club events and other shows, and it generally gets a pot wherever it goes – quite deservedly! If you see it out and about, have a look, a long, long look…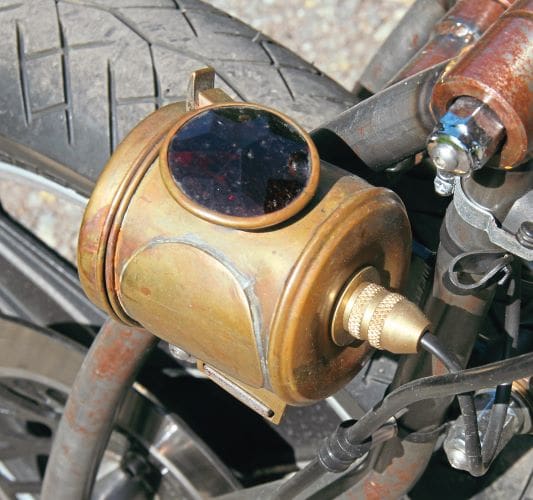 Spec:
1988 Suzuki Savage 650 engine (up-jetted carb, one off bell-mouth air-filter, custom turnout exhaust silencer, modified chain cover, chain-drive conversion), one-off frame/foot-rests/hangers/side-stand/girders/'bars/grips/fuel tanks/battery box/loom/chain jockey wheel, Suzuki GSX 1100F Powerscreen wheels, Suzuki Bandit front disc/front & rear calipers, Venhill brake lines, vintage Brookes bicycle seat, aftermarket rear disc, vintage car rear light as LED headlight, vintage car front light as LED rear light/brake light
Finish:
No paint, just clearcoat, by owner
Engineering:
Bike built by owner, frame/tank/girders by String at Raw Steel Choppers (07814 540528 or www.rawsteelchoppers.co.uk)
Thanks To:
"Neil, NCC Kent, for sourcing the donor bike; String at Raw Steel Choppers for entertaining my addled brain's ideas/breathing life into them; Rupe from Rupe's Rewires (07736 212652 or www.rupesrewires.com) for the wiring; & Dave Wood Racing (01296 336750 or www.davewoodracing.com) for setting it up on the dyno…"