Far back in the mists of ancient time (well, 1991 anyway), in issue 167 of this very magazine, Rich King, erstwhile photographer/scribe of this parish, went to see a guy named Nigel from Lincolnshire about his really rather stunning long, low, blue DOHC 750 Honda chop called Rare Breed.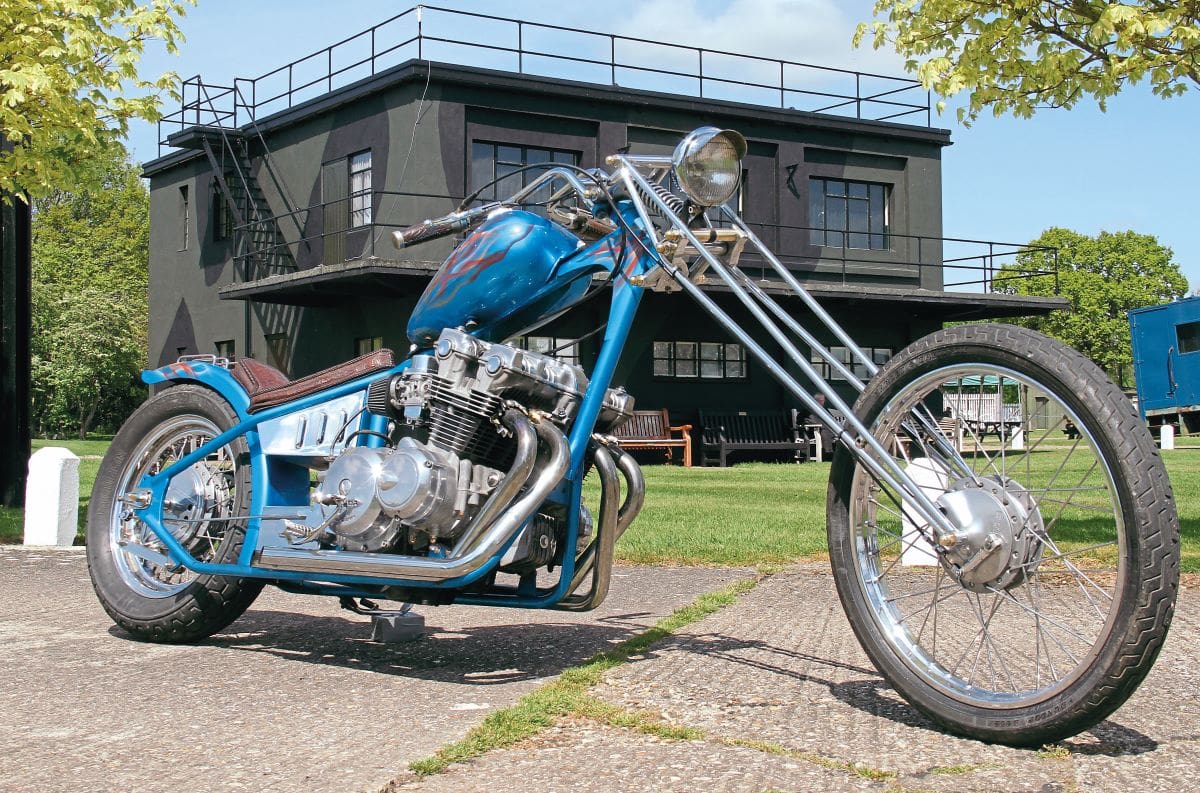 In April last year, some 31 years later, I went up to Lincolnshire to see a gorgeous little Triumph bobber built by a guy called Nigel for his good lady, Debs. When I got there, I thought, 'he looks familiar…' and then thought no more about it until, as we were leaving to go to the photoshoot location, he opened the door of his garage and wheeled out a long, low, blue DOHC 750 Honda chop called Rare Breed. 'Ah,' I thought, 'that's why he looks familiar!' Y'see, back in the 90s, after building this chop, he went into business for himself under the name of Chop & Change in a workshop in Sleaford, and built a number of bikes that were featured over the next few years. 
He actually put Rare Breed up for sale a number of times over the years but, at the last moment every time, couldn't bring himself to part with it. It's been with him since the day it was finished in 1990 and, I suspect, will remain so until he's too old to ride it (and beyond that, too). It shares garage space with a number of desirable other bikes, too, and the trikes that he now builds and sells to keep his hand in.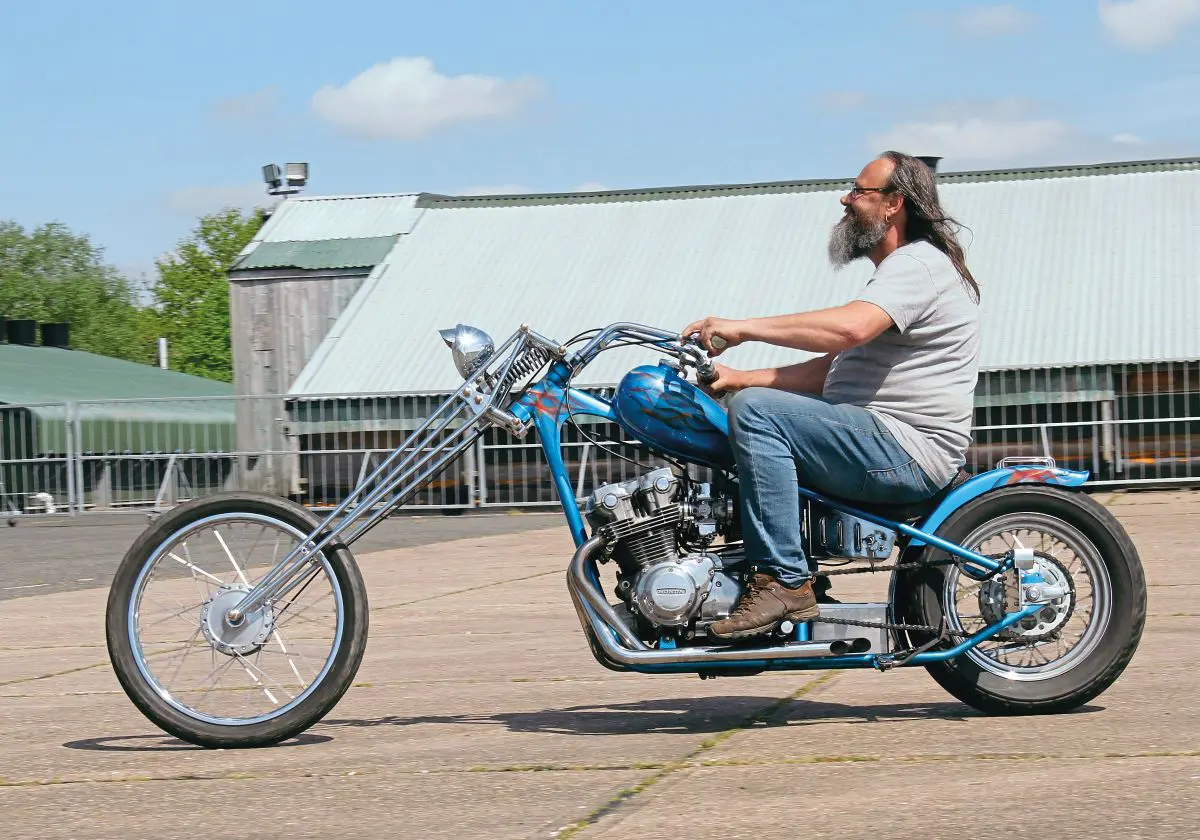 It was this bike, his first chop, that started his lifelong love of customs, but back in the day he didn't have the fabrication skills to do all the work himself. When he started building it back in 1988, he chose to use a Cycle Haven frame, commissioned specially, and a set of their 12-inch over girder forks – one of, it's whispered, the only two that Nick at Cycle Haven ever made. The front wheel, if memory serves me correctly, is from a 250 Suzuki (if it isn't, it didn't), and the rear's from a Z400 twin Kwak (DOHC Hondas came with those revolting Comstar things as stock); the tank's a twin-cap Mustang like we all used to use back in the day; the rear muddie's an aftermarket one modded to suit; and the really rather splendid seat was made by an outfit called DT Leather (who, I'm guessing, are no more), and really is a work of art on its own.
When, in 1989, it was finished, it was originally red, and it looked good but, shortly after, the engine decided to go pop (well, not so much 'pop' as 'graunch, grind, clunk' really). He sourced another from a breaker but, in a cruel twist of fate, just a few weeks later that one made similar noises (followed by an expensive silence) and, with no money left to spend on yet another, the bike was dumped unceremoniously in the back of his shed while he saved up enough dosh to buy a third.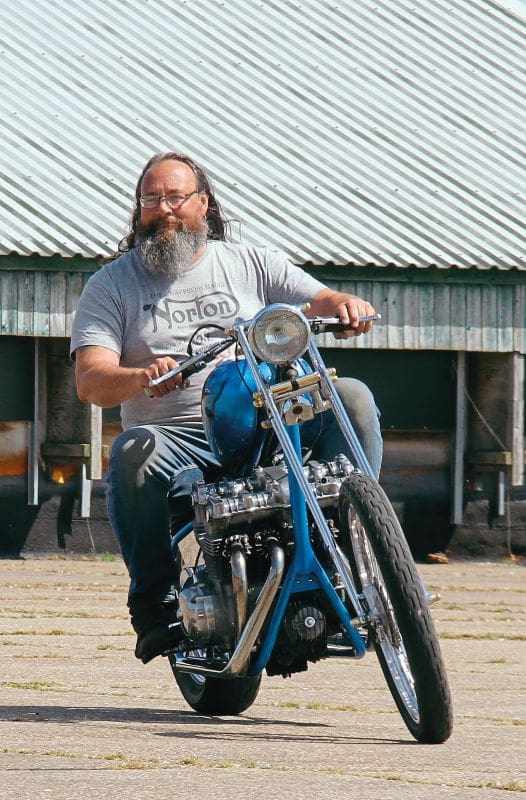 As he had to pull the blown engine out anyway, he decided to give the chop a makeover, and so the frame, tank and rear muddie were sent to Steve and Kitty Bray at Roadhouse in Leeds (remember them?) for a new Regal Blue paint job with gold-leaf and, when it was built back up again, it went to its first-ever show, the 1990 BMF, where it won 'Best Chop' (and lead to the BSH feature mentioned above). It also picked up 'Best Chop' at the Yorkshire Biking Bonanza that year, too, and 'Best Engineering' and 'Best in Show' at the esteemed Barnsley Warriors show the following year.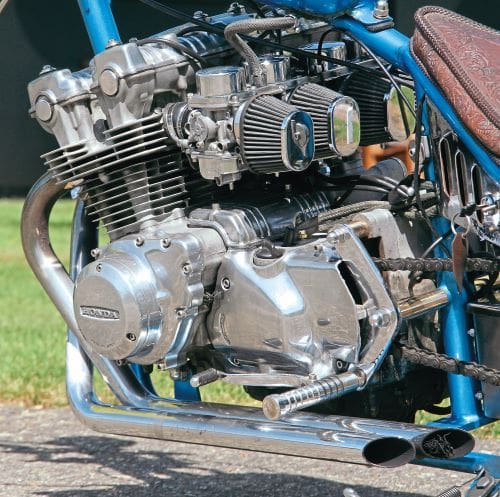 A while later the gold-leaf was removed, and smoke-effect flames put in its place, and it was around this point he taught himself to weld and use a lathe and, in 1993, opened Chop & Change, starting out doing small jobs for others before progressing to full builds (and his first trike… which he was delighted with until he put it into gear and it went backwards – "No one'd told me you have to turn Reliant axles upside-down to go forwards!"). Actually, it's from this period the only other bike he wishes he'd never sold was created – a gloriously loudly-painted FJ that was featured on the cover of BSH 172. He'd love to find out what happened to it so, if anyone knows, drop us a message and we'll pass it on.
Anyway, over the years Rare Breed's evolved bit by bit. The chrome on the engine covers was removed to give a more natural look; a bigger (stainless) battery box was made to move the coils to inside it to clean up the look; some spaces and nuts've been replaced with brass items; and a little mural was added to the rear mudguard. He's tweaked, and polished (the overall look) the bike over the years, and it remains his favourite of all the ones he's created – not bad for a bike built 34 years ago, and one which he still describes as a joy to ride.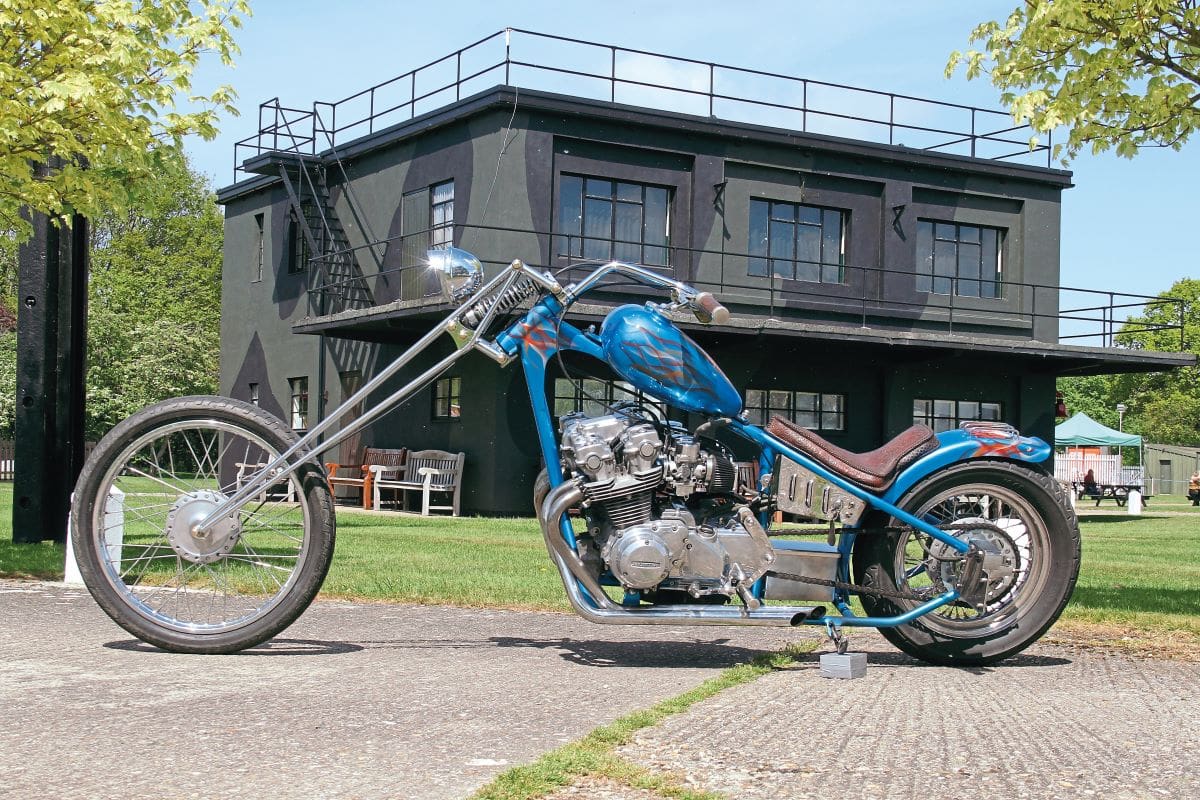 Nik (with help from Zoe)
Spec:
1979 Honda CB750 DOHC (rejetted carbs, aftermarket air-filters, aftermarket drag 'pipes), Cycle Haven hardtail frame (1988)/12-inch over girders/electrics box, one-off mid-mount footrests/controls, Avon tyres, spoked wheels (21-inch front, 16-inch rear), 250 Suzuki drum front hub, Kawasaki Z440T drum rear hub, one-off 'bars, aftermarket levers/switches, one-off leather grips, twin cap Mustang tank, one-off leather seat by DT Leather, aftermarket rear mudguard (modified), one-off rack, one-off stainless battery box/'plate holder, one-off torque arm, one-off loom, Bates headlight, aftermarket rear light
Finish:
Regal blue & artwork by Steve & Kitty at Roadhouse, polishing/plating by S&B
Engineering:
Bike built by owner, frame/forks/electrics box by Cycle Haven (07442 496186 or www.cyclehaven.co.uk)