The story of this bike, the idea behind it, goes back a long time… a long, long time so are you sitting comfortably? Then we'll begin…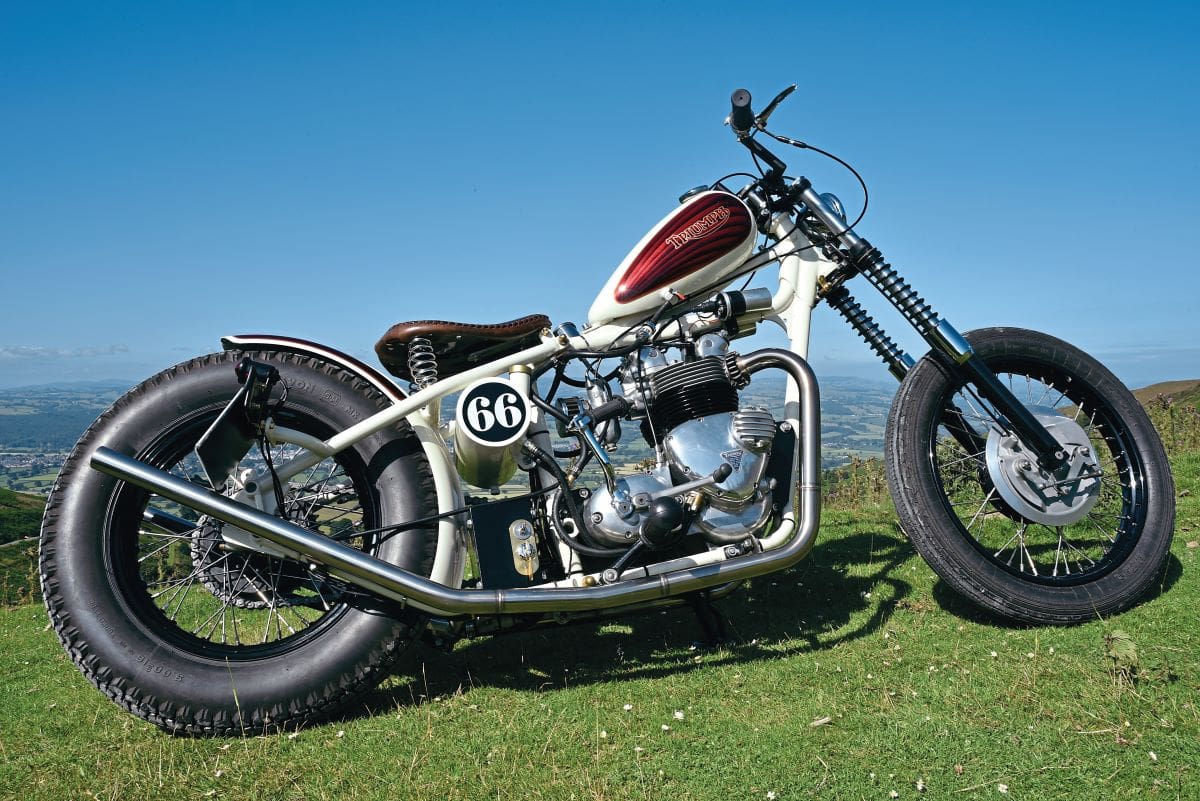 Words by Nik
Pics by Gareth
A lot more years ago than he'd care to be reminded, Dave Collins, the guy whose '66 Tiger 100 Triumph this is, was pottering about on a 50cc 'ped (so that'd make it either sometime in the late '70s or early '80s, I'm guessing) when, one fateful day, his faithful chicken-chaser cried 'enough' and died (not terminally, just temporarily). It was a wet, 'orrible day, and he was stranded by the side of the road with a dead 'ped, wondering what to do, when, as he says, "this big hairy-arsed biker, on a BSA 500 single in a Norton Featherbed frame that he'd chopped himself, stopped to help." I'm a little concerned you know he had a hairy arse, Dave, but I s'pose the originals most o' us wore back then were in a fairly sorry state mostly, weren't they?
Anyway, moving along, the chop rider did his best to get the 'ped up and running, and Dave was very grateful for his help as pushing a bike, any bike, home in the rain is one of the most soul-destroying things anyone can do. The bike the guy'd been riding, though, had blown his mind, and he vowed to himself that, one day, he'd build himself a chopper. Somehow though, for one reason or another, it didn't happen… well, not for a long time, anyway.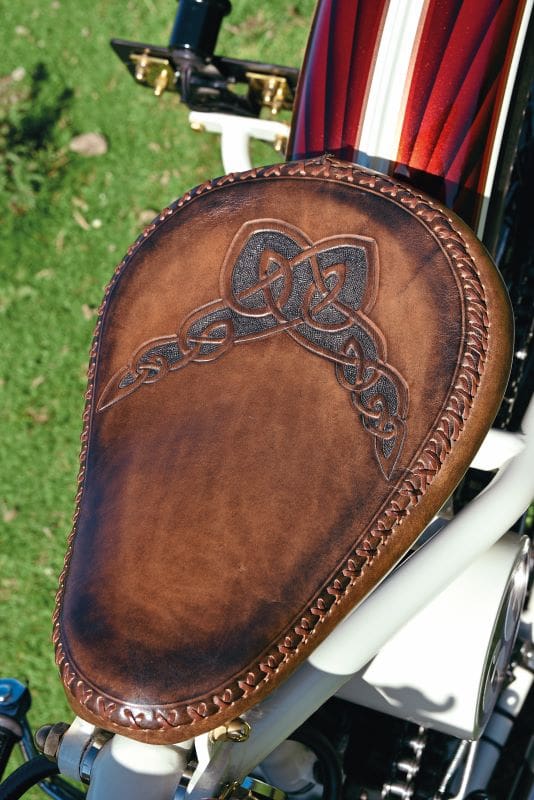 Fast forward to 2016 when, during an eBay trawl, he chanced upon this bike – as I said, a 1966 Tiger 100 (the single carb 500, first launched in 1939 and made right up until 1973) that'd been hardtailed at some point in its previous life. It was a bit of a basket-case – the guy who had it was going to do it as a show bike, hence the pretty colours (Dave says: "I probably wouldn't have done it in cream if it wasn't already done… but it's grown on me since"), but hadn't got too much further before admitting defeat and selling it on.
Now, Dave admits he's no mechanic, but he can generally take things apart and put them together again without too many bits left over – he and his cousin used to take old bikes to bits and build them up again so he was confident enough to build the bobber. The first thing he had to do, though, was build somewhere to do it in, and that took a year or so, so the build didn't really start until 2017, and the workshop (well, shed…) he built was pretty small as he didn't have much spare space in the back garden; so small in fact that he couldn't turn the bike round in it – it had to be wheeled out, turned round, and then wheeled back in again for work on the other side. That meant he had to get it up as a rolling chassis as soon as was humanly possible!
Actually, it stayed as just a rolling chassis for quite a while as work, and life, took precedent. He'd had the wheels powder-coated black, and fitted with stainless spokes, as he didn't like the rims in cream (and rust was coming through, too). The forks'd been cleaned up, their gaiters removed, and external springs fitted, but that's how it stayed for a good while. Then, with the onset of the dreaded bat lurgy, he was furloughed for three months or so, and this provided the impetus for him to get stuck in and get it finished… well, as much as any custom bike's ever finished, anyway.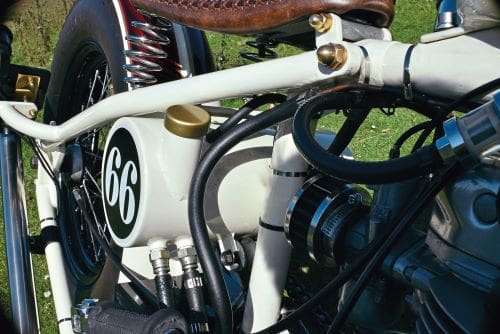 The Paughco mini Mustang tank (like a normal single-cap Mustang, but smaller) was cleaned out, sealed, and fitted, and the sprung seat was re-covered in a Celtic design, to Dave's spec, that really suits it. The ribbed rear 'guard was cleaned up and refitted, and he made a host of neat little brass bits n' bobs that suit the bike perfectly. Lastly (well, possibly…), his local bike shop, Moto-R in Ruthin, partially rewired the lil' Trumpet, and tweaked the carbs to get it running just so.
Since it's been finished, he's been pleasantly surprised by people's reactions to it. "Most people," he says, "who come up to me to talk about it are very complimentary, which is nice to hear… although, to be honest, do any of us who build a custom bike do it for other people's praise? I'd say we do it for ourselves – it's personal, it's our design. The best thing about this bike, though, is riding it; it handles well, and sounds sweet when you open her up. You do have to give it a bit of notice on the brakes before stopping, but what do you expect? It's 55 years old."
He also says: "If I can bear to part with it, I may do next spring… but not before I've got another project to go at."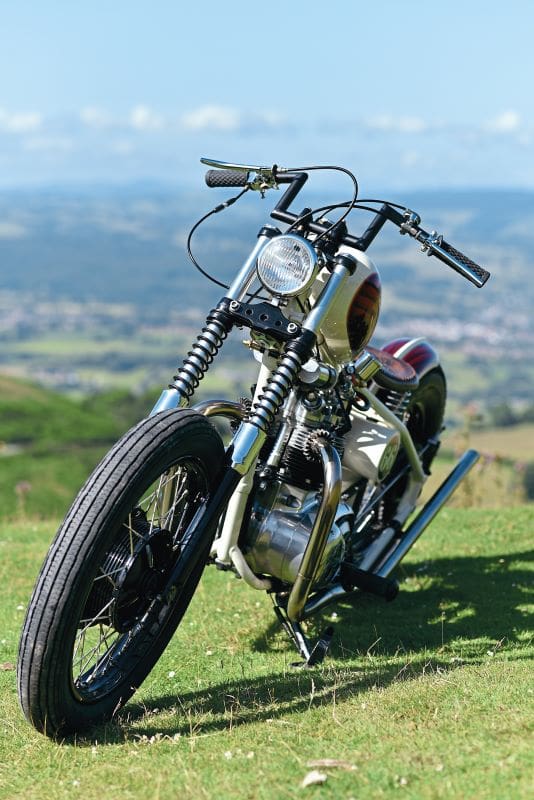 Spec:
1966 Triumph Tiger 100 (T100SS) 500cc engine (aftermarket air-filter, one-off stainless straight-through exhausts, modified primary cover)/frame (modified)/foot-rests/controls/hubs/brakes/forks (external springs)/yokes/rear wheel, Dunlop 18-inch front rim, Mitas 18-inch front tyre, aftermarket 'bars/controls/speedometer (one-off brass mount)/oil tank/sprung seat (one-off cover)/ribbed rear mudguard (modified)/grips/headlight/tail light, Paughco mini Mustang tank, Avon MK2 16-inch rear tyre, one-off loom by Moto-R
Finish:
English rose with candy pearl red paint/lacquer by previous owner, powder-coating by Wheel Building UK, polishing by owner
Engineering:
Wheels built by Wheel Building UK
Thanks To:
"Rich Green at Moto-R (01824 702500 or www.moto-r.co.uk); Hideaway Leather (01824 704889 or Facebook); & Mike at Wheel Building UK (07455 244480 or www.wheelbuildinguk.co.uk)…"