According to the press blurb, Royal Enfield's Scram 411 is a stripped-back roadgoing version of the A2-licence compliant Himalayan adventure bike (that's trailie to you and me) with a smaller front wheel (to give sharper steering), and a slightly less upright riding position.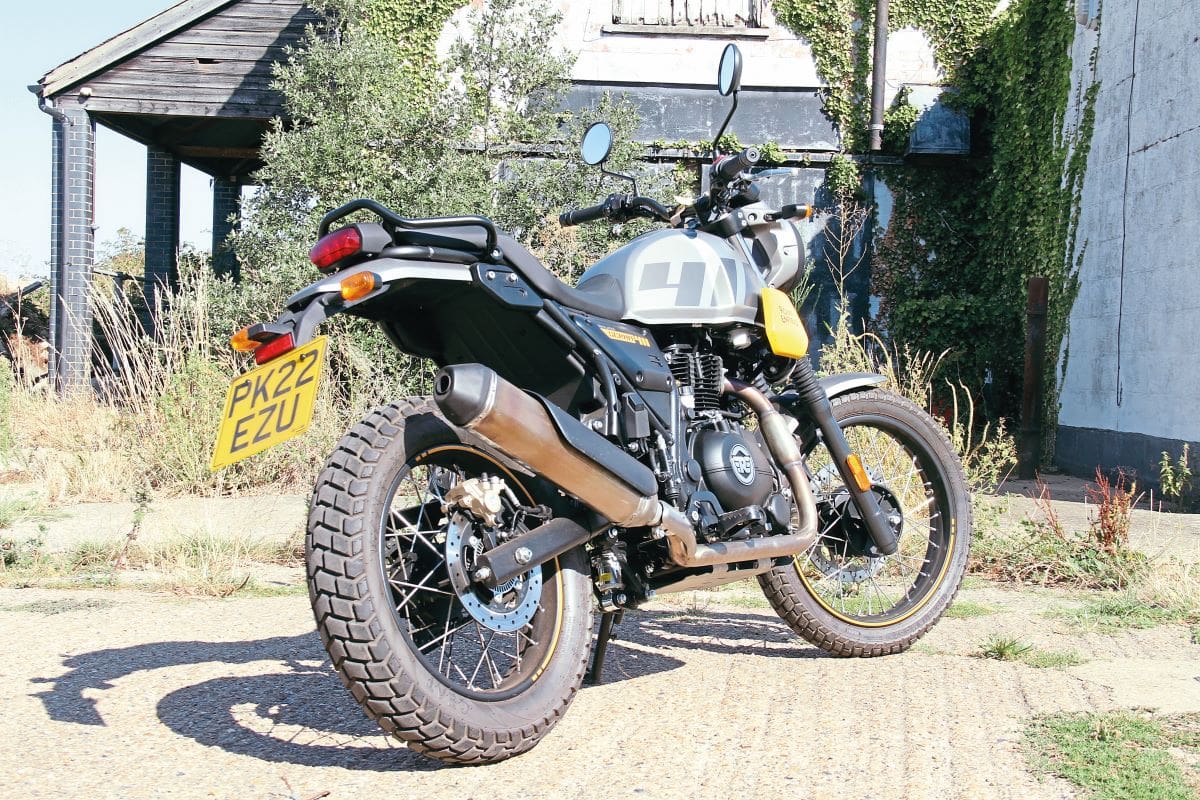 Riding by Loon
Based on RE's existing Himalayan (as tested a coupe o' three years ago), using the same frame, engine, suspension and fuel tank, it's an urban version intended for use in towns and cities. With just 24bhp at 6,500rpm, and 23.6lb-ft of torque at 4,250rpm, it's never going to set the world alight performance-wise, but with just 185 kilos (with fuel an' oil), and a narrow profile, it's great for slipping through traffic, and it's quite capable of handling light (dry) trails, too, if the off-road bug bites you.     
In fact, that's probably where I enjoyed riding it the most during the time I had it – pottering around Thetford's forest trails, and the little back roads leading to them. Y'see, out 'ere in the east we don't have a lot in the way of cities, and our towns're so small that, if you lift a buttock to fart while crossing the town centre, you'll find yourself out the other side before the gas's exited your trouser leg, and so I stuck to roads so widgery the Tarmac itself gets dizzy, and the dry-as-a-political-manifesto tracks between the trees. Here it's in its element, with the dinky little single-cylinder donkey wuffling away underneath you, its single-overhead-cam, two-valve, air-cooled, single cylinder (with a longer piston stroke than cylinder bore) giving a wide spread of torque instead of high-revving power; it's easy-to-use, and flexible, with low-down power to get you off the line at traffic lights, enough mid-range for relaxed cruising up to 60mph and, once it's run-in, enough top-end power to see 80mph on the speedo.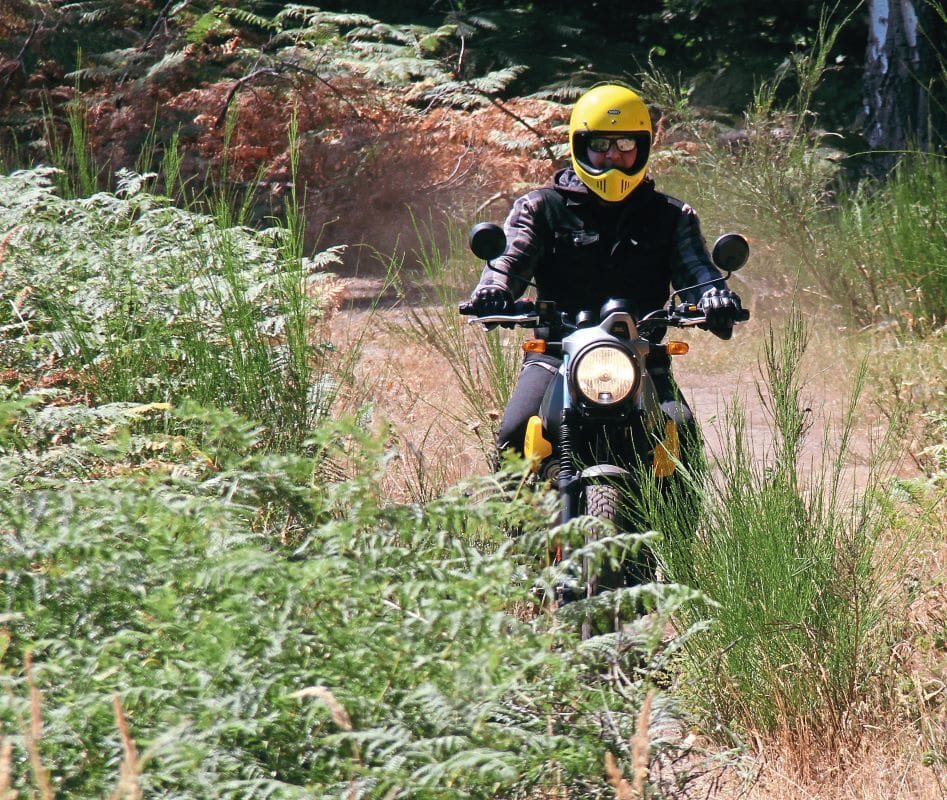 That's something you need to bear in mind – these little engines do require proper running-in. You're dealing with Indian technology that's based, I'm guessing, on older British technology, not Japanese seamlessness, and, like an old Brit single, they need a little bit of a light touch until they've got a thousand miles or so under their belts. They're the sort of engines that loosen up nicely after a wee while, but're a little tight beforehand. That, in the grand scheme of things, may sound a little disconcerting, but just picking the right roads during the running-in period makes it a doddle to do. Many of the people who'll buy one'll probably never really take it out of town, or have something bigger, with longer legs, for doing the miles on, and everyone I've spoken to who has a Scram raves about them.
The ride you get from one, for example, is just sublime. The suspension, which I remember from the Himalayan, is almost perfectly sprung – the 41mm right-way-up forks, and preload-adjustable monoshock, seem to float over the piss-poor road surfaces of our modern roads, making riding a much less teeth-jarring experience than on anything else I own, and it's, in fact, so good I kept noticing it as I rode roads I know to be rougher than an ursine derriere. 
Article continues below…
Advert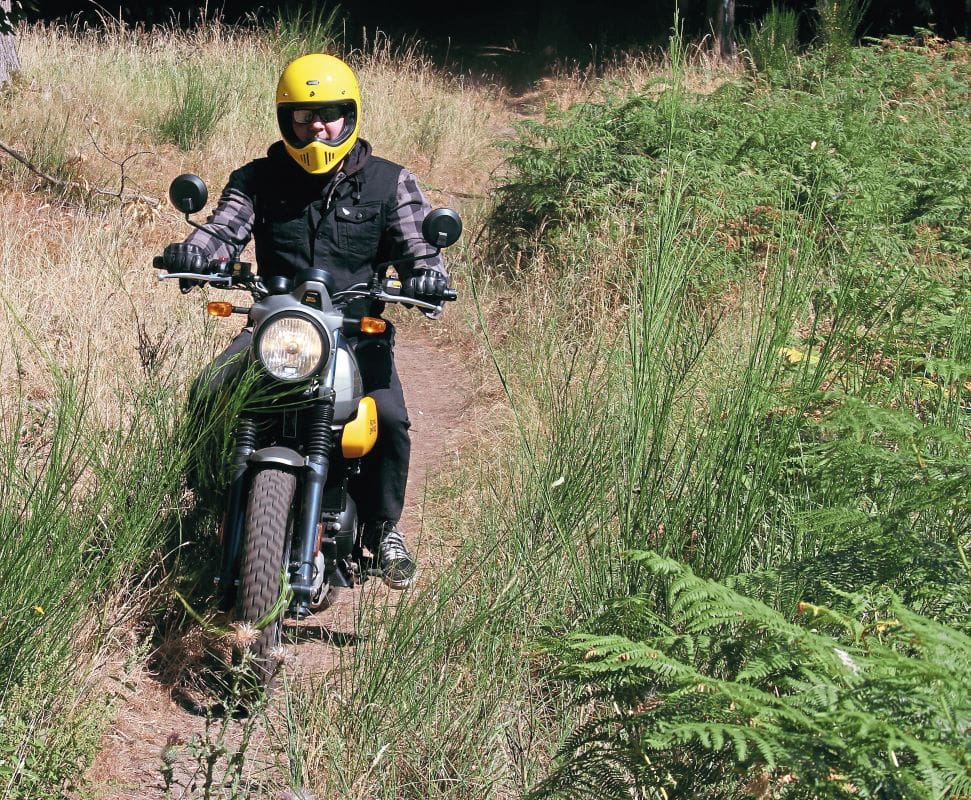 Given that it's sold as a town bike, albeit one with off-road capabilities, the seat height is, I thought, surprisingly lofty. My good lady, for example, is capable of riding the 152bhp 1000cc GSX-S Suzuki the Scram was temporarily sharing garage space with, but she couldn't really get a foot down on the little (power-wise) Scram. A seat height of 795mm (31.3 inches) is quoted for the Enfield, while the GSX-S's is 810mm (31.9), but Pam declined to even try it round the field at the back (if you'll pardon my vernacular), and it did feel tall to me, too. Thankfully, the light weight and, as I said, narrow profile make it a doddle to throw around, and dabbing while filtering's easy as, y'know? Equipment-wise, the Scram is refreshingly simple. There're no electronic wossnames to bamboozle or confound you – no modes, no traction control, no facility to WhatsApp your poodle, just rudimentary ABS ('cos it's the law), a speedometer with a small LCD display showing mileage, trip meter, clock, a fuel gauge, and Royal Enfield's 'Tripper' turn-by-turn navigation (powered by Google Maps via an app on your 'phone). Sadly, the compass fitted to the Himalayan's gone…
In summary, the Scram's a great town/city bike, with up-to-date bodywork and detailing, that's perfectly suited to what it's designed for – if you're finding that, for your big bike, 'there ain't no love in the heart of the city', or you're returning to biking after a time away and don't fancy a Japanese or Italian stallion, or an American behemoth, it could be right up your street.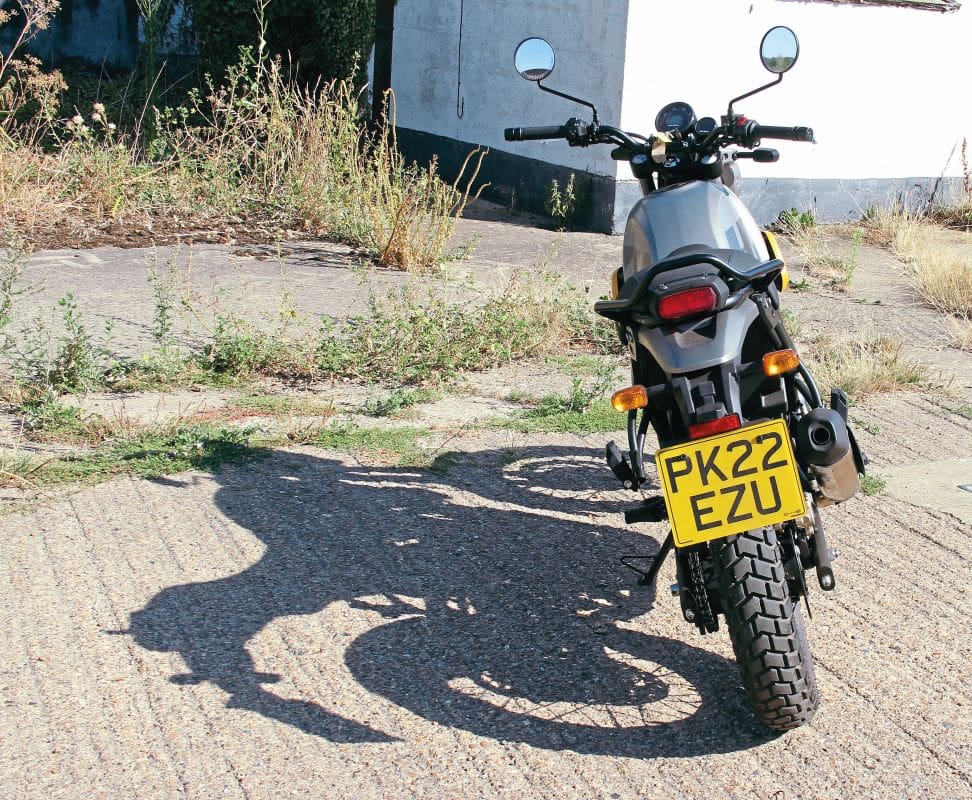 Prices for the new Royal Enfield 411 Scram start at £4,599. get more info from your local RE dealer or www.royalenfield.com
Article continues below…
Advert