Ryan Dawson, born in Essex, was raised around American culture; choppers, custom cars, hot rods, drag racing, by a bunch of petrolheads.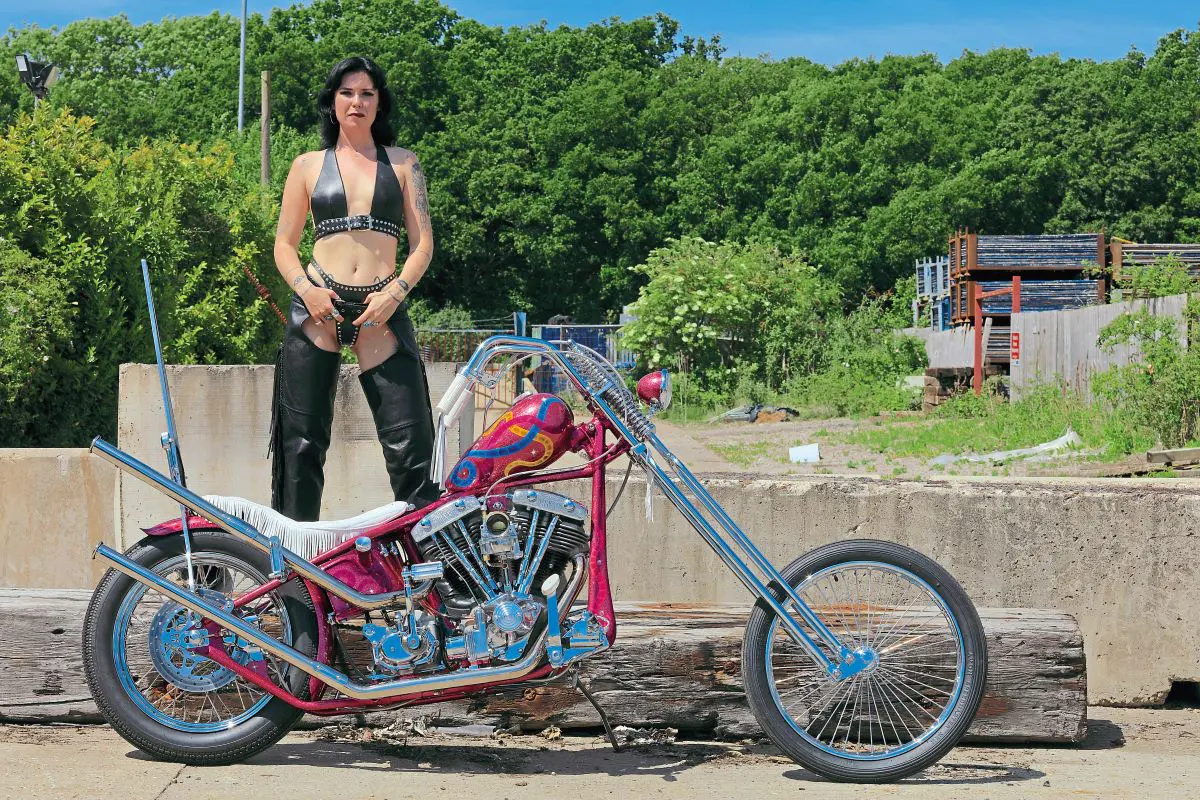 Words by Shen
Pics by Garry Stuart
The famous Fordson van hot rod 'Mr Torquer' has been in his family since 2000. Originally brought into the family by his old man Ricky, his uncle, Paul, now owns it, and has spent the last 12 years reviving it. This hot rod, specifically its paintwork, is the reason Ryan came to know, and grow a friendship with, Steve Chopping at Chopping Body & Paint who, later, ended up landing the job of giving 'Stinky Pinky', Ryan's Shovelhead, a coat or two of paint.
Drag racing's been a huge part of Ryan's life and, aside from growing up around that fine piece of UK drag racing history since the age of eight, he's crewed on the Apache Nostalgia Funny Car for just over ten years, too. Before he got into two wheels, he was a serious VW head, and also had a slick black '76 Chevy Blazer before someone knocked some sense into him. In 2019 he got his bike licence, and built a Sportster chopper, and then he bought this '73 Shovelhead.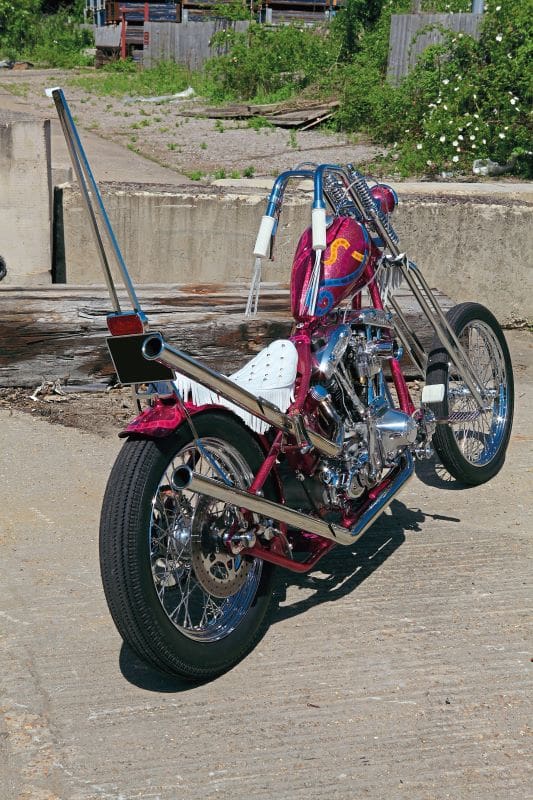 For this build, he was greatly inspired by '60s US chopper builder Dick Allen – he wanted a bike that was long and skinny, with narrow, chromed springers with rockers, pull-back bunny 'bars, a Cobra seat, a rear disc brake, a primary belt-drive, it goes on (the one thing missing's a 2 into 1 exhaust, but that'll, no doubt, come into fruition sooner or later). He also wanted a show-girl he can ride, and that's exactly what he built – he rode Stinky Pinky to The Trip Out 2021, and came away winner of 'The Biker Build Off' (not that he built it to win shows, but I guess it somewhat solidified what he'd set out to achieve).
For the front end, he used a 21-inch wheel, laced to a spool hub, along with the 19-inch rear, by Ralph at The original Spokeman in Holland, and a set of 10-inch over springers by String at Raw Steel Choppers, who also bent the stainless for the bunny ears, which Ryan welded together and polished up. Now sat at 12 inches apart, the handlebars're a lot more manageable on bendy British roads (the first set were only eight inches between the grips and, along with no front brake, I have absolutely no idea how he managed it… he says it's a lot more enjoyable to handle now though).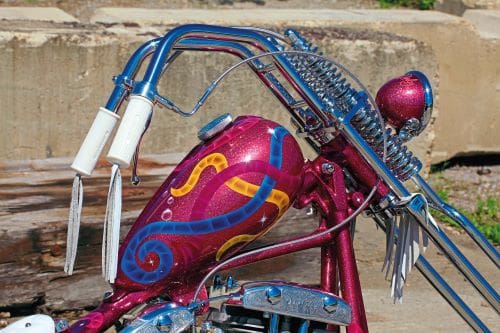 The top end'd had a fresh makeover by renowned engine builder Baz Church before he bought it (which kind o' helped decide the buy for Ryan, I guess), and now runs a high-lift cam, S&S Super E carb, and the gearbox was rebuilt by Jim at Skinny Choppers. The bike'd been hardtailed, but he's since moulded the frame, and windowed the neck – all the moulding is metal, silicon bronze-welded. This lush detailing flows along the spine of the 'guard, up the frame, on to the narrowed Mustang tank, and over the oil tank, which he'd reshaped and welded, too. A lot of the fabrication and machine work on this bike he's done himself, too: the sissy-bar; 'plate and tail-light mount; the foot-pegs; shift lever; velocity stack; headlight mount; engine mounts; the pipes; the list goes on and, when he didn't have his own lathe, some of the detailed machine work was sourced by his friend, Charlie Hagan. It's finished off nicely with details like the pink helix fuel and oil lines; the rippled machined parts; the 'Stinky Pinky' rocker covers; the classic white Harley-Davidson brake pedal and shift lever; and, obviously, the white studded, tasselled Cobra seat, made by yaseatcustom over in Thailand – Stinky Pinky is one sexy girl!
When the day came for the paint job reveal, Ryan was buzzing, so Steve and I thought we'd f**k him about as if something'd gone wrong. His reaction was unexpected – I'd anticipated a few spanners thrown across the garage as, after all, it wasn't cheap. Instead, he said, with a begrudging smile: "It is what it is, it's only a f**king motorcycle." Obviously, the paint is nothing short of unreal – all was well, and we admired the frame and tins in Steve's oven over cans of Heineken for hours. Time flies by at Steve's workshop in Coggeshall – we're convinced it's some bizarre time warp zone, a trippy little place, where an hour disappears in a blink of an eye… or maybe we were all just high from the paint fumes. Perhaps it's no wonder Stinky Pinky looks the way she does!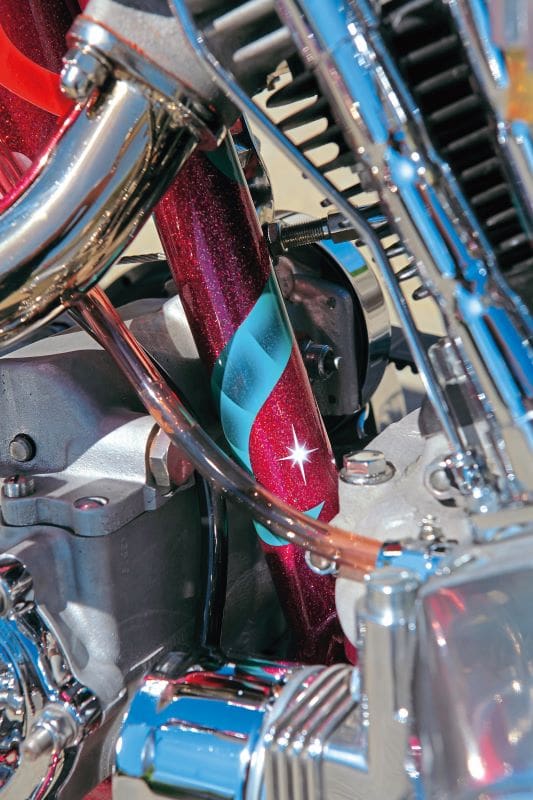 Ryan'd be the first to say Stinky Pinky isn't perfect – there's this he'd change or there's that he'd change, do better, make different, and over the course of watching every part of this build, I've come to understand that a build is never truly done with; a builder never really finishes building, and still to this day he's machining parts and adding to the bike – when he does there's s void in his life that, no matter how much work's put into it, no matter the parts that took hours upon hours to design, make and polish, no matter how many miles racked up, or how many smiles she brings, not even the memories made, that void still lingers. But, hey, let's not get too deep because, when push comes to shove, "It is what it is, it's only a f**king motorcycle"…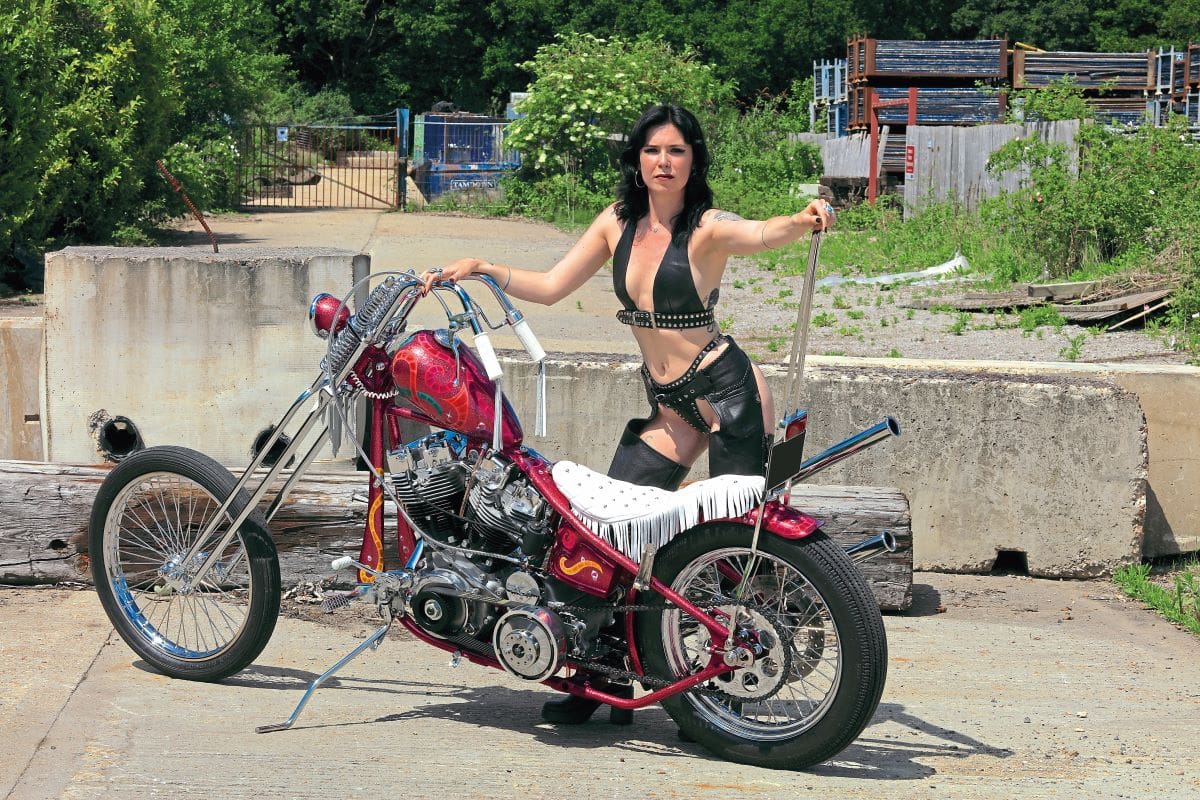 Spec:
1973 H-D Shovelhead FL 74ci (1200cc) engine (performance cam, S&S Super E carb, one-off stainless velocity stack, Barnett clutch plates, Rivera Primo 1.5-inch open belt-drive, four-speed ratchet-top gearbox, Dynatek single fire electronic ignition, one-off stainless exhausts)/frame (modified), one-off stainless foot-pegs/controls, Avon Speedmaster front tyre, 21×1.65-inch wheel (straight-laced, spool hub), 10-inch over springers, one-off 'bars, Pangea Speed grips, Wassell tank, white leather studded/fringed sprung Cobra seat, one-off oil tank, one-off battery box, one-off 'plate mount, Lowbrow Customs Stingray rear mudguard (modified), one-off sissy-bar, 19×2.5-inch wheel, 2006 H-D Softail hub/brake, Shinko tyre, one-off loom, aftermarket headlight/tail light
Finish:
Lotus pink base/Paint Huffer metal-flake/candy fogging/various '70s custom paint accents by Chopping Body & Paint (07842 560288 or Facebook), stainless/alloy polishing by owner, forks chromed by Wyatt Polishing (01842 766770)
Engineering:
Bike built by owner, machined rippled parts/axles by Chagan Engineering, springers by Raw Steel Choppers (07814 540528 or www.rawsteelchoppers.co.uk)
Thanks To:
"Everyone who played a part in the build, whether parts or general support; Garry Stuart; model & better half Shena; & Back Street Heroes for the opportunity!"