For as long as I can remember, everything was governed by bikes; where I went, who I knew, what I did. I'd chosen to live a life completely submerged beneath the water of two wheels. Quite literally, bikes were life and then, one day, they weren't…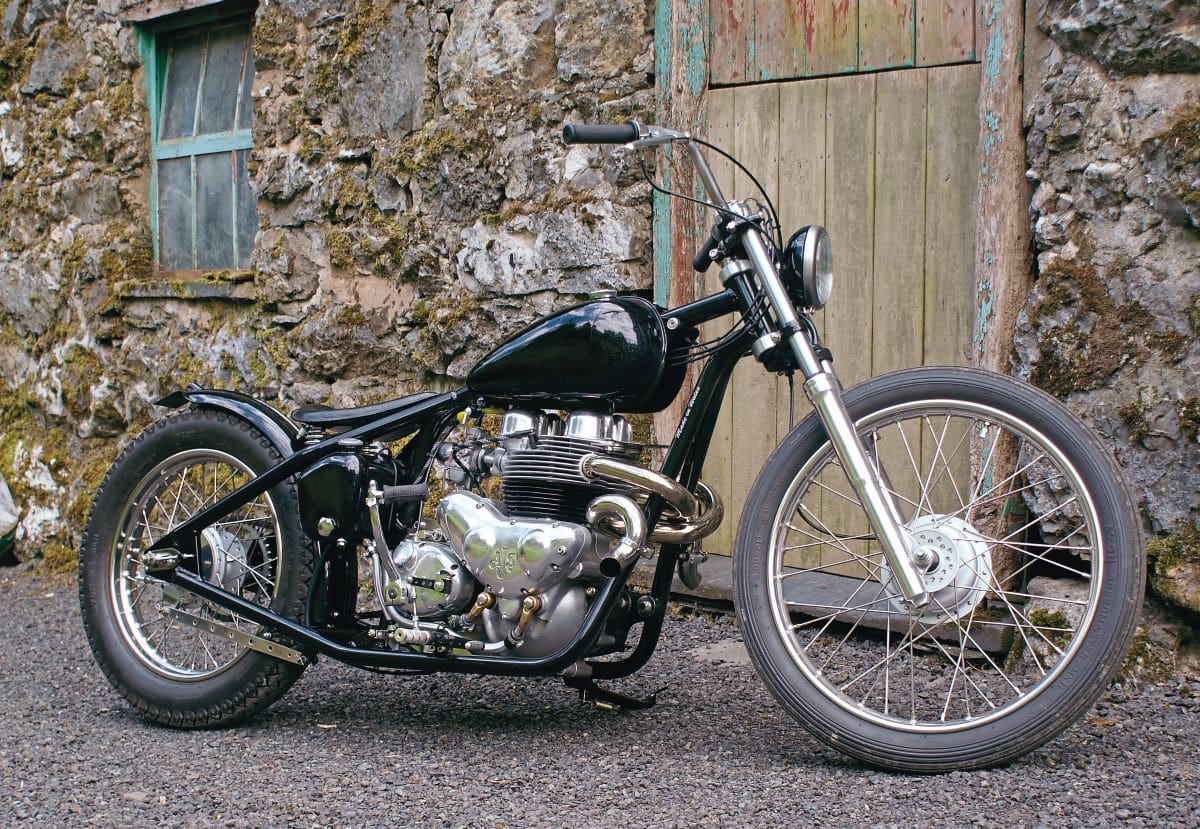 Words by Norm
Things changed, I changed, life changed, and I fell into a peaceful motorcycle-free coma. It was one, I assumed, would last forever, but others were perhaps less convinced and, to my surprise, they were eventually proved right. I was awoken from my long slumber by a barn-find Z650 – a true barn find in that it was actually found languishing in a barn, as opposed to simply being an undesirable piece of crap sprinkled in hipster dust and sporting an overly optimistic price tag. It quickly found its way to mine, and I was tasked with the job of recommissioning it. This later turned into a request for a complete strip and rebuild as these things so often do.
My instructions were to repair, rebuild, and replace until it was clean, reliable, and mechanically sound, and I was also given additional (and very explicit) instructions that I was, under no circumstances, allowed to take a grinder or welder to what Mr Kawasaki'd produced in 1977. It wasn't, at first, a job I relished, but the feeling of expensive chrome-vanadium in my hands, and the smell of Loctite 574, must've rekindled something that I'd thought long extinguished. The desire to 'build' once more began – slowly, but I couldn't shake it off. My hands were a conduit between imagination and metal. I hadn't done it for a long time, but I knew that, for a reason I couldn't explain (and barely understood), I needed to do it again.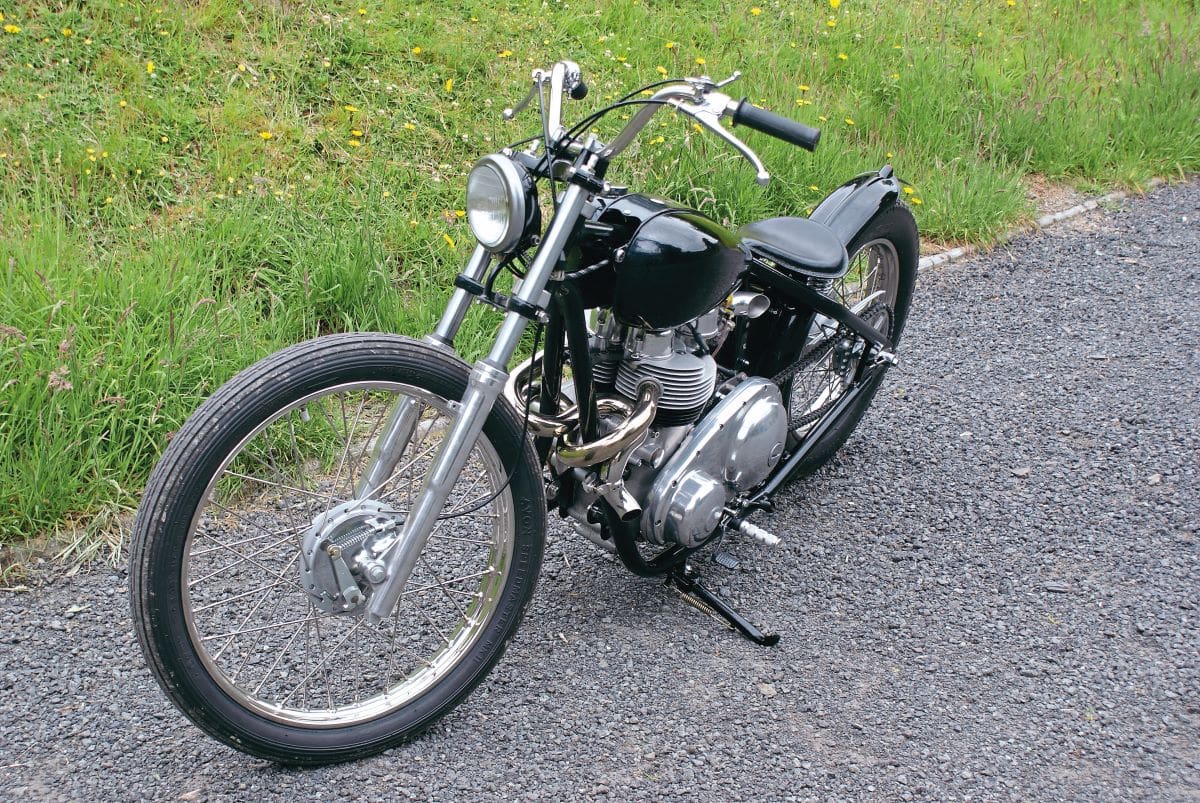 An AJS twin might seem like an unusual choice, but I didn't really choose it – it was simply what was to hand. I'd known this particular motor for over 40 years, yet I'd never heard it run in all that time. I assumed it'd require some work, but I'd not anticipated just how much. Rule 1: never assume you know anything about a non-running engine… but more of that in a minute. My intention was to build a frame, but fate intervened and just before I pressed the 'buy it now' button for some T45 tube, a chance email conversation with Ian at Blue Frog Fabrication turned into him offering to build me a bare gooseneck frame for a very reasonable sum. While I waited, I kept myself busy collecting parts from here, there, and all points in between. I had nothing on paper, no sketches or drawings, just a fluid image in my head. I wasn't building a chopper or a bobber (technically it's neither as nothing was 'chopped' nor 'bobbed'); it was simply a bike, and I wanted it to appear as basic and bare as possible – something which's often more difficult to achieve than it sounds.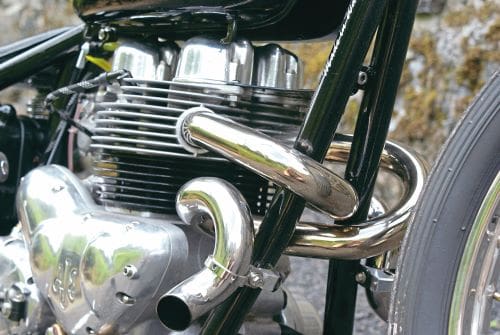 Over the next couple of months I amassed a collection of parts any '80s bike breaker would've been happy to throw in a skip. Obviously, when collecting parts, each belonging to a different model and manufacturer, you really can't expect things to fit together without at least a little input; the yokes don't fit the frame, the forks don't fit yokes, the front wheel doesn't fit the forks, and so it goes on. I suppose you could say that the 'art' is getting those random items to not only fit, but also to function, and, quite importantly, to look like they'd always lived together in happy union. In my mind, it's often around this time when the bike building battle is won or lost – no amount of 'flake, chrome, or stick-on skulls'll hide a bad angle or a poor line. Any time spent staring and thinking at this stage is seldom wasted.
While I was staring and thinking, I turned my attention towards the mystery motor, and began to delve. The sight of new pistons beneath the heads lifted my spirits briefly, but from thereon in things got progressively worse. The crank, cams, followers, push-rods, valves, seats, bushes, bearings, springs, and just about anything else that rotates or moves up and down required repair or replacement. I also took the opportunity to ditch the Amal Monobloc in favour of a VM Mikuni, and fit a K2F magneto rather than spend the remainder of my life trying to get the standard distributor to reliably distribute sparks to both cylinders at a pre-determined point in time. Although I was doing everything myself, any notion of 'budget' disappeared, and I simultaneously bought the proprietor of AMC Classic Spares a villa in Spain while consoling myself with thoughts like 'You're only doing it once' and 'If you're doing it, do it right'. It also transpired that what I'd assumed was a 500cc M20 contained a number of 600cc M30 parts, including the entire top end… see Rule 1 above.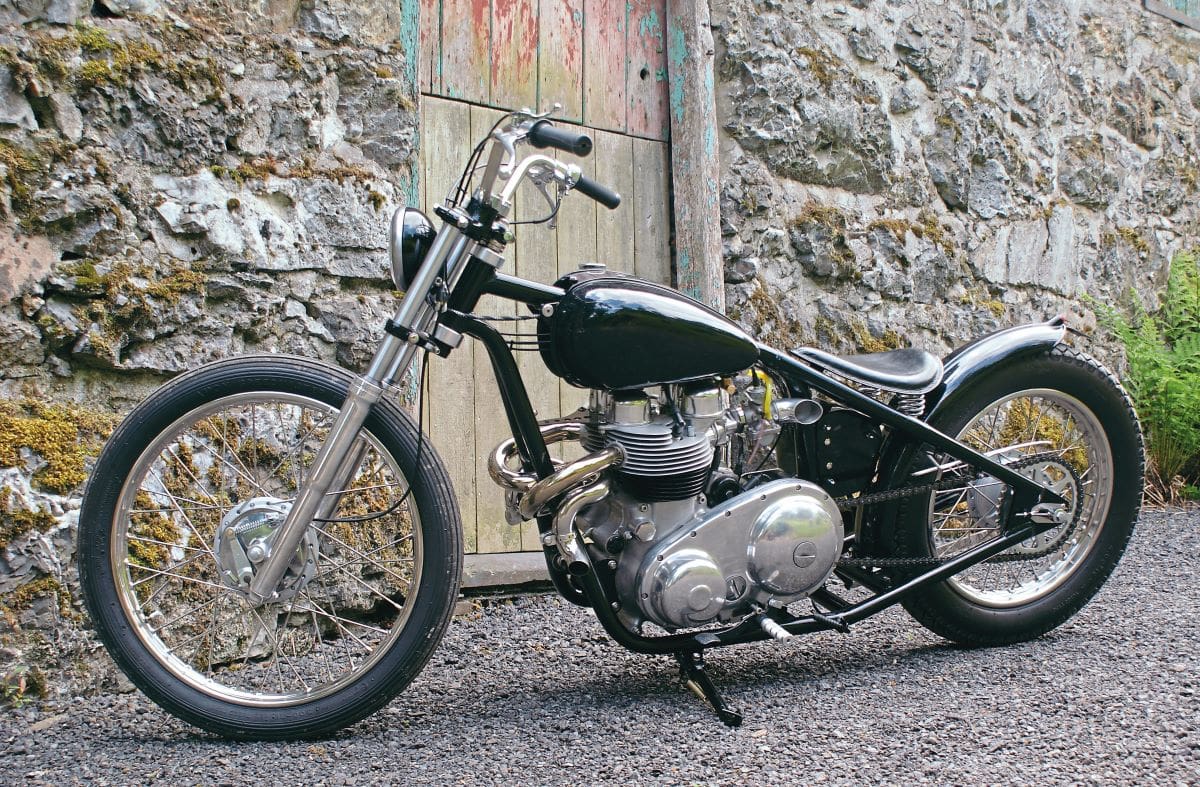 Finances and the limited availability of certain engine components meant that the chassis was complete some time before the engine was finally bolted back together. It wasn't planned, nor was it a perfect situation, but it did give me plenty of opportunity for painting, polishing, and all the little time-consuming jobs like making cables, mounts, etc. As a completely colour-blind individual, I'm usually not allowed to make decisions about such things, but here I was on my own and completely unsupervised. I did consider spraying it candy brown at first – for two reasons: firstly, you don't see many brown bikes, and, secondly, it would be a subtle homage to a line in a Macc Lads song, but at the last minute I changed my mind. I don't recall why, but I ended up spraying it candy black over a silver base with a dusting of silver micro-flake beneath copious two-pack clear. Maybe one day I'll repaint it brown? I dunno, but for now it's black, and I'm back…
Spec: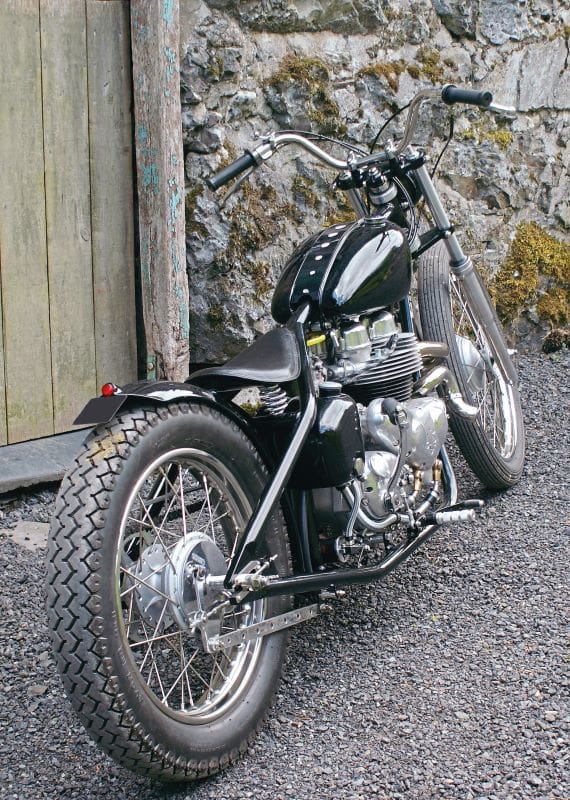 1959 AJS M20/30 (completely rebuilt, reworked ports. Mikuni VM 26 carb, Lucas K2F magneto, Morgo external oil-filter, one-off stainless exhausts), Blue Frog frame (modified), Avon tyres, stainless rims (WM1 21-inch front, WM3 18-inch rear), Yamaha IT 175 front hub/brake, Honda XL 125S forks (shortened), Suzuki TS 250 yokes, Amal pattern levers/throttle, BSA B44 US-spec stainless 'bars/Bantam D3 petrol tank/C10 oil tank, Triumph front mudguard as rear (modified), one-off leather sprung seat, Suzuki DR 125 rear hub/brake, Fordson tractor headlight, small LED stop/tail-light (frenched into 'guard), 2mc capacitor, solid state reg/rec (no battery)
Finish:
Candy black/silver 'flake paint by owner, polishing by owner
Engineering:
Bike built & all work by owner
Thanks To:
"Ian at Blue Frog Fabrication; AMC Classic Spares (01462 811770 or www.amcclassicspares.com); Big Norm; & everyone taken too young RIP…"