I built this for myself 5 years ago, started with an Ultima bottom end, had some engine turned barrels and heads from Graham Duffy along with  Ness covers, mikuni 42 carb, BDL 2" belt primary 5speed transmission with Ness covers wheels are weld, polished ally with matching discs and drive pulley, I made the hardtail  frame with the look I wanted, Myke Taylor painted the frame and tin work using silver base, flake and green candy and black fade. 
Custom stainless H bars with Ness controls, exhausts are custom stepped stainless with cerakote finish, speedometer is Dakota mounted in fuel tank, I ride this bike most weeks and it's still looking good after 5 years 
Dale Reardon, started riding bikes off road when I was 8 years old took up grasstrack racing when I was 13, having an older brother I got into custom cars and hot rods long before I could drive but choppers and custom bikes were always my dream, I ended up working for Antig Weslake building complete speedway and grasstrack bikes this gave me the engineering background I went on to build various drag racing vehicles here and in the USA. I started up my own business west coast racing in 1988 and Hellstownchoppers around 1998 and have been building many custom bikes over the years specialising in long chops, I am currently finishing off a new build for myself which is running a Patrick racing motor which is another story for another day!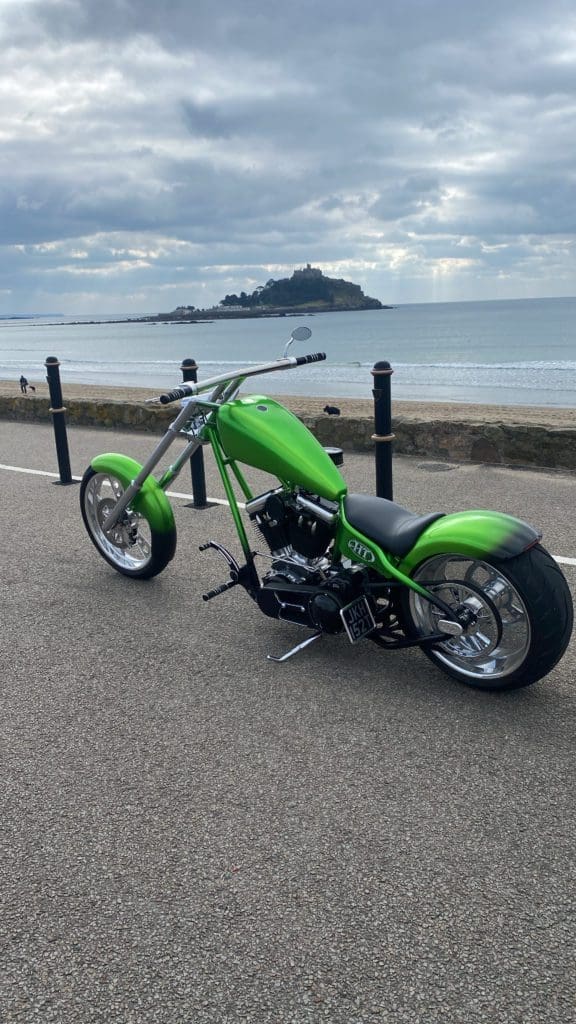 Do you want to Brag Your Bike?
Fill in the quick form here and you may find yourself being a Back Street Hero: