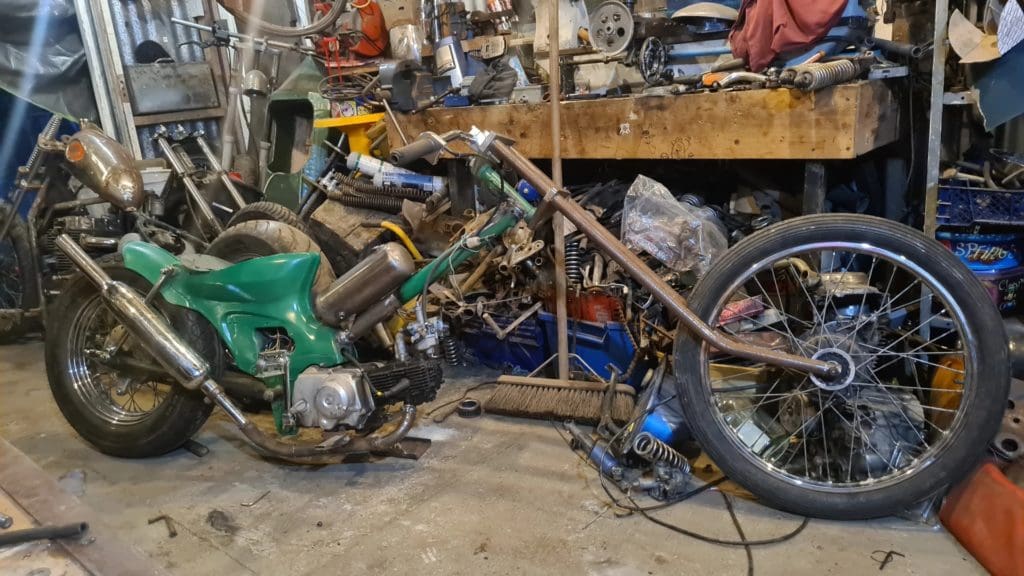 This is a full custom build from whatever I had around in the garage, bought cheap as chips and built to just the same budget, it was meant to be a simple build but as usual I kept adding to it every step of the way and changing my mind on every turn.
There's 7 inches of stretch in the frame tube, a 3 inch chop in the tub for the seat to sit down a bit lower. 4 inch stretch in the swingarm and umpteen degrees of rake in the headstock, also its been lowered and is on rigid stainless struts to get it low as possible, the exhaust is a one off made from old bends and a chrome triumph can it will eventually get a stainless straight pipe but just to get it on the road this will do.
The rigid front end is 1 of 2 too fueler style forks made by Kuntry Road Kustoms and takes a 21 front wheel from a ts50 with a custom brake plate to fit in the skinny lines, the rear is a 130/15  from a Suzuki Marauder, in a custom swing arm this will also be made stainless when I can be arsed  I just knocked up this mild one in an evening to get it rolling.
As it sits the motor is near enough stock, however I've got a friend with a 140 lump that I hope to bargain off him in the future. This was intended to be a cheap and easy build just to use as a work hack and something to mess about on in the summer, it's developed into a totally one off build that's coming up on 3 months work (originally I planned to have it done in 4 weeks) but every bit I do ends up getting further from my original plan although I'm determined it'll be my regular hack by the next month.
Monty Cruse, born in Southampton around bikes trikes and hotrods, both my uncles on my dad's side are hotrodders so I was never far from an engine, as well as my mum's friends who are all bikers and had a massive influence on me, I'm only 20 and still make umpteen calls a week asking about all sorts of silly questions.
Do you want to Brag Your Bike?
Fill in the quick form here and you may find yourself being a Back Street Hero:
Article continues below…
Advert