Where to begin… Started off as an unfinished build, as they often do.
Frame was complete! Just a bit rusty and fortunately came with a donor bike consisting of a slingshot1100 wheels and all!
However the engine appeared to have been sat with water throughout… Never mind though, as the plan was to build up a new engine with loads of tasty bits.
With the frame, added all the mounts it would need for mocking up mudguards, tank, sissybar and electric boxes for the initial dry build checking everything looked…just right.
The engine consists of a Frankenstein of Suzuki motors, the bottom half is a GSXF1100, barrels came from a GSXR1100 and the head is a Bandit 1200. All new bearings throughout as the crankshafts had just about worn through.
The paint on the tank mudguard and engine was done by Tim Cox of TJC designs. The powdercoat from our very own Nick the chef consisting of a 2tone black and green with metallic flake, or (green and black) depending on how you look at it.
With everything together it was ready to build into what we have now. Minus a few teething problems, some camshaft journals picked up and needed re-machining along with new camshafts. And a clutch that just can't take power if you roll on hard with the throttle.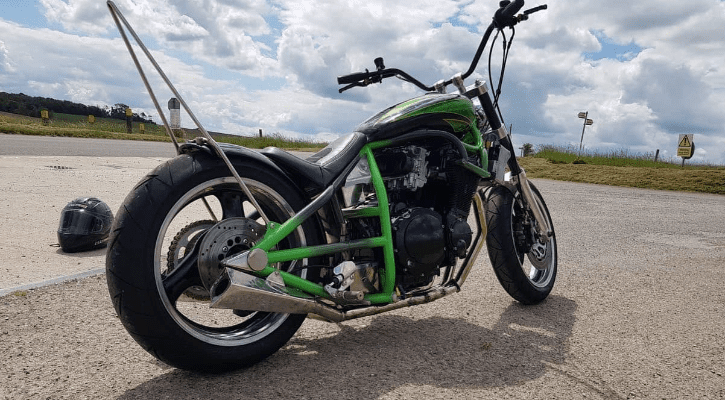 SPEC LIST
• Engine bored out to 1216cc
• Forged wiseco pistons to suit
• Stainless valves 2mm oversize both inlet and exhaust
• Porting and polishing by Simon Hicks.. the flow master
• Stage 2 Road and track camshafts
• 40mm mukuni rs carbs
• Black Nitride fork stanchions
• Cnc billet yokes and risers
• 6pot nissin calliper's on the front
• Custom bars, seat, sissybar and everything else you can imagine to make a custom motorcycle
Sam NCC Wiltshire