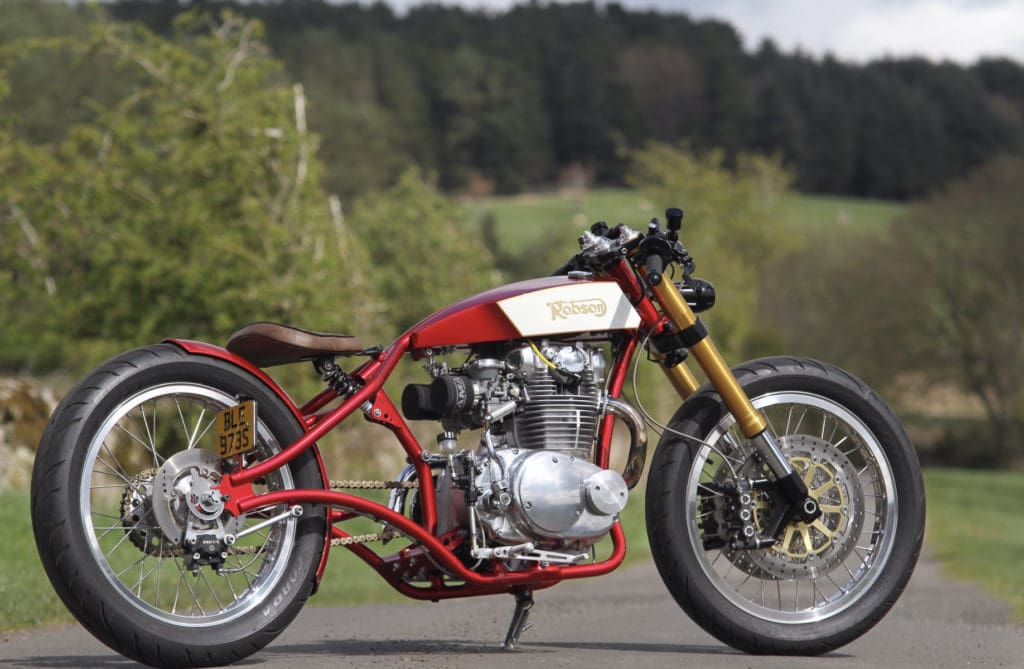 I wanted to build this bike as a technical and aesthetic exercise. I've built Bobbers, Cafe Racers and I've no real desire for a Flat Track style, so I thought this was different. I wanted to make sure that it was a true one off. A modern take on a classic with USD front end and no visible electrics. So, all parts are machined from scratch or handmade.
The donor bike was an eBay special – an XS650 Special – all I wanted was the engine and headstock.
The frame was a one off, which I wanted to be different. I really wanted something unique, so went for the curved style, fabricated from stock tube. The front forks are from a 2014 Yamaha R1 and here's a list of the main parts made by me:
Tank fabricated from scratch (cornflake packet templates 🙂 )
Front wheel and hub spacers machined and laced to new rim with stainless spokes
XS650 stem transplanted in to R1 yokes with hand machined collets
All engine mounts fabricated by hand
All welding done by myself – TIG / MIG
Harley derby cover to anonomise the engine
Engine stripped, cases split, gearbox rebuilt
Crank split and rephased to 277 degrees, along with cam shaft
750cc barrels added
See through billet machined tappet covers
Braided hose oil pipes
All foot pegs, kick start foot piece and levers machined by hand from billet
Hydraulic clutch conversion
Seat pan and seat by hand
Rear wheel made from an XS front hub with machined spacers to carry a drive sprocket and Ducati 996 rear disc
Rear disc carrier machined by hand
No visible electonics or wiring
GPS Speedometer
Main challenges were around the rephase and keeping everything hidden
The finish is a candy apple red on the tanks and frame with a cream panel and gold pin striping. The logo is something Ive put on a few of my bikes now – My surname, Robson, done in the Norton font – I quite like it now
The exposed steel parts were chromed and all exposed aluminium was hand polished – I think it looks better than chroming
The bike rides well, considering its stance. We have covered circa 600 miles together so far. The longest solid trip being 60 miles – after that your arse gives up!
Paul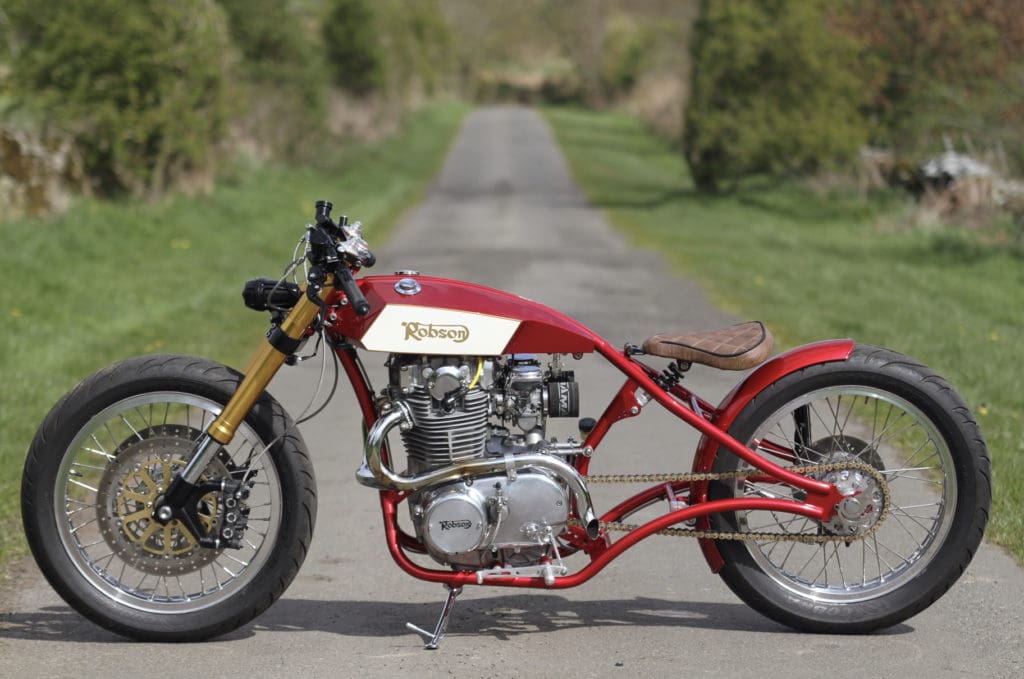 Do you want to Brag Your Bike?
Fill in the quick form here and you may find yourself being a Back Street Hero: