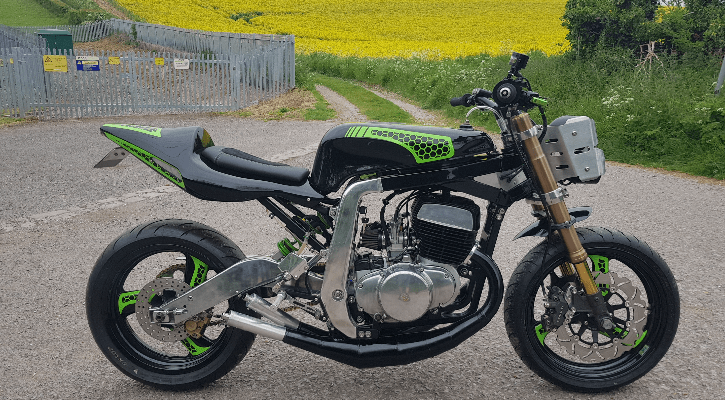 You know when you see something and think… not seen one of them before…well same thing with the 500. Started as a purchase of the frame engine and running gear from a geezer up north and then a 2 years build.
First jobs were to correct the rear sub frame and remake the engine cradle to accept the touring t500 motor.
Knocked up a few brackets and such for the rear swing arm and the like and took them off to powder coating. Polished the frame, swing arm, engine cases.
The 1975 t500 engine stripped completely in the shed and had the crank reconditioned along with new rods, pistons, bores and anything else that couldn't be reused again for that peace of mind and buttoned it all back together, knocked up some stainless inlet manifolds to boot as well.
The front wheel is from a gsxr 400 but the forks are from a more modern 1000 so had to make a new front spindle and nut to fit. Fitted with a set of Renthal bars and radial master cylinder for stopping on a dime.
Now… it was ready to roll and needed painting. Black and Green…Designed some lime green stickers and livery that I had lacquered over on top of the black paint for longevity. Finally finished off with wiring with a Newtronic ignition kit and dyna coils for reliability.
Article continues below…
Advert
Spec shit:
Weighing in at 130kgs wet
Gsxr 400 frame with custom lower engine cradle and sub frame. Cagiva Mito 125 rear swing arm. Gsxr1000 forks with gsxr 400 front wheel. Some sort of fiberglass triumph racing rear fairing. Engine fully rebuilt complimented with homemade twin expansion chambers 32mm Polini flat slide carburettors. Custom loom, Custom headlight bracket, Custom pegs and rear sets. Stickers by me, paint….. By someone who knows what they are doing.
Article continues below…
Advert
Sam Chopper Club – Wiltshire
Do you want to Brag Your Bike?
Fill in the quick form here and you may find yourself being a Back Street Hero: